Known for his continuous winning streak in Formula One Championships, Sir Lewis Carl Davidson Hamilton was born on 7 January 1985 in Stevenage, United Kingdom. 
Next to Michael Schumacher, the racer is seven times winner of the World Drivers' Championship title. 
Furthermore, he holds a ground-breaking record of having the most wins in pole positions, podium finishes, and Formula One Grand Prix wins.
Lewis Hamilton net worth 2023
The Formula 1 superstar Lewis Hamilton's current net worth is around $285 million. According to reports, his career earnings have totaled £397.3m ($477.2m), including the $35m a year from his contract with Mercedes beginning in 2021.
Official F1 store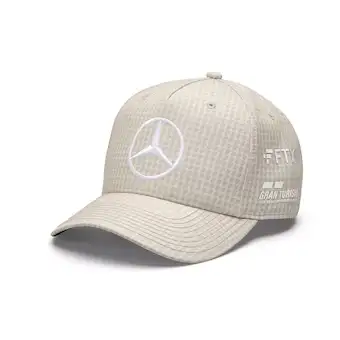 Lewis Hamilton merchandise
Order Lewis Hamilton merchandise from the official F1 store.
Pros:
World wide shipping

Official Formula 1 store

300+ different products

90 days returns
Buy driver merch
Buy team merch
We earn a commission if you make a purchase, at no additional cost to you.

Lewis Hamilton salary 2023
Lewis Hamilton's salary is around $35 million from Mercedes-AMG Petronas. According to the numbers, the  British driver earns £1,493,048 per race, £28,712 per lap, and £7,845 per mile.
 

Lewis Hamilton's financials

Net Worth
$285.000.000
Salary from Mercedes
$35.000.000
Investments
The Denver Broncos
Bowery Farming
NotCo
Neat Burger
Assets
Landon Mansion ($25m)
Three-bedroom Geneva apartment
Penthouse in New York ($50m)
Challenger 605 Private Jet (spent $16.5m)
Sun-seeker Yacht (around £3m)
LaFerrari Limited Edition (£1m)
Watch this video to understand Lewis Hamilton's net worth, salary and lifestyle.
Lewis Hamilton's Endorsements
Formula One's billion-dollar superstar has many endorsements up his sleeves. Following are some renowned brands he has become a part of:
Mercedes-Benz:

He made a deal with Mercedes-Benz worth $40 million a year. The famous race car driver will drive a Mercedes-Benz and advertise the cars as part of the deal.

Tommy Hilfiger:

He became the face of the Menswear line of Tommy Hilfiger, where he launched a Tommy X Lewis in fall 2019. The deal pays him a good amount of $5.2m per year.

Monster Energy:

The brand chose him as its brand ambassador in 2017. The brand partnered up with Mercedes-Benz for $2.5m.

Puma:

The sports apparel brand partnered with Mercedes-Benz F1 in 2019 for a whopping $2.61m fee. Additionally, the brand was responsible for selling F1 products on the trackside.

Union Bank of Switzerland:

UBS pays Mercedes-Benz and Lewis a handsome sum of $9m annually.

 
Qualcomm:

The brand is known for semiconductor software and wireless technology and has been assisting race engineers in analyzing data on each player. The company pays $9.78m to the automaker and Lewis each year.

IWC:

The brand launched a watch series under Lewis Hamilton's banner in 2019. He gets $2m a year.

Petronas:

This big petrol brand pays the racer around $64m, making the company the biggest sponsor out of all the others. The racer has to wear the logo high up on his uniform and at the back of his jacket to endorse them.

Bose:

The audio company signed an exclusive contract with the superstar racer where the company pays him $3.2m a year.
The Giving List, which is part of The Sunday Times Rich List and ranks the highest donations to charity, put Hamilton at No. 5.

Lewis Hamilton's impressive automobile collection now includes a McLaren F1 that cost him $15.6 million.

Forbes' 2021 list of the world's highest-paid athletes placed him in the Eighth position. 

Sir Lewis Hamilton, at the age of 36, received his knighthood in 2021 from the Prince of Wales at Windsor Castle. 

He loves Hummus and turned to vegetarian food in 2017 on his friend's advice. 

The racer has won 28 out of 34 circuits, making him lose only 6 track races!

After winning his first championship in 2009, Hamilton was honored with the third-highest honor bestowed by the United Kingdom: membership in the Order of the British Empire (MBE).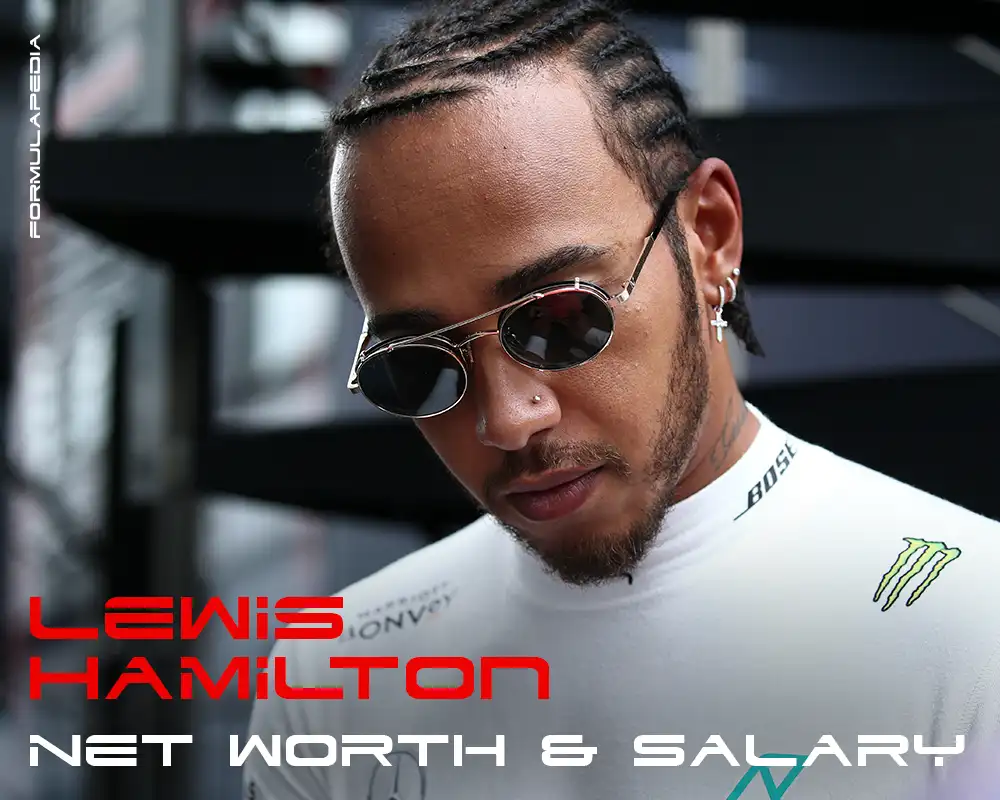 Learn more about Lewis Hamilton
| | |
| --- | --- |
| Full Name | Sir Lewis Carl Davidson Hamilton |
| Nationality | British, English |
| Date of Birth | jan. 7, 1985 |
| Height | 1.74m |
| Weight | 73 kg |
| Salary | $35m |
The number-one Formula One racer has humble origins. His humble disposition and passion for racing have gotten him this far in his career. Read further to find out more about the charismatic racer:
Lewis Hamilton's Family
He is the first and only child of Anthony Hamilton and Carmen Larbalestier. The two separated when Lewis was just two years old. He continued living with his mother but later lived with his father in his early teenage years.

His father was the reason why the racer got the passion for car racing in the first place. His father gifted him a remote control when he was six years old.

His father gifted him a go-Kart as a Christmas present, igniting his passion for racing. At age 15, he was given the title of Karting number one player, which he still holds.
| | |
| --- | --- |
| Father | Anthony Hamilton |
| Mother | Carmen Larbalestier, Linda Hamilton (Step Mother) |
| Brothers | Nicolas Hamilton (Half-brother) |
| Sisters | Nicola and Samantha Lockhart (Half-sisters) |
Lewis Hamilton's Relations
He dated TV personality Danielle Lloyd for six months in 2002. The relationship ended on a friendly note.
He met Jodia Ma during their studies and dated for four years, from 2003 to 2007.
At the Monaco Grand Prix, he was spotted with the Pussycat Doll's lead singer Nicole Scherzinger. After eight years, the couple broke it off in 2015 in a messy split.
Other females his name was attached to are: Rihanna, Veronica Valle (split in 2015), Rita Ora (in 2016), Barbara Palvin (met at Cannes Film Festival in 2016), Kendall Jenner, Winnie Harlow (split in May 2017), Sofia Richie, Nickie Minaj (in 2018)
Lewis Hamilton's Donations
The seven-time World Drivers' Champion winner Lewis Hamilton founded Mission 44 to increase social mobility in the UK. 
The aim is to build an inclusive education system where minorities get represented, to reduce digital poverty, to create a pathway for the under-represented in STEM careers, and to reduce socio-economic disparities.
He partnered with Mercedes to start a mission called 'Ignite,' which aims to encourage diverse students to participate in STEM and engineering studies. In addition, the mission seeks to recognize diverse talent in motorsports.
Sunday Times Rich List's Giving put Lewis Hamilton at number five for his generous donation of $24m, a total worth £300m.
Early Life
He started Karting in 1993, and two years later, he won the British cadet karting championship at the age of 10.
Ron Dennis, former Team McLaren's principal, gave Hamilton a big break. The two met when Hamilton was 10 years old, and the future racer superstar expressed his wish to become a part of the team. Dennis wrote in Hamilton's autograph book, "Phone me in nine years, and we'll figure stuff out then," In 1998, he was officially signed to the McLaren Driver Development Support program. 
As the youngest driver ever signed by an F1 team, he made history at 13 years old. The contract also contained prospects of entering Formula One.
Football was a big part of his life at "The John Henry Newman School," and he played the sport the entire time he was a student there. Later in life, though, he said that all those go-kart championships he kept winning gave him a better career path than football. When Lewis was 15 years old, he set the world record for best kart driver, a record he still holds.
Career
In 2001, Hamilton entered the British Formula Renault Winter Series and quickly became a significant player in the racing world. As a result of his efforts, he was accepted into the Renault series and ultimately finished third in the 2002 Formula Renault UK Campaign. 
He also did an apprenticeship at Manor Motorsport in South Yorkshire for three years. He established himself as a rising star in the racing world through his training.
His outstanding results in Formula Three earned him a spot in the 2006 ART Grand Prix. He finished second in his maiden Formula One race, the 2007 Australian Grand Prix.
Lewis repeated his runner-up performance at the subsequent F1 events in Bahrain and Barcelona.
Hamilton started the 2011 season with a second-place finish in the Australian Grand Prix, then won the Chinese Grand Prix and capped the year with a victory in Abu Dhabi. After the 2012 season, Lewis Hamilton signed with the Mercedes Benz Works Team.
Hamilton finished second at the 2016 Australian Grand Prix and won the British Grand Prix later that year. Further victories in Malaysia and Japan bolstered his case for World Champion.
He needed to win the Abu Dhabi Grand Prix to become champion, but he finished second to Rosberg.
Starting the 2017 season well, Hamilton won the Chinese Grand Prix and finished second in the Australian Grand Prix. His victory in Spain was his first of the year, giving him the season's first title.
Highlights:
He placed second in the European Championships, first in the Trophy de Pomposa, and fourth in the Italian Open Championship.

In 2001, he faced Michael Schumacher at Kerpen, the German's home circuit. Hamilton came in second place to the Ferrari driver, who had already won four world titles at that point.

The 2008 season crowned him the youngest world champion ever of Formula One races. He won the World Drivers' Championship seven times.
Favorite Quotes from Lewis Hamilton
"I don't aspire to be like other drivers – I aspire to be unique in my own way."
"I was born to race and win."
"What people tend to forget is the journey that I had getting to Formula One. There were plenty of years where I had to learn about losing and having bad races."
"My saying is; We win and lose together. I think that really does apply to both my fans, family, and the team."
"I don't drive by the seat of my pants and happen to win races. I work very hard to interpret the data and drive a certain way. My engineers have confidence in me, and more often than not, when I tell them what I need or what I am feeling with the car, it's right."
Here is in-depth information on Lewis Hamilton's glamorous life for his die-hard fans:
Lewis Hamilton's Cars:
The glitz and glamor of life is made for Lewis Hamilton. Here is the list of the luxury cars that the Formula One superstar owns:
| | |
| --- | --- |
| Lewis Hamilton's cars |   |
| Mercedes-AMG One | $2.72 Million |
| Mercedes Benz AMG G63 6X6 | $615,000 |
| McLaren P1 | $1.15 Million |
| Ferrari LaFerrari Aperta | $2.2 Million |
| Ferrari LaFerrari | $1.4 Million |
| 1967 Shelby Cobra 427 | $1.15 Million |
| Pagani Zonda 760LH | $2.2 Million |
| Mercedes Benz AMG GTR | $189,750 |
| 1967 Ford Mustang Shelby GT500 | $150,000 |
| Mercedes Benz Maybach S600 | $173,000 |
| Can-Am Maverick X31967 | $8,600 |
| Cadillac Escalade | $76,195 |
| 1966 Shelby Cobra 427 | $2.1 Million |
| Ferrari 599 SA Aperta | $1.6 Million |
| Mini Cooper | $23,400 |
He owns a luxurious house in Kensington, West London. The house has a huge kitchen and a unique dining area for guests and parties. It is a 4-storey mansion having 6 luxurious bedrooms and a 200 ft scenic garden. The house is estimated to be about $25m.

Owns a Geneva apartment situated on top of a 6-storey building in Nyon. With a small gym setup and exceptional ambiance.

He owns a luxurious house in the Fontvieille district, Monaco. This house has 4 bathrooms, a steam room, and a 30 sq ft sun terrace. The house is estimated to cost $15m.

He owns a penthouse worth $57m in New York. However, the famous car racer put the house recently on sale.
The British car racer owns a 90-foot-long private yacht called Sunseeker. He bought the yacht in 2013. The yacht has built-in sundecks, a modular lounge seating area, and an eight-person dining area. The cost for this yacht is a whopping $4m.
The car racer backed a grocery delivery start-up called Zapp with $200m in investment.

He also supports Athletic Greens, which makes nutritional powder, alongside celebrities like Hugh Jackman, Cindy Crawford, and musician Steve Aoki.

When the British car racer announced to invest in Neat Burger, a vegan fast-food restaurant that includes Beyond Meat's burgers, the stocks for the latter rose to 2%.
Frequently asked questions
How much does Lewis Hamilton earn in a year?
Lewis Hamilton makes $35.000.000 every year from Mercedes-AMG Petronas.
How rich is Lewis Hamilton?
Lewis Hamilton's net worth is around $285m. His salary will increase if he renews his contract with the automaker Mercedes.
How is Lewis Hamilton so rich?
He earns his salary from his race-driving career. He is a part of Team Mercedes and seven-time Formula 1 championship winner.
Where did Lewis Hamilton get his money?
Lewis Hamilton's wealth is from his car racing career and several brand endorsements.
Is Lewis Hamilton a billionaire?
Lewis Hamilton's current net worth is estimated to be about $285m as of September 2022.
Lewis Hamilton's Salary and Net worth compared to other Formula 1 Drivers:
The F1 billion-dollar car racer has been ranked 17 by Forbes on the 2022 list of the World's Highest-Paid Athletes. Compare Hamilton's salary to other Formula 1 drivers.
Sir Lewis Carl Davidson Hamilton has made a name in Formula One racing as one of the greatest drivers of all time. As of September 2022, the superstar's net worth is about $285m.