Eager to learn more facts about the 7 time world champion? We've listed 50 interesting facts about Lewis Hamilton that you might not know!
50 interesting facts about Lewis Hamilton
Lewis Hamilton was born on January 7, 1985, in Stevenage, Hertfordshire, England.
He is a British Formula One racing driver.
Hamilton has won a record-breaking 7 World Drivers' Championships.
He is considered one of the greatest racing drivers of all time.
Hamilton has won 103 Grands Prix, the most by any driver in F1 history.
He made his F1 debut in 2007 with McLaren.
Hamilton won his first F1 World Championship in 2008, beating Felipe Massa by a single point in the final race.
He has won 6 of his 7 World Championships with Mercedes-AMG Petronas Formula One Team.
Hamilton's father, Anthony Hamilton, worked multiple jobs to support his son's racing career.
Lewis Hamilton started racing go-karts at the age of 8.
He was discovered by Ron Dennis, the boss of McLaren, at the age of 10.
Official F1 store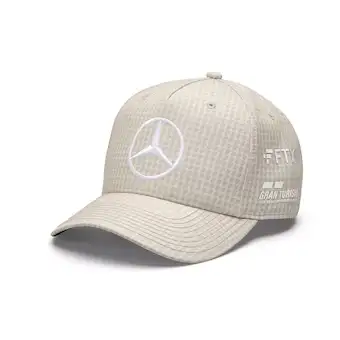 Lewis Hamilton merchandise
Order Lewis Hamilton merchandise from the official F1 store.
Pros:
World wide shipping

Official Formula 1 store

300+ different products

90 days returns
Buy driver merch
Buy team merch
We earn a commission if you make a purchase, at no additional cost to you.

12. Lewis won his first British Karting Championship at the age of 10.
13. He won the Formula Renault UK championship in 2003.
14. In 2005, Hamilton won the F3 Euroseries championship and the prestigious Macau Grand Prix.
15. Hamilton made his F1 testing debut with McLaren in 2004.
16. He signed a long-term contract with Mercedes-AMG Petronas Formula One Team in 2013.
17. Lewis has won the British Grand Prix 8 times, more than any other driver in F1 history.
18. He has won the Hungarian Grand Prix 8 times, also a record.
19. Hamilton has won the Monaco Grand Prix 3 times.
20. He has also won the Italian Grand Prix, the Singapore Grand Prix, the Japanese Grand Prix, and the United States Grand Prix 5 times each.
21. Hamilton is the only driver to have won at least one Grand Prix in every season he has competed in.
22. He has won the Laureus World Sportsman of the Year award three times (in 2015, 2019, and 2020).
23. Lewisewislewis has been awarded an MBE (Member of the Order of the British Empire) and an OBE (Officer of the Order of the British Empire) for his services to motor racing.
24. He is the second most successful British athlete of all time in terms of World Championships won, behind only track cyclist Chris Hoy.
25. Hamilton has a close friendship with musician Pharrell Williams.
26. He is a vegan and advocates for animal rights.
27. Hamilton is also an advocate for environmentalism and has expressed concern about climate change.
28. In 2017, Hamilton set up the Hamilton Commission to explore how motorsport can be used to engage more young people from black backgrounds in STEM (Science, Technology, Engineering, and Mathematics) careers.
29. Hamilton has faced racism and discrimination throughout his career due to his race and ethnicity.
30. He has spoken out about racial injustice and the need for greater diversity and inclusion in motorsport.
31. Hamilton is known for his unique fashion sense and often appears on the front row of fashion shows.
32. Lewis has been featured on the cover of numerous fashion magazines, including GQ and Esquire.
33. Hamilton is a keen musician and plays both the guitar and piano.
34. He is a fan of American football and supports the Dallas Cowboys.
35. Lewis is also a fan of basketball and supports the Los Angeles Lakers.
36. Hamilton's favorite movie is The Shawshank Redemption.
37. He is a fan of art and has an extensive collection of paintings and sculptures.
38. Lewis is a supporter of various charitable causes, including the Make-A-Wish Foundation, UNICEF, and the Great Ormond Street Hospital Children's Charity.
39. He has also set up his own foundation, the Lewis Hamilton Foundation, which supports young people from underprivileged backgrounds.
40. Hamilton is a keen cyclist and often goes on long rides to stay fit.
41. He has also taken up boxing as a way to improve his fitness and endurance.
42. Hamilton has a bulldog named Roscoe, who often travels with him to races.
43. He also has a pet parrot named Coco.
44. Lewis has a passion for luxury cars and has owned numerous expensive vehicles, including a McLaren P1, a Pagani Zonda, and a Ferrari LaFerrari.
45. He has a keen interest in fashion and has launched his own clothing line, TommyXLewis, in collaboration with designer Tommy Hilfiger.
46. Hamilton has a large following on social media, with over 26 million followers on Instagram and 6 million followers on Twitter.
47. He is the first and only black driver to compete in F1 and has been an inspiration to many young people from minority backgrounds who aspire to a career in motorsport.
48. Hamilton has been involved in several controversial incidents during his career, including collisions with other drivers and accusations of unsporting behavior.
49. He has been praised for his speed and skill on the track, as well as his ability to perform under pressure.
50. Lewis has announced that he plans to continue racing in F1 for several more years and has expressed his desire to break even more records and win more championships in the future.