The young and talented Alexander Albon Ansusinha, is the first Thai driver to race in Formula One since 1954. Born and raised in Britain, Alex made a careful choice to race under the Thailand flag at the beginning of his career.
Alex dreamt of becoming a race driver from a very young age and gave his all to make that dream a reality. His passion and love for racing are apparent through the many achievements and outstanding positions he acquired during his pre-f1 era and f1 rookie season.
The driver is currently associated with the Williams Racing team and also has his seat booked for the 2023 season and beyond in the same team.
This article provides an in-depth insight into the net worth, assets, financials, career, and early life of the British-Thai driver, Alexander Albon. Continue reading to learn more!
Alexander Albon's net worth 2023
Although the exact figure varies largely on all the available online sources, Alex Albon's net worth is estimated to be around $1 million, including all his assets and earnings. The Williams driver has faced many challenges during his short F1 career but still managed to pull through and secure a seat in the present season.
It is estimated that during his time at Toro Rosso, Alex's earnings were up to £130k, and during his time at Red Bull, the figure was estimated to be around $500k.
Net worth

$1 Million

Salary from Williams Racing

$3 Million

Investments

Properties

Assets

Aston Martin Vantage F1, $162.000
Aston Martin DB11, $246.000
Honda Civic Type R, $46.000
Alexander Albon's salary From Williams Racing
Alex was approached by the British team, Williams Racing, in 2022. After receiving a relief call from Red Bull, Alex agreed to partner with Williams on a one-year contract. He is being offered $3 million for his role as the lead driver at Williams, compared to his teammate Logan Sergeant who earns $1 million.
Alex Albon failed to demonstrate his best performance during his association with Red Bull Racing in 2020. As a result, he was demoted to the role of a test and reserve driver, and his seat was awarded to Sergio Perez. In 2021, the talented driver was unable to secure a racing position on the grid and stayed fulfilling his reserve duties.
His return with Williams in the 2022 season marks a great comeback and he is expected to sign a new multi-year contract with the same team.
Watch this video to understand more about Alexander Albon's swap from Red Bull to Williams Racing.
Alexander Albon's Endorsements
Edifice Watches: Alex was announced as the brand ambassador for edifice watches in 2019. The edifice is owned by the Japanese manufacturing company, Casio. The edifice watches are famous for their refined and luxury-styled looks.
Moose Craft Cider: Moose Craft joined forces with Toro Rosso and ultimately, Alex Albon back in 2019. It is a Thailand-based cider manufacturing company, which aims to motivate Thai individuals by supporting their national driver, Alex, on a global stage.
PTT Lubricants: PTT Lubricants is one of the largest oil companies in Thailand. They have been sponsoring Alex since he started racing in Formula 2.
MDM Designs: The Australia-based company, MDM designs, is famous for designing automotive helmets. Alex took the opportunity to continue working with MDM even after he joined Williams. In the 2022 F1 season, all the helmet designs for Alex Albon will be curated by MDM company.
Alex Albon joined hands with Williams Racing in 2022 after his contract termination with Red Bull Racing.

Alex Albon's net worth is estimated to be around $1 million (the exact figure may vary).

The Williams driver is endorsed by many brands, including MDM designs, PTT Lubricant, and Moose Craft Cider.

Alex started as the lowest-paid driver on the grid, but with consistent efforts, has managed to increase his earnings up to $3 million.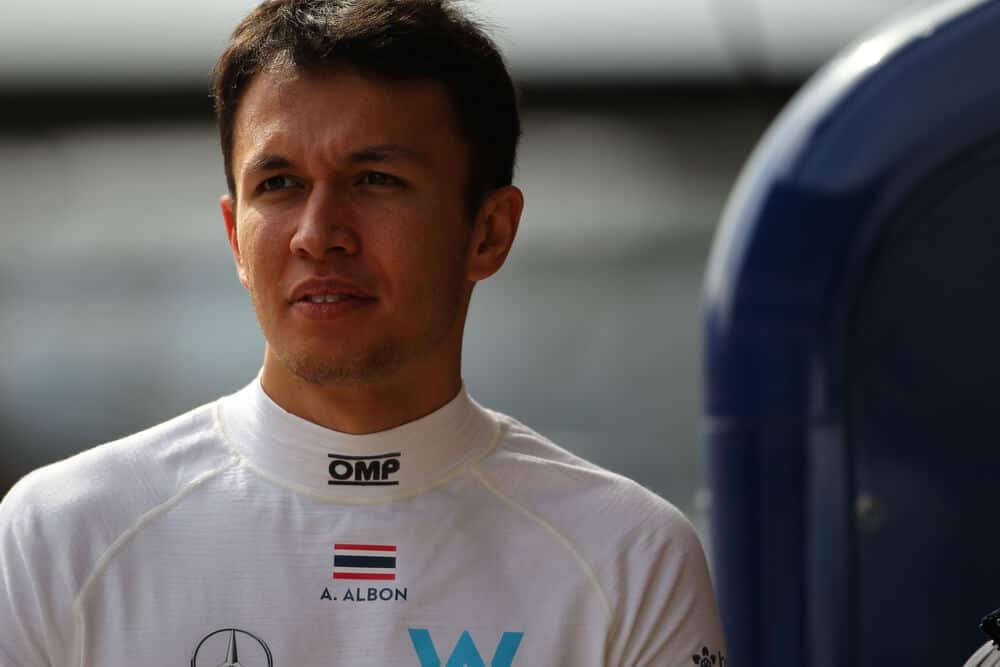 Lean More about Esteban Ocon
| | |
| --- | --- |
| Full Name | Alexander Albon Ansusinha |
| Nationality | Thai/British |
| Date of Birth | 23rd March, 1996 |
| Height | 6 feet 1 inch (1.86m) |
| Weight | 74 kg |
| Salary | $3.000.000 |
Alex's love for animals is not the only thing you should know about. The man's stellar background and team associations, in the short career he has had so far, should be mentioned in every conversation.
Listed below are a few things that will help you learn more about the skilled Alex Albon.
Born to a British father, Nigel Albon, and a Thai mother, Kankamol, on 23 March 1996, Alexander Albon's first word was 'Ferrari'. He inherited his passion for racing from his father, who actively participated in the British Touring Car Championship and Porsche Carrera Cup.
Although he was born and raised in England, Alex holds dual British and Thai nationality. He started to pursue racing at the young age of 8 by participating in various local championships.
With his natural talent, he was able to win several karting championships, including the Super 1 National Honda Cadet Championship and Formula Kart Stars Championship. Overall, he delivered stellar performances throughout his karting career.
The start of Alex's professional career can be linked to his participation in Formula Renault 2.0 Eurocup series in 2012. Although he faced some tough challenges during the whole series, he got to race alongside some of the best drivers, and many were impressed by his speed and techniques. He finished at the 38th position out of 49.
In 2015, he raced in the European Formula 3 championship where he secured 7th position in the overall standings. It followed his graduation to the FIA Formula 2 Championship in 2017.
Formula 2
During his time in the Formula 2 championship, Alex Albon was associated with ART. He managed to set some personal best records, such as qualifying second in the Monaco round. He also met an off-track accident during his time in Formula 2, which caused him to miss the Baku round of the season. In his first F2 season, he scored 86 points and finished 10th in the drivers' championship.
Formula 1
Previously designated to race for Nissan in Formula E, Alex got an incredible opportunity to secure a seat on the f1 grid through Toro Rosso. He raced for the team alongside Daniil Kyvat.
Soon after, he received a better opportunity to race for the Red Bull Racing Team in place of Pierre Gasly, who was demoted during the mid-season break. He delivered a stellar performance and finished the season with 92 points, 8th in the World Drivers' Championship. He also received the Rookie of the Year Award from FIA.
He continued to race for Red Bull in 2020 but was demoted to the role of a reserve driver at the end of the season. He did not race in Formula One in the year 2021 and only made his comeback in 2022 with the British team, Williams Racing. As per the latest announcements, Alex will continue to race for Williams in 2023 and beyond.
Alex started karting at the age of eight.

He won many local karting championships, including the Formula kart Stars Championship.

He participated in the European Formula 3 league in 2012.

In 2017, he graduated to FIA Formula 2 championship where he set multiple records and was approached by Nissan to race for them in Formula E.

In 2019, Alex joined hands with Toro Rosso, a subsidiary of Red Bull Racing, and entered the world of Formula One.
Favorite quotes from Alexander Albon
"[Those experiences] gave me a feeling that I've been through the worst and I am always able to come out the other side. There's a sense that I don't feel too much pressure, because I feel if I survived that, I can survive other things."
"…There are no regrets. You've done it before, you've pulled it through so why can't you do it again?…"
One quote that all Alex fans know and love is;
"If you ain't mowing, there's only one place you are going… backward"
"And I think: 'Well, I've only got to give it my all. I've only got to put everything on the table"
"As a driver, you almost need to be a fighter"
Being a world-famous racing driver comes with many perks and privileges, money being the most significant. Many F1 drivers like to invest their earnings into various assets. Let's take a look at some of the things owned by Alex Albon.
Alex Albon describes himself as a classic car guy. Up until he joined formula one, the Williams driver used to travel around in the 2010 Mini Cooper. As of now, Alex boasts two supercars in his garage, and the car collection can be best described as sophisticated.
Here is a list of cars owned by Alex Albon:
Honda Civic Type R

Aston Martin Vantage F1

Aston Martin DB11
Alex Albon used to live with his family in Milton, Keynes, near the Red Bull factory. Though he enjoyed staying at his family home, in 2019, he expressed his wish to move out and pursue a more extravagant lifestyle.


In the previous year, Alex successfully added his name to the list of f1 drivers residing in the beautiful city of Monaco. The driver complained that he has not got an opportunity to spend much time there but he still loves the country. He lives close to many of his f1 grid partners, such as Max and Daniel.
There is no information available on whether Alex Albon owns a private yacht or boat.
Frequently asked questions
How much does Alex Albon earn in a year?
Starting as the lowest-paid driver on the grid, Alex has undoubtedly made some incredible progress. In 2022, the driver's estimated salary was deemed to be $3 million at Williams Racing. It is a good figure as he was demoted to the role of reserve driver for Red Bull racing in the previous year.
How rich is Alex Albon?
Alex Albon's net worth is estimated to be around $1 million. A significant part of his income comes from his profession as a racing driver, but he also earns a great amount from brand endorsement deals.
How is Alex Albon so rich?
Alex Albon is rich by some standards but not as much as his other f1 driver counterparts. He mainly earns through his professional career as a racing driver in Formula One. Previously, he was associated with the Red Bull Racing team however, after being demoted to the role of a reserve driver, he took the opportunity to race for the Williams Racing team.
Where did Alex Albon get his money?
Being a part of Red Bull's junior team brought great benefits and valuable sums of money to Alex. He started as the lowest-paid driver on the grid but made consistent progress. Now, he racks up a basic salary of $650,000 and also earns from endorsement deals.
Is Alex Albon a billionaire?
Alex Albon has only participated in three Formula One season so far. As of now, his net worth is only valued in millions. Therefore, he still has a long way to go to become a billionaire.
Alex Albon's Salary and net worth compared to other Formula 1 drivers:
Alex Albon's formula one experience amounts to only 3 years. Though he is not one of the rookies, he is still new in the market, which is represented in the difference between his compensation and other drivers such as Lando Norris and Pierre Gasly.
The table below compares Alex Albon with several other F1 drivers who are popular names in the industry. If you want to read more about these drivers salaries and net worths, please visit https://formulapedia.com/f1-drivers-salaries/.
Alex Albon's net worth is estimated to be valued around at $1 million. In the 2022 f1 season, the young driver is racing for the Williams Racing team which pays him a salary of $2 million. His garage features three remarkable cars, two of which are Aston Martins'.
Even after facing tough challenges, Alex, whose passion for racing goes back to his childhood, never gave up. He is a strong and determined individual, and we hope that his participation in formula one goes a long way.