Zhou Guanyu, a 22-year-old first Chinese full-time Formula 1 driver. In 2022, he played in the formula 1 race for the first time representing Alfa Romeo which is one of the Formula 1 team. 
He previously used to race in Formula 2 for Alpine academy along with Oscar Piastri, an Australian reserve F1 driver for the Alpine team. Zhou Guanyu started his career as a Formula 4 driver who is now racing in a top-tier racing championship F1, he really has come a long way. 
Keep reading further to know more about Zhou Guanyu. In this article, we will highlight everything from his net worth and salary to his personal life and the cars that he owns. Look no further cause everything you need to know about Zhou is right here. 
Zhou Guanyu net worth October 2023
Based on his Formula 2 participation for the past three years and his good income, Zhou's net worth likely ranges between $1 million to $5 million. With his recent entry into Formula 1, his net worth will definitely rise significantly.
There is no precise information on Zhou's net worth hence, we can not provide you with a definitive answer. The estimated net worth is $1 million. Despite him being a part of the F2 races, his salary is also not revealed yet. The current deal with Alfa Romeo is kept a secret as well.
| | |
| --- | --- |
| Net worth | $1 – $5 Million |
| Salary from Alfa Romeo | $2 Million |
| Investments | NA –  |
| Assets | NA – |
Zhou Guanyu's salary from Alfa Romeo
According to Spotrac, Alfa Romeo's new Formula 1 driver Zhou's salary is estimated to be around $2,000,000. Information related to his salary is not yet been shared hence, there cannot be any definitive answer related to it.   
Watch this video to learn more about Zhou Guanyu
Zhou Guanyu is extremely active on his social media handles and has endorsed or you can say promoted multiple brands like Fanatec, Beats by Dre, and Hublot. 
Zhou Guanyu is a 22-year-old, first-ever Chinese driver to be a part of Alfa Romeo and race for the Formula 1 championship. 

His net worth is somewhere between 1 to 5 million dollars. 

He won the Formula 3 Asian Championship title. 

In his F2 FIA Championship, he has total 5 wins, 20 podiums, 3 poles, 7 fastes laps, and came 3rd in the standing.

He has received the Anthoine Hubert Award in 2019.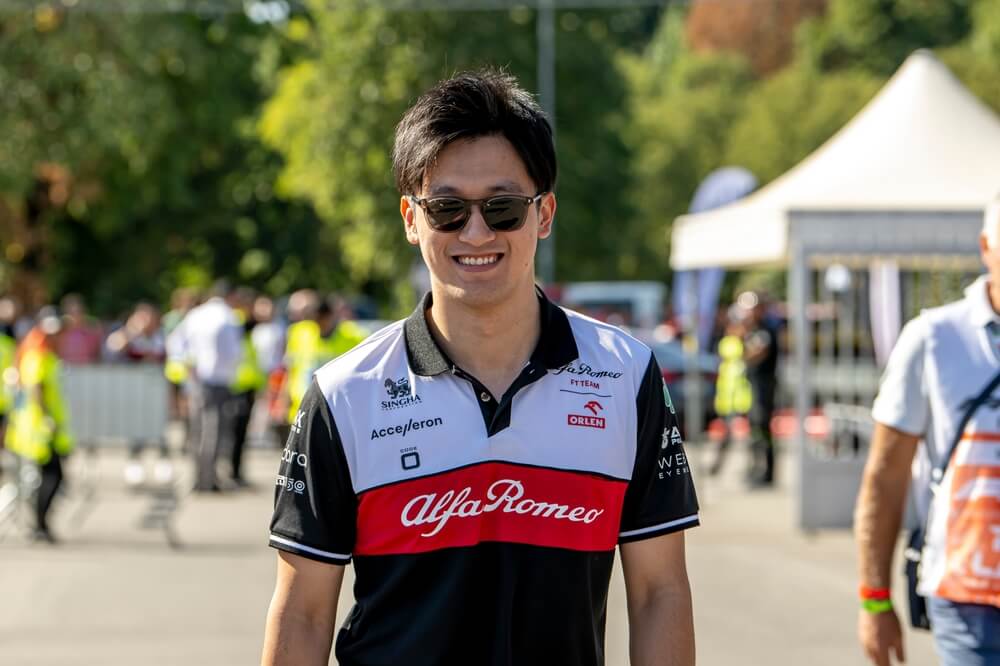 Learn More About Zhou Guanyu
| | |
| --- | --- |
| Full Name | Zhou Guanyu |
| Nationality | Chinese |
| Date of Birth | 30th May, 1999 |
| Height | 1.76m |
| Weight | 63 kg |
| Salary | $2.000.000 |
In 1999, Zhou was born to Chinese parents in Shanghai, China. His teenage years were spent outside of China as he moved to England when he was twelve years old. Furthermore, apart from the fact that he was born to Chinese parents, no information about them is available.
There is not much we can share about Zhou's parents in china because they have been kept out of the limelight. Nevertheless, according to sources, it is confirmed that Zhou's parents own and run a car business and are super rich. 
We will dig deeper into Zhou Guanyu's personal life and career so keep reading further.
Zhou started karting when he was only eight years old and that is how his love for kart racing developed. In 2012, he moved to Sheffield for a better competitive racing environment. While playing for the Strawberry Racing team in Sheffield, he won Rotax Max Euro Challenge and Super 1 National Rotax Max Junior Championship. 
Zhou came in second place in the Rotax Max Senior Euro Challenge for his final karting season. Additionally, he took part in a few rounds of the KF2 European Championship and the WSK Champions Cup. Alongside Lando Norris and Jehan Daruvala, he also had his one and only appearance in the Karting World Championship while racing for Ricky Flynn Motorsport.
Zhou Guanyu has come a long way. The booming career that you see now is because of the hard work and dedication he put in all these years. Let's go back and rewind Zhou's career journey in racing from the start. How did he reach this level? Keep reading!
Formula 4
In 2015, Zhou played for Prema Powerteam and won all races in Round 2 at the F4 Italian Championship. He was titled the best rookie and vice-champion at the end of the season. He also took part in the F4 German ADAC Championship where he achieved two podium finishes.  
European Championship Formula 3
In 2016, Zhou joined the Motopark Academy and raced in the F3 FIA European Championship, and during the first half of the season, he raced amazingly and reached the podium. He struggled a little later in the season and came in 13th.
In 2017, Zhou again joined Prema Powerteam and raced in Formula 3. This time he improved and had 8th standings alongside 5 podium finishes. 
In 2018, rumors of a potential switch to F2 circulated but Zhou stayed with Prema for a third F3 season. Following his first career victory in Pau, a podium result in Hungaroring, and three straight podium finishes in Zandvoort, Zhou was in second place, just one point behind Marcus Armstrong. Zhou finished the season eighth in the standings with three pole positions and two wins after winning his second F3 race at Hockenheim.
Formula 2 FIA
2019
Zhou and Luca Ghiotto joined UNI-Virtuosi Racing in December 2018 in preparation for the 2019 Formula 2 Championship. Zhou was leading most of the races but slipped back due to tyre degardation. He finished third in his first feature race in Barcelona. He also finished third in the Monaco sprint race leaving behind Artem Markelov at the start of the race. 
Zhou became the first Chinese driver to win the Formula 2 pole position at Silverstone. Later, in the sprint race at Paul Ricard, Zhou also finished third. He lost spots in the Silverstone main race to Nicholas Latifi, who finished second, and teammate and race winner Luca Ghiotto. 
He also had the quickest lap in Race 1 in Abu Dhabi, where he came in third. As the highest-finishing rookie, he received the Anthoine Hubert Award after coming seventh in the championship.
2020 
For the 2020 season, Zhou stayed with UNI-Virtuosi and raced with Callum Ilott, a member of the Ferrari Driver Academy. At the Red Bull Ring's first race, Zhou won the pole position for Formula 2 for the second time. He was in the lead of the feature race when his car experienced electronic issues, which dropped him to the 17th position. Later that year, Zhou won his maiden Formula 2 race in Sochi after the sprint race was abruptly called off due to an incident involving Aitken and Ghiotto on lap 5. Zhou won six podiums during the season and took sixth place overall.
2021 
Zhou started his third F2 season with UNI-Virtuosi and Felipe Drugovich as his partner. He won his first F2 feature race after capturing the pole position in the opening round in Bahrain. The Chinese driver won the opening sprint race in Monaco.
Oscar Piastri took the lead when Zhou got into an accident with Dan Ticktum due to brake failure. Zhou raced four times without scoring anything. He later broke his losing streak by defeating Ticktum to win the primary race in Britain and earning his third victory of the year. 
Zhou was able to finish on the podium twice at the race at Monza but he fall back short in two of the races to Piastri and Théo Pourchaire. Unfortunately, later his car got stalled after spinning before the race in Sochi. He only managed to finish the race in sixth place.
In the first sprint race of round 7 in Jeddah, he got into another accident by crashing with Christian Lundgaard which resulted in his position. He dropped to 3rd in the standing. He won the second sprint race in Abu Dhabi and was placed 2nd in the feature race. He ended the season with four victories, one pole, and nine podium finishes. 
Formula 3 Asian Championship
During the winter break just before the beginning of the Formula 2 season, Zhou Guanyu raced for Prema in the Formula 3 Asian Championship where he won 4 victories, 5 pole positions, and 11 podium finishes.
Favorite Things of Zhou Guanyu
Apart from racing, what is Zhou's other favorite activities? well in an interview we got to know that Zhou hobbies are travelling, eating heathy and tasty food, and Yoga. 
He also mentioned that his favorite actors are Tom Holland and Dylan Minnett and his favorite actress is Joey King.
What else does Zhou Guanyu own?
Zhou Guanyu is rich and he must be spending his money on something. Lets have a look at some of the things Zhou Guanyu owns.
Zhou Guanyu has been seen driving the blue Alpha. The young Chinese driver would only want the best car on and off the race track. 
Zhou Guanyu lives in London, England. The information related to the houses he owns is not yet revealed so we do not have much to share anything related to that.
As far as we know, Zhou Guanyu does not own a boat yet.
Frequently asked questions
How much does Zhou Guanyu earn in a year?
The chinese driver, Zhou Guanyu who has recently been a part of Alfa Romeo earn $2 Million per year which is approximately 1.9m Euro.
How rich is Zhou Guanyu?
Zhou Guanyu is extremely rich and his booming career as the Alfa Romeo driver is going to make him even more wealthy. His current net worth is somewhere between $1 to $5 Million.
How is Zhou Guanyu so rich?
Zhou Guanyu makes most of his income from racing, promotions, and brand endorsement.
Where did Zhou Guanyu get his money?
Zhou gets paid for racing, promotions, and brand endorsement.
Is Zhou Guanyu a billionaire?
No, Zhou Guanyu is not yet a billionaire, but he is a successful millionaire.
Zhou Guanyu salary and net worth compared to other Formula 1 drivers
Some of the top and richest Formula 1 drivers are Lewis Hamilton, Michael Schumacher, and Sebastian Vettel. They are legendary and possess exceptional driving skills. They are known as the best F1 drivers. 
What is the net worth and salaries of all the F1 drivers? How different is Zhou Guanyu's salary compared to other F1 drivers?
Read this article to get a full idea of the salaries of F1 drivers: https://formulapedia.com/f1-drivers-salaries/ 
Zhou Guanyu's personal life and career as one of the popular car racing drivers is a hot topic for everyone. His increasingly successful career at an early stage is just amazing, and inspires many young enthusiasts to follow in his steps. The Alfa Romeo Formula 1 driver is winning races and hearts. We are eager to know what is up next for this chinese driver.