The McLaren superstar, Lando Norris, was born on 13th November 1999 in Bristol, England. Born with a golden spoon, his father, Adam Norris, is a former pension manager and Bristol's 501st-richest person. Meanwhile, his mother, Cisca Norris, is from Flanders, Belgium. 
He is the second oldest among his one brother and two sisters. In 2021, he owned the 6th position with 160 points.
Lando Norris net worth 2023
Lando Norris has a current net worth of $25 million. The total family net worth is estimated to be $250m to $280m in 2022.
 

Lando Norris financials

Net Worth
$250.000.000
Salary
$20.000.000
Investments

The Denver Broncos

Bowery Farming

NotCo

Neat Burger

Family Assets

$300.000.000
Lando Norris have an annual $20.000.000 salary per season. Further, the contract amounts to the whopping $80.000.000 to keep him a part of the team.
Norris has re-signed his settlement with Team McLaren, which will get himthroughtil 2025. The team believes in what Norris can bring to the table. His position will elevate if he brings in a win for the team.
Watch this video to learn more about Lando Norris lifestyle.
Lando Norris Endorsements
Norris income also comes from the many brands he endorses. Following are some of the brands he is actively vouching for:
Pioneered Athlete Performance: Partnered with Norris and gave him all the fitness equipment and programs to prepare him for upcoming motorsport championships.
wearegrip: It is a social and digital content agency. The agency is partnered with Norris to run some digital campaigns on social media accounts for better interaction with fans.
Pure Electric: UK's electric scooter and bike Retailer Company owned by Norris father, Adam Norris.
Quadrant: A gaming and lifestyle company apparel owned solely by Lando Norris. It releases apparel that quickly leaves the shelves!
ADD Management: A sports management agency for motorsport racers. Norris became a part of the agency during the start of his F1 career in 2018.
Bell Helmets: Lando Norris is the Company's top brand ambassador and was signed in 2018. They signed him as a sponsorship agreement for his F1 career.
Lando Norris won the Autosport Awards British Competition Driver of the Year in 2021.

He is a Twitch streamer and runs social campaigns to raise funds on the platform.

He holds dual citizenship in both Britain and Belgium.

He attended Millfield School Street in Somerset, England. He didn't take any GSCEs.

Lando speaks a bit of Flemish Dutch.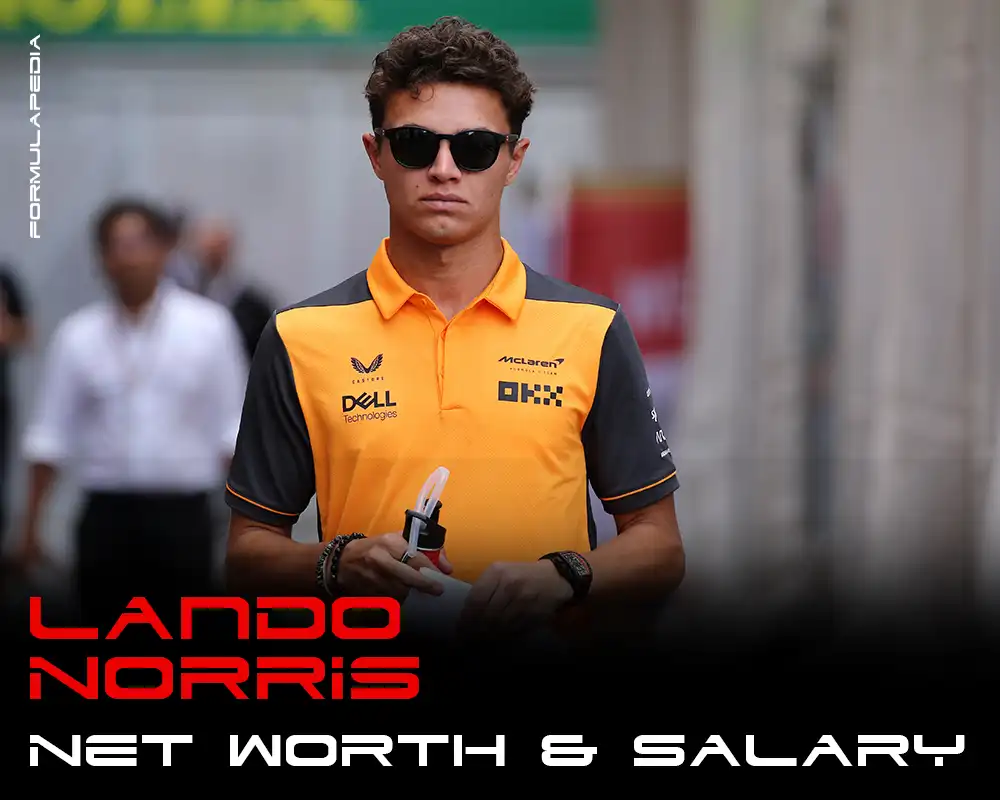 Learn more about Lando Norris
Taking the Formula One world by storm, Lando Norris world is filled with glamor and wins. Here is what you need to know about this young superstar:
| | |
| --- | --- |
| Full Name | Lando Kinder Norris |
| Nationality | British-Belgian |
| Date of Birth | November 13th, 1999 |
| Height | 170 cm |
| Weight | 68 kg |
| Salary | $20.000.000 |
Lando Norris''s Early Life
Born in Bristol, he is the second son of Adam and Cisca Norris. He and his older brother Oliver were karting enthusiasts and continued until 2014. Norris is a dual citizen, and he holds citizenship from British and Belgium. He received his education in Minfield School and personal tutoring in Physics and Maths.
His passion for four-wheel racing took off when his father took him to see the Super 1 National Kart Championships.
When he turned 7, the Belgian-British racer won pole position in his life's first national event. At 13, he won the CIK FIA European Championship and WSK Euro Series during his karting days. He became the youngest karting world champion when he bagged a win at the CIK-FIA KF World Championship.
In 2015, he played for Carlin Motorsport and won ten pole positions, fourteen podiums, and eight wins to win the MSA Formula Championship.
In 2016, Lando Norris won the Eurocup and the Northern European Cup by winning a total of eleven races in the former and ten pole positions consecutively in the latter. Even though Norris placed 9th to qualify for the Macau Grand Prix, the racer was eliminated after crashing on the first lap.
In 2018, Norris participated in the FIA Formula 2 Championship and won pole position at the Bahrain International Circuit. However, this will be the only win for him this season.
In 2020, the young racer set the record of finishing the fastest lap in 4.802 seconds in his final lap at the Austrian Grand Prix, but he placed second behind Lewis Hamilton. He is also the third youngest winner of the podium race in the history of Formula 1.
In the Portuguese Grand Prix, he placed 13th due to a collision with Lance Stroll. He put harsh comments on Stroll and downplayed Lewis Hamilton's Grand Prix wins. However, the British-Belgian soon apologized for his remarks.
At the Turkish Grand Prix, known to be his 'worst start of the career,' he got a grid penalty for not following yellow flags but finished in eighth place. His fourth place in the Bahrain Grand Prix and fifth at Abu Dhabi Grand Prix made Team McLaren claim third place in the constructors' championship.
In 2021, Norris won a podium race at Monaco Grand Prix. He also received a grid penalty in the Azerbaijan Grand Prix for failing to comply with the red flag period. He called the penalty an 'unfair treatment.' He also saw his first Formula 1 pole position, which made him go for the Russian Grand Prix. At the Russian Grand Prix, the weather worsened, which allowed Hamilton to overtake Norris, where he finished seventh while setting the record for the fastest lap finish of the race.
Norris has re-signed the contract with Team McLaren, which will terminate in 2025.
In 2012, he came second in the Super One National Kart Championships, which is held in the UK. That same year, he won Formula Kart Stars – Mini max.

In 2013, he won the WSK Euro Series – KFJ. The WSK Euro series was also won by famous Formula One racers such as Max Verstappen, Charles Leclerc, and Alex Palou.

In 2014, he won the CIK-FIA World Championship. It is a karting race's flagship event that is held every year. Felipe Massa, a former Formula One driver, is the current president.
The 22- year old Mc Laren car racer is an emerging superstar in motorsport. Born to Adamand Cisca Norris, his father Adam is said to have a net worth of about $250.000.000. His fortune has backed the young driver's dream to become a part of the Formula One races.
He has three siblings. Two younger sisters and one older brother. His older brother Oliver was also actively participating in karting alongside him.
| | |
| --- | --- |
| Father | Adam Norris |
| Mother | Cisca Wauman |
| Brother | Oliver Norris |
| Sister | Flo Norris |
| Sister | Cisca Norris |
Favorite Quotes from Lando Norris
In exclusive interviews, Lando Norris has shared words of wisdom that have become favorite quotes for fans. From the inspirational to the just plain fun, these are sure to get you thinking.
Overall there's going to be things I'm not great at.

I think beating myself up sometimes and knowing I am not happy when I do it makes me work harder to do a good job.

I'm a fighter, I'm a winner, and I'm not interested in just battling my team-mate for the back of the grid.

I want to go down in the history books with what I've achieved.
What else does Lando Norris own?
Cars

The young Brit race driver owns around 13 luxury cars that suit his luxurious lifestyle. Here is the list of supercars along with their price:
Rolls-Royce Wraith, $1.000.000

710 hp McLaren 720S, $1.000.000

Lamborghini Aventador $1.000.000

Mercedes-AMG $ 790.000

Ferrari-F8 $590.000

Jaguar F-Type roadster $220.000

Land Rover Defender $190.000

Audi Q8 $155.000
Houses

The 22-year-old race driver owns 9 mansions in total. Here is the list of houses/mansions he holds:
He owns a luxurious house in Surry, Woking. The house has a modern kitchen, a home gym, and a massive garden to lounge in. It also has a simulation room.

He owns an apartment in Monaco, making him the neighbor of his rivals Max Verstappen, Lewis Hamilton, and Charles Leclerc.
Boats/Yacht
The global superstar racer owns about 5 yachts.
Watches
In 2021, the young Brit was mugged by his fans at the Wembley Stadium and took his Richard Mille watch. Several of his watches are listed down below:
Audemars Piguet Royal Oak Selfwinding Chronograph, $45.420

Rolex GMT-Master II, $15.100

Richard Mille RM 50-03, $75.000
Other watches he owns: McLaren-spec Flyback, Bovet Fleurier, Glashutte, Harry Winston, Breitling, and Tag Heuer
Frequently asked questions
How much does Lando Norris earn in a year?
Lando Norris earns around $20.000.000 per season for the team Mc Laren.
How rich is Lando Norris?
His expected net worth is around $25.000.000 as of 2022.
How is Lando Norris so rich?
Lando Norris earns his money from his various brand endorsements. Additionally, his annual salary is around $20.000.000.
Where did Lando Norris get his money?
Lando Norris comes from a wealthy family. His family assets amount to $280.000.000. Meanwhile, Lando Norris net worth is around $25.000.000.
Is Lando Norris a billionaire?
No, Lando Norris net worth is about $25.000.000 and does not count as a billionaire.
Lando Noris's salary and Net worth compared to other Formula 1 Drivers
At such a young age, Lando Norris salary surpasses some veteran race drivers. Here is a list of salaries earned by current Formula 1 racers in ascending order.
The rising star Lando Norris has made a name in the motorsport arena through his dedication. He is quickly rising to fame as he is the second youngest driver in F1, with Yuki Tsunoda being the first. Moreover, he is a Formula-2 runner-up in the 2018 season while an F3 winner for the 2017 season.
As of September 2022, the car racer is said to have a net worth of $25.000.000. He currently gets around $20.000.000 every season.