Being a man of multiple talents, Valtteri Bottas is famous for only one, being a devoted race car driver. 
Valtteri Bottas is a passionate racing driver, driving for Alfa Romeo F1 team, currently ranking 10th. Having started his racing career on the icy roads of Finland, he has made his way up to being part of the highest class of international auto-racing sport, Formula 1. 
Over the years, the 32-year-old Finn has made a name for himself as one of the top stars of the automotive racing industry.
Valtteri Bottas's net worth 2023
Valtteri Bottas has a net worth of $30.000.000, which he has earned through his annual salary and his endorsements.
| | |
| --- | --- |
|   | Valtteri Bottas's financials |
| Net Worth | $30.000.000 |
| Salary | $10.000.000 |
| Assets | $10.000.000 |
| Endorsements | Abloy, Insijets, Polar |
Valtteri Bottas's salary 2023
Valtteri Bottas joined the Hinwil-based team, Alfa Romeo, on 7th September 2021, which pays him an annual salary of $10.000.000. 
Watch this video to learn more about Valtteri Bottas's lifestyle.
Valtteri Bottas Endorsements
In the past, Valtteri Bottas has been sponsored by well-established Finnish organizations, Wihuri, a conglomerate and a welding company, Kemppi. The sponsorship ended with Wihuri before the beginning of the 70th F1 world championship in 2019 due to a poor campaign in the previous season.
He is currently associated with Polar, a sporting company in Finland. Moreover, he is sponsored by Abloy, a locking solution company in Finland, and Insijets, a luxury private jet company. He also has a sponsorship deal with a Swedish conglomerate.
Since childhood, Valtteri Bottas had a strong interest in automobiles which made him enter his first kart race in 1995 when he was only 6 years old.

Valtteri Bottas became the ninth Finnish driver to be part of Formula 1 when he made his debut at the Australian Grand Prix in 2013.

He won his first Grand Prix on 30th April 2017 in the Russian Grand Prix.

Bottas has scored 10 race wins and 67 podiums throughout his Formula 1 career.

Valtteri Bottas, a passionate Formula 1 driver, has a net worth of $30.000.000.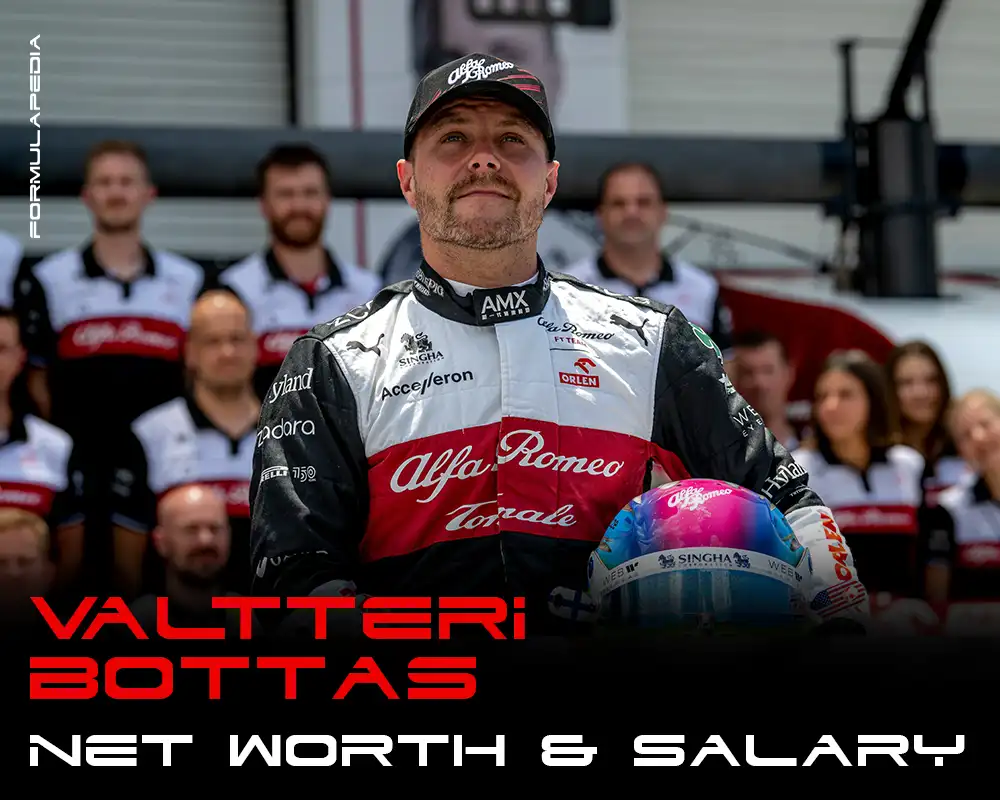 Learn more about Valtteri Bottas
Since his debut in 2013 in Formula 1 racing championship, Valtteri Bottas has had 10 race wins, and 67 podiums, along with contributing to five constructors' title wins for Mercedes. He has been runner-up twice for the Driver's Championship in 2019 and 2020. 
However, having started racing from a young age, Valterri Bottas has more than what meets the eye. 
| | |
| --- | --- |
| Full Name | Valtteri Viktor Bottas |
| Nationality | Finnish |
| Date of Birth | August 28th, 1989 |
| Height | 173 cm |
| Weight | 69 kg |
| Salary | $10.000.000 |
Valtteri Bottas's Early Life
Hailing from Nastola, Finland, Valtteri Bottas was born to parents Rauno Bottas and Marianne Välimaa on 28 August 1989. He has an older sister, Laura Bottas. His father owns a small cleaning agency, while his mother is a funeral director. He did his early education in Heinola, Finland.
Since childhood, he had had a strong interest in automobiles which made him enter his first kart race in 1995 when he was only 6 years old. In the following years, he took part in various karting circuits across Finland and Europe, making his way up to the national karting team of Finland, where he stayed for seven years and won 3 prestigious kart titles.
Valtteri Bottas was married to Finnish swimmer Emilia Pikkarainen, who has competed thrice in the Olympics and has broken several swimming records. They began dating in 2010 and tied the knot in September 2016. Unfortunately, the marriage didn't last long, and they parted ways in November 2019.
In 2020, He started dating Tiffany Cromwell, an Australian road cyclist who has taken part in Grand Tours. She has won two stages of the Giro d'Italia Femminile and took the fifth position in the UCI Road World Championships.
In 2017, when Bottas was 17 years old, he moved on to single-seater racing impressively, winning two races and taking third place in the Formula Renault UK winter series. In the following year, he splendidly won both the Formula Renault EuroCup as well as the Formula Renault Northern European Cup (NEC)
In 2009, Valtteri Bottas entered the Formula Three Euro Series, where he competed for ruling winners, ART Grand Prix. Even though he did not win a race, he set two pole positions and took third place in the championship while driving a Mercedes-powered car for the first time. He won the Masters of Formula 3 successfully in 2009 and 2010, making him the only driver to have consecutively claimed the F3 Master's title. 
In 2010, the Finnish race car driver took the role of a test driver for the Williams F1 team and continued as a test driver in 2011, during which he also took part in the GP3 Series with ART Grand Prix. after a rough start, he won in each of the last four race weekends of the season, ultimately winning the title in the penultimate race by beating his teammate James Calado.
Williams (2013 – 2016)
Valtteri Bottas became the ninth Finnish driver to be part of Formula 1 when he made his debut at the Australian Grand Prix in 2013. Even though it was a difficult season for him, he managed to score more than his teammate, Pastor Maldonado. He accomplished the 3rd position on the grid at the Canadian Grand Prix in 2012 and finished 8th in the United States Grand Prix, scoring his first Formula 1 point.
He continued with Williams in a Mercedes-powered automobile alongside Felipe Massa for the 2014 season in Australia, where he got into a car crash; however, that did not stop him from qualifying 10th and finishing 6th. After qualifying second at the Austrian Grand Prix, Valtteri Bottas attained his first podium by taking the third position. This was one of his best seasons, where he claimed six podiums and finished the season with a 4th position. This was also the year in which Valtteri and his teammate, Felipe Massa, held the third position for Williams in the Constructors' Championship.
For the 2015 season, he missed the season opener because of a back injury. However, still managed to win two podiums and finished 5th with 136 points at the Drivers Championship, outnumbering his teammate, Massa, once again. In the 2016 season, Valtteri was the only one from Williams to achieve a podium by claiming the third position at the Canadian Grand Prix and finishing 8th in the Divers Championship.
Mercedes (2017 – 2021)
For the 2017 season, Bottas signed to be a part of the Mercedes F1 team. In the Australia Grand Prix 2017, he took the 3rd position in the first race as a Mercedes driver. He won his first Grand Prix on 30th April 2017 in the Russian Grand Prix. He went on to win two more races and ended the season, taking the third position in the championship. 
2018 was a tough year for Bottas. In spite of driving one of the fastest cars, he managed to secure 8 podiums, 2 pole positions, 7 fastest laps and finished 4th in the standings. With a total of seven 2nd place finishes, he was unable to win a single race throughout the season.
The Finn racer stepped up his game in 2019 by winning the first race in Australia. He rounded off the year by securing four wins, five pole positions, three fastest laps, fifteen podium wins, and 326 points. He marked the most successful season of his career by securing the second position in the championship. He helped the team in achieving its 6th consecutive Constructer's title. 
He won the inaugural race in the Austrian Grand Prix in 2020. He qualified 4th in wet road conditions in the Styrian Grand Prix and finished second. It was a mixed year in 2020 with the ongoing pandemic; he took the runners-up place in the Driver's Championship, securing 223 points, with only two wins, five pole positions, eleven podiums and two fastest laps.
2021 was Valtteri Bottas's last year as a Mercedes driver. He completed his final year with a lot of ups and downs. He managed to win the 2021 Turkish Grand Prix after taking a pole position, making it the 10th win of his career.
Alfa Romeo (2022 – Present)
He started fresh with Alfa Romeo, alongside Chinese rookie Zhou Guanyu for 2022. Despite a poor start, he took 6th place in the season-opening at Bahrain Grand Prix. 
He has made 41 out of a total of 46 points for the Swiss-based team this year. 
Wins Formula Renault Eurocup and Northern European Cup in 2008.

Wins the Masters of Formula 3 race in Zandvoort for the second consecutive year in 2010.

Wins GP3 Series title for Lotus ART in 2011.

Named as test driver for Williams in December 2011.

He started his first season in F1 as Williams race car driver in 2013.

He secured the 8th position at the 2013 United States Grand Prix for Williams team.

He secured his first F1 podium in Austria 2014.

He won 3 podiums in a row in Austria, Great Britain and Germany in 2014.

He took the 4th position in the world championship of 2014 and 3rd position in the season finale.

He secured his first podium in 2015 by taking the 3rd position in the Canadian Grand Prix.

In 2015, he achieved 2 podium finishes.

In the final lap in Russia, a podium fight with Räikkönen resulted in a car crash. He finished 5th in the overall championship in 2015.

He took only one podium in 2016 at the Canadian Grand Prix and secured the 8th position in championship, making it one of his worst seasons.

Bottas signed for Mercedes in 2017.

He marked his first career pole position in Bahrain Grand Prix 2017.

He won his first Grand Prix in Russian Grand Prix 2017

Finished second in the 2019 Spanish Grand Prix and 2019 Bahrain Grand Prix.

Was a part of Arctic Rally in 2019 in which he finished 5th overall. 

At the pre-season testing in Circuit De Barcelona Catalunya 2020, he set the fastest time. 

He won the 2020 Austrian Grand Prix. 

He took 3rd place in the 2020 Spanish Grand Prix and the 70th Anniversary Grand Prix.

He won the 2021 Turkish Grand Prix, making it his 10th win.
Sky Sports Award for Most Improved Driver 2014

Confartigianato Motori Driver of the Year 2017

Lorenzo Bandini Trophy 2018

DHL Fastest Lap Award 2018

AKK-Motorsport Driver of the Year 2019
Favorite quotes from Valtteri Bottas
Passionate, cool and tenacious, Valtteri Bottas has an ability to remain calm even in the most difficult of situations. Listed below are some of Valtteri Bottas's famous quotes.
"Every time I jump in the car I feel very happy. Racing is what I love to do and I am very lucky I can do it."
"Let me tell you something, never, ever give up your dream."
"My approach to the race is definitely just trying to win the race."
"With F1, it's really a combination of many things. You have to have good endurance, good strength in certain muscles, you need to be fast, have good reactions and good decisions. It's not as simple as one thing. You need to be a complete athlete."
What else does Valtteri Bottas own?
Valtteri Bottas loves a good cup of coffee which is why he co-owns coffee roastery Kahiwa Coffee Roasters in Lahti, Finland. It has proven to be a successful business as it won the 2021 Aeropress Finnish Championships.
Furthermore, he owns a personal management team with big names, such as Belgium businessman Didier Coton and Mika Häkkinen, a fellow Finnish professional driver who has been crowned world champion twice.
Moreover, he launched his one-of-a-kind, intensely flavoured gin with his girlfriend, Tiffany Cromwell, in April 2022.
Cars

Being a car enthusiast since a young age, it is no surprise that Valtteri Bottas owns some of the world's fastest and most expensive cars. He was given a special edition of the Mercedes-AMG GT Black Series during his departure from Mercedes.
Some other exotic cars that he has in his garage are a Mclaren 675LT priced at $350,000, a Ferrari F40 with a whopping price tag of $700,000 and a Mercedes Benz C63 AMG worth $113,000. 
He previously owned a blue AMG GTS, which he put up for sale to save a karting circuit in his homeland, Finland. 
Houses

Like most F1 drivers, Valtteri Bottas owns a luxurious house in Monte Carlo, where he spends his time hiking, cycling and sailing.
Moreover, he also has a spectacular holiday home in Finland, with a beautiful view of the frosty lake. He shares his private life with professional cyclist Tiffany Cromwell.
Boats/Yacht
Even though he has been seen enjoying his break from the fast tracks of F1 on a Pardo 43, there is no confirmation of him owning any boat or yacht.
Stocks
The Finnish F1 driver Valtteri Bottas has become a major shareholder in Azurite, a luxury Monaco property investment company set up by entrepreneur and fellow Monaco resident Nigel Robertson.
Moreover, Bottas also holds shares with Nolla Antimicrobial Ltd, which is a privately owned technology company in Finland known for producing biocidal products based on Nolla™ Silver Polymer Technology.
Charity
He launched Valtteri Bottas Duathlon in 2017, which is held in various locations across Finland and is known to raise funds for various causes, including Starlight Children's Foundation.
Fun Facts About Valtteri Bottas
There is more to the Finnish star than a professional race car driver. Here are some lesser-known facts about him.
Number 77 is associated with Bottas. He chose this number because 7 was already taken, and 77 sounded good enough.

The colour of his boots and helmets are blue and white in accordance with the Finish Flag. Moreover, his racing gear also makes use of the number 77 along with the Finish Flag.

Like most male adults in Finland, Bottas served the military at the age of 18. In 2018-2019 he was voted as "Top Soldier" upon completion of his service.

Valtteri Bottas has a burger named after him. A local restaurant, Kiosk Bar, in his hometown, sells the Bottas Burger for €7.70, regarding his number 77.

He is known to have porridge before every race, something his grandfather advised him to do to help him grow.

He enjoys punk rock music, and his favourite band is The Offspring.
Frequently asked questions
How much does Valtteri Bottas earn in a year?
Valtteri Bottas is a professional F1 driver for team Alfa Romeo which pays him an annual salary of $10.000.000.
How rich is Valtteri Bottas?
Valtteri Bottas, a passionate Formula 1 driver, has a net worth of $30.000.000.
How is Valtteri Bottas so rich?
Valtteri Bottas gets his wealth from his annual salary as a F1 driver and his endorsements, along with the many businesses he co-owns.
Where did Valtteri Bottas get his money?
Valterri Bottas, one of the F1 drivers of Alfa Romeo, gets most of his money from his annual salary as well as from sponsorship and endorsement deals with various companies.
Is Valtteri Bottas a billionaire?
Valtteri Bottas has a networth of $30.000.000 which makes him a very wealthy man, however, he is a millionaire, not a billionaire.
Valtteri Bottas salary and net worth compared to other Formula 1 drivers
With Lewis Hamilton taking the lead by being the highest paid F1 driver, Valtteri Bottas still ranks in the top 10 highest paid Formula 1 drivers by having an annual salary of $11.000.000. 
The table below shows the various F1 drivers along with their salaries and other details.
Hailing from an average family in Finland, Valtteri Bottas has come a long way. With a passion for racing, he started with karting and went on to drive for Formula 1 teams, Williams and Mercedes. He is currently driving for Alfa Romeo. Throughout his career, he has scored 10 wins and 67 podiums. He has contributed to five Constructors titles for Mercedes and has been runner-up twice in the Drivers Championship 2019 and 2020. Quiet most of the time, Bottas usually lets his F1 car do the talking.