Formula 1 drivers are often the center of media attention due to their daring and fearless performance on the race track. But, little do people know that they have a secret world outside the racing circuit—their personal lives. F1 drivers have some of the most beautiful partners in the world who are silently cheering them from behind.
As a fan of F1 racing, you must be curious to know who these lucky ladies are and what their relationship with the drivers is like and how they met in the first place. Well, you're in luck because in this article, we are going to explore the fascinating world of F1 drivers' wives, girlfriends and partners.
Lewis Hamilton's ex-girlfriend is Camila Kendra
Lewis Hamilton, one of the most recognizable faces in Formula 1 Racing and the holder of seven World Drivers' Championships, has a beautiful girlfriend, Camila Kendra, who's also making waves in the modeling world.
Originally from the Dominican Republic and raised in Miami, Kendra had initially planned to follow in her father's footsteps and become a pilot. However, that dream changed after she was signed with renowned modeling agencies in the world pushing her into the spotlight of the modeling world. Her stunning looks and charismatic style have made her an international sensation and she has featured in campaigns for some of the biggest names in fashion.
Although some sources have reported that the two are no longer together, neither of them has publicly addressed these rumors.
How did they meet?
You must be wondering how this dynamic duo met. It all started in 2021 when whispers of their relationship began to spread after people noticed Camila's social media posts featuring Lewis' house.
Prior to dating Lewis, Camila had a relationship with American model and actor Tyler Cameron. Similarly, Hamilton had previously been in relationships with singers Nicole Scherzinger, Rihanna and Rita Ora before he and Camila got together. It is yet to be seen what the future holds for this couple!
Camila Kendra on social media
Camila Kendra was active on Instagram with around 500k followers as of January 2023 where she used to post her modeling images. However, recently she deleted her instagram account for unknown reasons. She is not active on other Social media platforms like Twitter and Facebook either.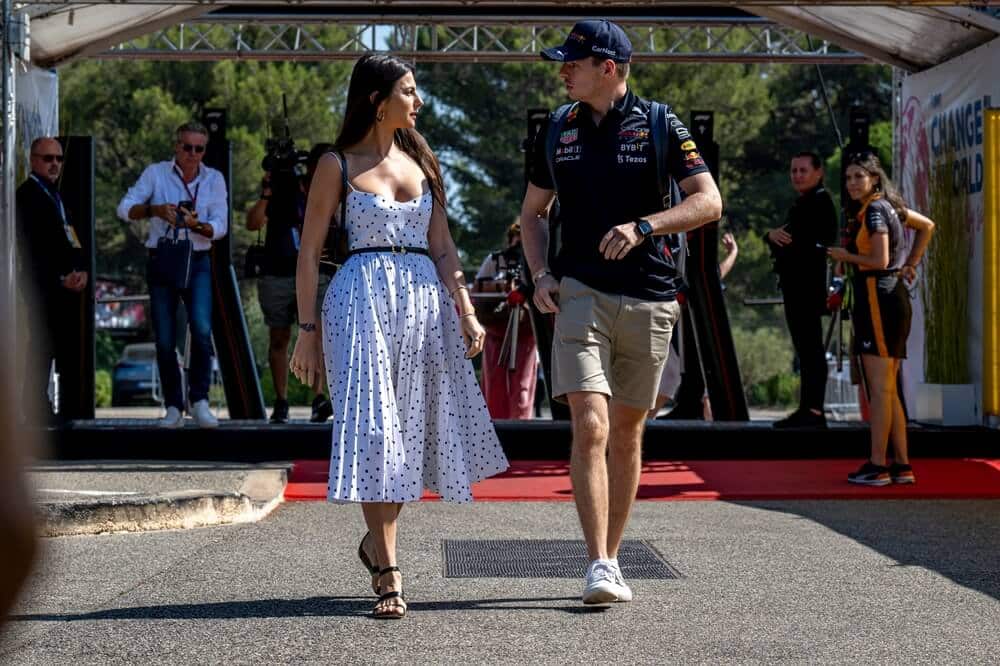 Max Verstappen's girlfriend is Kelly Piquet
Max Verstappen's girlfriend, Kelly Piquet, is no stranger to the world of Formula 1 racing. The daughter of three-time F1 World Champion Nelson Piquet, Kelly has grown up surrounded by the world of elite motorsport.
Not only did Kelly's beauty and charm help her launch a successful modeling career, but it also made her an instant hit with F1 drivers. She seems to have a thing for F1 drivers, as she was previously in a relationship with Daniil Kvyat. The couple also welcomed a beautiful baby girl, Penelope, in 2019 before calling it quits the same year. Verstappen has shown his fondness for Penelope, playing the role of a doting stepdad and often sharing pictures of him with her.
How did they meet?
Kelly and Daniil Kvyat had a daughter named Penelope in July of 2019 before parting ways later that year. Soon after, she began dating Max Verstappen and both announced their relationship on Instagram in late 2020. They seem to be quite happy together and share a strong bond.
Kelly Piqueton social media
Kelly Piquet is a popular name on social media, with over 1 million followers as of January 2023 on Instagram. On her instagram, she often endorses renowned brands and also works with fashion photographers and brands. She is also on Facebook with 23k followers, but she hasn't posted there since April 2020.
Sergio Perez's wife is Carola Martinez
Sergio Perez is one of the most experienced drivers in Formula 1. He is currently racing for Red Bull and has been with them since 2021. His wife, Carola Martinez, is a Mexican model and the two have been happily married for several years.
The couple has been happily married since 2018 and have three kids together. She holds strong religious beliefs in Roman Catholicism which is widely practiced in her home country. She loves to watch football with her husband and also enjoys cooking and traveling. When she visits Checo at the circuit, she makes sure to explore the area and try out new recipes. She is an avid fan of F1 racing and cheers her husband on from behind the scenes.
How did they meet?
You must have heard of Checo Perez and his fame in his hometown of Guadalajara, Mexico. It was no surprise that Carola Martinez, a stunning woman from the area, took an interest in him too.
The two started to date shortly afterwards and kept it private until early 2017 when Checo confessed that he is in a relationship with her. When they found out that Carola was expecting, Checo proposed to her and asked her to marry him. On June 3rd 2018, the couple officially got married with Pope Francis blessing their union.
Carola Martinez on social media
Carola Martinez is quite active on Instagram, where she has over 166k followers as of January 2023. She often posts pictures with her husband, Checo Perez, and their kids. Besides instagram, she doesn't use other social networking sites.
Charles Leclerc does not have a partner
Charles Leclerc is no ordinary Formula One racer having an illustrious career in karting and F1, most recently driving for Ferrari since 2019.
In December 2022, Charles Leclerc and Charlotte Sine announced that they have split after being in a relationship for over 2 years. Both Charles and Charlotte took to their respective social media handles to announce the split.
How did they meet?
You must be wondering how Charles Leclerc and Charlotte Sine ended up together. Well, it all started when the former called off his relationship with Italian bombshell Giada Gianni due to their differences of focus in life. It was then that Charlotte, who was a friend of Giada, came into the picture. The couple officially began dating in December 2019 and made their relationship public.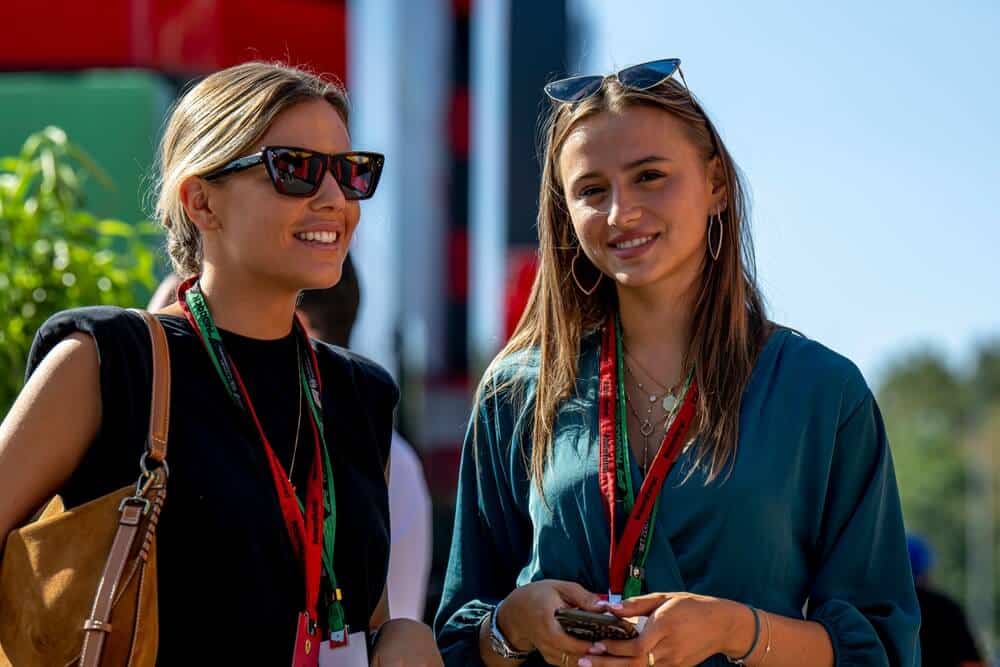 Carlos Sainz's girlfriend is Isa Hernaez
Carlo Sainz Jr, the Spanish Formula 1 driver, is among the most skillful racers on the circuit. He comes from a racing lineage and has raced for Carlin and DAMS after which he signed with Ferrari in 2020. Aside from being an accomplished racer, Carlos Sainz is also the lucky partner of Isa Hernaez.
Isabel Hernaez is a 27-year old who has been with the F1 star since at least 2017. It seems that they are quite private about their relationship and do not post pictures of each other on their social media profiles. Isa has a degree in bilingual journalism and currently works as a press officer for Scalpers Company and Victoria Collection.
She is a lively, bubbly and independent woman who loves to travel. Isa is a great support system for Sainz, and the couple seems very content together.
How did they meet?
As we mentioned, Sainz is quite private when it comes to his relationship. However, speculations of him dating Isa Hernaez first started in 2017 when the couple was seen on a vacation in Formentera. This gave rise to the assumption that this was their first meet up and perhaps where they started dating.
Isa Hernaez on social media
Isa is quite active on social media and has a whopping 177k followers (as of January 2023) on Instagram. She often posts pictures of her work, travel adventures and experiences.
George Russell's girlfriend is Carmen Montero Mundt
George Russell is an up and coming F1 driver who has made a name for himself in the sport. He made his F1 debut in 2019 and has been making waves ever since. One of the most frequent questions that fans ask about him is who his girlfriend is. George Russel's girlfriend is Carmen Mundt.
Hailing from London, she has a Bachelor's degree in Business Management & Finance from the University of Westminster. Her skill set includes financial planning, wealth management and inheritance tax planning. Carmen is known to be quite private when it comes to her personal life and family background. Both she and George prefer to stay away from the spotlight and maintain a low profile on social media.
How did they meet?
You might be wondering how George Russell and Carmen Montero Mundt met in the first place? Well, it was at the 2020 Tuscan Grand Prix that the couple made their relationship public.
According to some reports though, they might have started dating during the summer of 2020 when Carmen accompanied George to his race at Silverstone. Since then, both have kept a fairly low profile on social media, choosing to stay away from the spotlight. Thus, their fan pages are usually the ones that keep everyone updated.
Carmen Montero Mundt on social media
Carmen Montero Mundt has a huge fan following on Instagram, with over 160K followers as of January 2023. She is quite active on this platform, regularly sharing pictures of her and George's adorable moments. The captions are also filled with pure love and admiration for each other– their posts garner likes in thousands!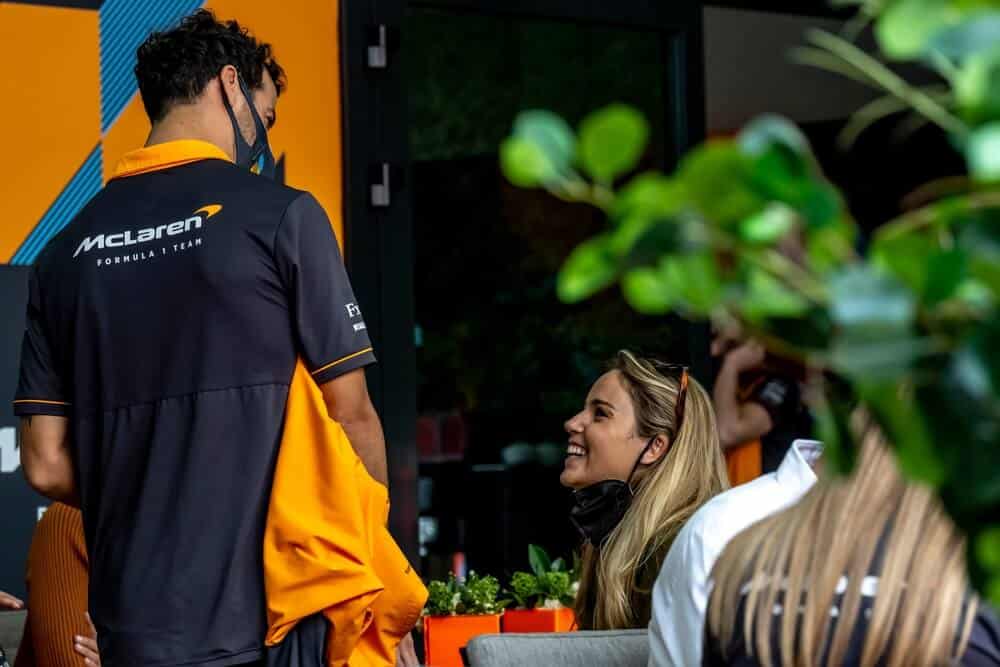 Daniel Ricciardo's girlfriend is Heidi Berger
Often known as the 'honey badger' of Formula 1, Daniel Ricciardo is one of the most beloved drivers in the sport. The 33-year-old Daniel Ricciardo has been in a relationship with model and influencer Heidi Berger since 2019.
Heidi Berger, is a student at New York University and has a passion for acting, having acted in several TV shows such as A Unica Mulher (2015), Trakehner Blut (2017) and Onde Esta Elisa (2018). Berger's father is legendary Austrian F1 driver, Gerhard Berger who had raced for Ferrari and McLaren. Her mother is Ana Corvo who was a model and of Portuguese descent.
How did they meet?
The Australian Formula 1 star and his gorgeous model girlfriend met back in 2019. Sources say that they had known each other for quite some time before starting a relationship. After spending quality time together, Ricciardo and Berger officially became an item.
They were spotted during hikes and helicopter rides, celebrating birthdays and even shopping together. Recently they have been seen together in New York and have been featured in Instagram stories of the racer and his mutual friends. All these events point to their strong connection.
Heidi Bergeron social media
Heidi Berger has a strong presence on social media platforms, particularly Instagram, where she has amassed over 102k followers as of January 2023. She posts a mix of content from her day-to-day life, modeling shoots, and promotions of her acting projects.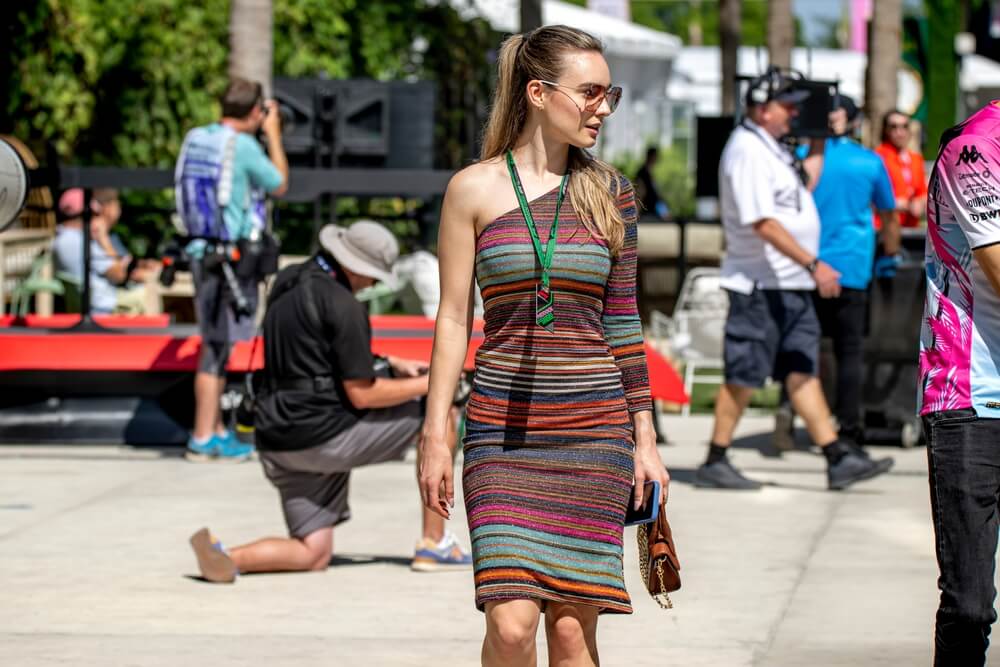 Esteban Ocon's girlfriend is Elena Berri
Esteban Ocon is an up-and-coming French racing driver currently driving for Alpine Renault in F1 racing. Ocon is happily in a relationship with Elena Berri, who is often spotted cheering him on from the stands.   
Elena Berri is an Italian model and influencer who stole the world's attention with her relationship with F1 driver Esteban Ocon. Born in Turin, she has a multilingual talent, speaking English, French, Spanish and other languages fluently. In addition to her modeling career, Elena currently studies Business Management in Geneva and has previously studied in Paris.
She loves to travel and explore new places, which makes her relationship with Esteban even more exciting—they often enjoy exotic vacations together exploring different cities around the world. Being an ambivert, she loves interacting with her fans whenever she can, making them feel like they're part of their adventure. With her bright personality and elegance, it's no wonder that Elena Berri has become a fan-favorite of F1 racing fans all over the world.
How did they meet?
Esteban and Elena have been dating since 2018, although they had known each other since 2017. The two prefer to keep their relationship more private and rarely discuss it publicly.
Elena Berri on social media
Elena Berri loves to share glimpses of her life on social media, and it's no surprise that she has 101k followers on Instagram as of January 2023. Fans can get a peek into her adventures with Esteban as well as her modeling work and other interesting activities.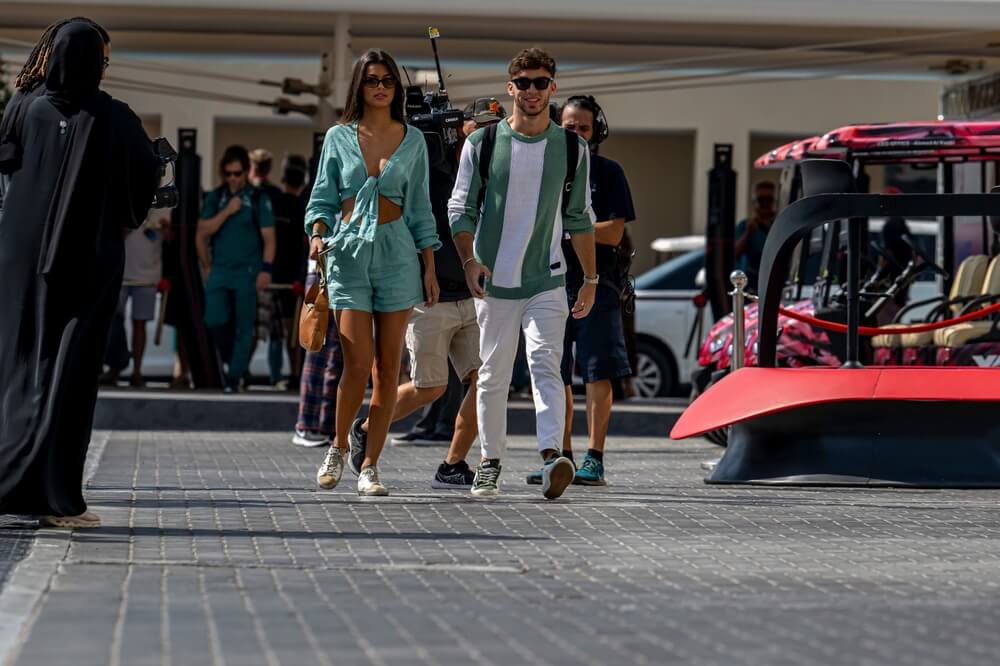 Pierre Gasly's girlfriend is Francisca Cerqueira Gomes (not confirmed)
Pierre Gasly is someone who has been making waves in the Formula 1 racing circuit. The French racer is currently driving for Alpine and is known for his dynamic approach. Pierre Gasly has been linked up as a partner with Francisca Cerqueira Gomes and they make a beautiful couple every time they step out together.
Francisca Gomes, also known as Kika, is a 19-year-old Portuguese citizen who is the daughter of Maria Cerqueira Gomes and Gonçalo Gomes. She has made her mark in Portugal as a model, actress and television presenter. Kika works with Central Models Portugal and has collaborated with popular brands such as Calzedonia and Natura Portugal. Her father also has motorsport connections, which could have been a contributing factor to her own romance with Pierre Gasly.
How did they meet?
Rumors about the relationship between Pierre Gasly and Francisca Cerqueira Gomes started earlier in 2021 after they were spotted together in a nightclub in Porto, Portugal. Images of them dancing together fueled speculations further and later, Pierre was seen accompanied by the model at the Abu Dhabi Grand Prix paddock.
While the couple has yet to confirm their dating status, it is believed that they started seeing each other at a nightclub in Porto.
Francisca Cerqueira Gomes on social media
Kika is also very active on social media, and her Instagram page is full of pictures from her modeling shoots. She has over 211K followers as of January 2023, and she often shares updates about her life with them.
Oscar Piastri's girlfriend is Lily Zneimer
Oscar Piastri, an Australian F1 driver, has been making waves in the racing world since his move to Europe. His immense success and drive have earned him a spot with McLaren for the 2023 season – a dream come true! Apart from his racing career, he also has a special someone in his life. This lucky girl is none other than the gorgeous and talented Lily Zneimer.
Lily Zneimer is the beautiful and supportive girlfriend of Australian F1 driver, Oscar Piastri. The two met while they were in their high school years and have been together ever since. Lily has been a pillar of support for her love, constantly accompanying him to races and events around the world.
Despite being young in age, the couple have managed to keep their relationship strong and private. We can only speculate that the two are deeply in love and will most certainly provide each other with emotional support as Oscar starts his long-awaited journey with McLaren in 2023!
How did they meet?
Although the exact details of their first meeting remain a secret, Lily Zneimer and Oscar Piastri crossed paths while they were high school students. It is likely that they started out as friends before their relationship blossomed into something deeper. The couple are rarely seen out in public, but when they do, they look as if they are very much in love and supportive of one another.
Lily Zneimer on social media
Lily is on Instagram but her profile is private and so we cannot exactly see what she has been posting. It seems that she values a private life and does not share too many details on social media. She has 1,072 followers as of January 2023.
Lando Norris does not have an partner
Lando Norris is a British-Belgian racing driver who made his Formula 1 debut in 2019. After two successful seasons with McLaren, he enjoyed his best campaign yet in 2021 . He is currently racing for McLaren in F1's new era of ground effect aerodynamics.
Unlike the above-mentioned F1 drivers, Lando Norris is not dating anyone at the moment after recently announcing his split with girlfriend, model Luisinha Oliveira. The two were together for a while before Norris shared the news of their break-up on his Instagram story. He wished her all the best and requested to respect their privacy.
Before this, Norris had celebrated one year anniversary with Oliveira, sharing loved-up photos. His ex-partner Lusinha Oliveira was a model from Portugal and is represented by the Portuguese modeling agency Central Models. With an Instagram account boasting over 375k followers, Luisinha posts stunning photos and videos of herself.
Valterri Bottas's girlfriend is Tiffany Cromwell
Valterri Bottas is a Finnish Formula 1 driver who made his debut with Williams in 2013. He has achieved success with Mercedes, and is now onto a new chapter in his F1 career with Alfa Romeo. Apart from his achievements on the racing track, Valterri also has a special someone in his life—his girlfriend Tiffany Cromwell.
Tiffany Jane Cromwell and Valterri Bottas are an enviable couple who have been dating for quite some time now. Tiffany is a 34-year-old Australian road and gravel cyclist, currently riding for UCI Women's WorldTeam Canyon-SRAM.
She was an important part of the Australian contingent at the 2020 Tokyo Olympics where she had a fantastic 26th place finish. Her list of achievements is long and speaks volumes of her dedication which has earned much respect in the sporting world. Not only is she a brilliant cyclist, but also a great support system for Valterri Bottas since 2020.
How did they meet?
It was in 2020 that Valtteri Bottas and Tiffany Cromwell first crossed paths. As fellow athletes who resided in the same area, it did not take long for them to develop a connection. Despite the rumors from skeptics, Valtteri confirmed his relationship with Tiffany on Instagram shortly after parting ways with his ex-wife Emilia Pikkarainen. The couple is now happily dating, and they have shared numerous adorable photos together on their Instagram accounts.
Tiffany Cromwell on social media
Tiffany Cromwell has established quite a presence on social media, with her Instagram account having 190k followers as of January 2023. She regularly posts updates on her cycling achievements, beautiful selfies with Valterri Bottas and snippets of their travels.
Zhou Guanyu does not have an partner
Zhou Guanyu is an ambitious Chinese racer, who moved to England with his family at the age of 12 to pursue a dream of becoming China's first-ever F1 driver – a feat he achieved in 2022 when he was called up to make his debut for Alfa Romeo.
However, unlike many of his rivals, Zhou does not have a partner at the moment. It seems like Zhou is too busy focusing on his career at the moment as he looks to make a name for himself in the F1 world.
Lance Stroll's girlfriend is Sara Pagliaroli
Lance Stroll is an up and coming sensation in Formula 1 racing, setting records and showing off his skills from the moment he made his debut with Williams. Apart from his incredible success on the track, Lance has been seen with a beautiful brunette named Sara Pagliaroli.
Lance Stroll's stunning Italian model, finance manager and sweetheart, Sara Pagliaroli, has been the center of media attention ever since she began her relationship with the record-breaking Formula 1 driver. Not only is she a highly successful model signed with renowned agencies, but she also runs a business based on lovely gems and started her own jewelry line during the Coronavirus pandemic.
Born on 18 February 1995, Sara is four years older than her famous partner and has achieved great success in both her personal and professional life. Together they make a beautiful couple; two shining stars of their respective careers.​
How did they meet?
Lance Stroll and Sara Pagliaroli's love story began in an alluringly mysterious way – no one knows exactly how the couple first crossed paths, but it was definitely meant to be.
They officially made their relationship public at the No Time To Die premiere in London last September, making them one of F1's hottest on-track off-track couples. The talented pair have been inseparable ever since, further solidifying their bond as the red-carpet couple of Formula 1.
Sara Pagliaroli on social media
Sara Pagliaroli is quite active on Instagram, where she has accumulated a whopping 165K followers as of January 2023. Her instagram features stunning pictures of her modeling career and impressive shots from her travels.
Mick Schumacher's girlfriend is Justine Huysman
As a son of the legendary F1 racer Michael Schumacher, Mick is often in the spotlight. He made his entry into F1 racing in 2021 and he is currently 23 years old. He is accompanied by his long term girlfriend, Justine Huysman.
Justine Huysman, the daughter of former Norwegian racer Harald Huysman, is the long-term girlfriend of Mick Schumacher. She is a student of International Law and Legal Studies at the University of Oslo, where she also studied Public Relations. Moreover, Justine is fluent in multiple languages – Norwegian, English, and French. While there is not much known about her professional career, we are sure she is a great support to the young F1 driver Mick Schumacher.
How did they meet?
Mick Schumacher and Justine Huysman have been together since Mick's entry into the F1 racing circuit in 2021. The story of how they met is an interesting one; Michael Schumacher, Mick's father, and Harald, Justine's father, were not only friends but fellow racers too!
This seems to have been the spark that ignited their relationship and has kept them together for a long time. Although there isn't much information about how exactly they met, it's clear that their fathers' friendship was what brought them together.
Justine Huysman on social media
Justine Huysman is an active Instagram user. As of January 2023, she has 4,336 followers and keeps them updated with her lifestyle.
Fernando Alonso's girlfriend is Andrea Schlager
Fernando Alonso is one of the most accomplished Formula 1 drivers of all time. He has had a long and successful career in the sport and is widely admired by fans of the racing world. Apart from his racing career, he also has a successful personal life. Fernando Alonso is currently in a relationship with Andrea Schlager, who is a sports journalist.
Andrea Schlager is a sports journalist who is well-known for her work in the field of F1, MotoGP and Tennis. She has interviewed several drivers in the paddock, as well as being the brand ambassador of Cupra, a sports car brand. Recently, she was seen holding hands with F1 driver Fernando Alonso as they made their way to the arena – signifying that they are in a relationship. Schlager clearly loves the world of racing and is an avid fan of the fast-paced sport.
How did they meet?
Starting out as co-workers in the Formula One paddock, Fernando Alonso and Andrea Schlager's romantic relationship blossomed. Little hints of their mutual affection started appearing on Instagram where they would comment and like each other's pictures. It turned into a full-blown relationship in no time. Recently, they were seen enjoying their American vacation together.
Andrea Schlager on social media
Andreas Schlager is very active on Instagram and currently has 113K followers as of January 2023. She posts regularly and shares her life updates with her fans.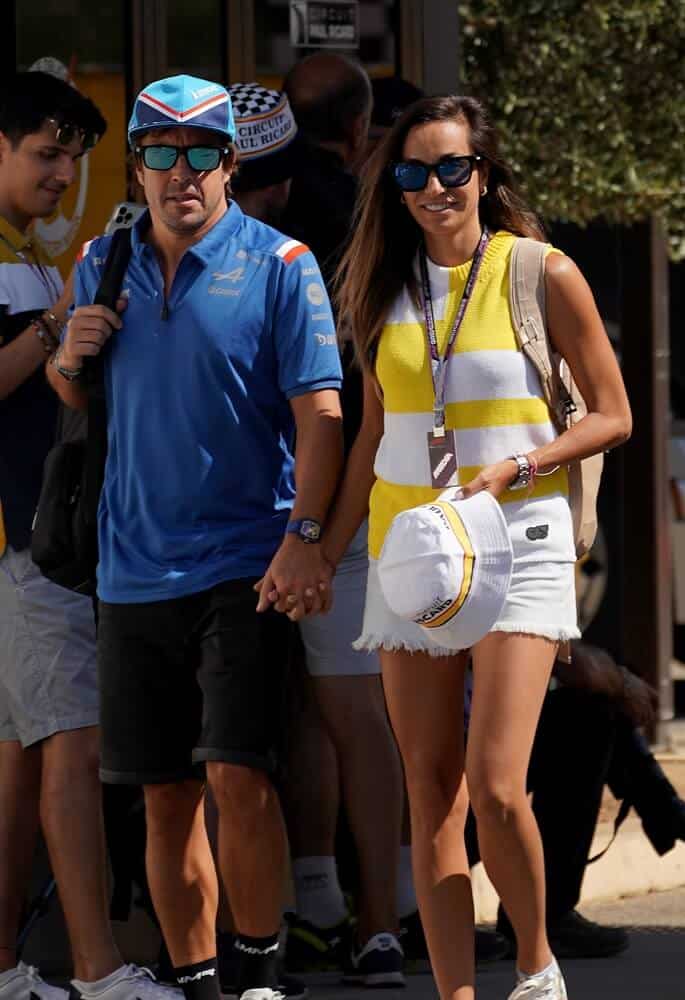 Kevin Magnussen's wife is Louise Gjorup
Known for his daring performances on the race track, Kevin Magnussen is a second-generation F1 driver who has achieved great success in the sport. He has been married to Louise Gjorup since 2019 and they tied the knot in a private ceremony. Louise is an avid traveler and she often accompanies her husband on his racing trips around the world.
Louise keeps her personal life private, preferring not to share details about her career or employment with the public. It was in October 2018 that Magnussen announced his plans to propose after the Mexico Grand Prix, and the two tied the knot a year later. Louise Gjorup is a mysterious figure as she prefers to stay out of the public eye. We can only imagine the amazing, supportive wife she is to her racing husband, Kevin Magnussen
How did they meet?
Although the details of how Kevin Magnussen and Louise Gjorup first met have remained private, it is known that the couple has been acquainted for a long time prior to getting married in October 2019. After the Mexico Grand Prix in October 2018, Magnussen announced his plans to propose, and their union has since been blessed by the birth of their son.
Louise Gjorup on social media
Louise Gjorup maintains a relatively low profile on social media, but her Instagram account has 12.5K followers as of January 2023, and she posts pictures of the family from time to time. We can see how supportive she is of her husband, Kevin Magnussen's racing career.
Nico Hulkenberg's wife is Egle Ruskyte
Nico Hulkenberg has consistently impressed fans and team members alike with his ability to master changing track conditions and hoover up points. With a cheeky sense of humor and down-to-earth personality, Nico is a hit with many of his fans.
But Nico's biggest fan is undoubtedly Egle Ruskyte, who married him in 2021. Prior to their wedding, the couple had been dating since 2015.
Egle Ruskyte is a professional fashion designer and entrepreneur, well-known for her stunning designs under the business name The Crochet Girl. She specializes in resort wear and has become quite popular on social media as a model. Her designs are limited quantity and exclusively crocheted, making them highly sought-after pieces. Egle definitely stands out as a strong, independent woman who can be admired for her success both in business and love.
How did they meet?
Nico Hulkenberg and Egle Ruskyte first crossed paths in 2015 and began dating shortly thereafter. After five years of being together, Nicolas proposed to Egle in 2020 and they tied the knot on June 22nd 2021.
Egle Ruskyte on social media
Egle Ruskyte is quite popular on social media, with 28.6K followers(as of January 2023) on Instagram, where she promotes her fashion brand The Crochet Girl.
Nyck De Vries's girlfriend is Eva Bruggenwirth
Nyck De Vries is a Dutch Formula 1 driver with an impressive track record and recently signed with AlphaTauri. He is in a committed relationship with his girlfriend Eva Bruggenwirth.
Eva Bruggenwirth works as a social media assistant and content creator for Anna and Nina – an acclaimed fashion brand based in Amsterdam that offers jewelry, homeware and clothing collections. Eva also owns Guapalana – a home-made mohair knitwear company that she operates together with her mother. Prior to her entry in the world of social media, Eva had an apprenticeship with Marie-Stella-Maris – a health and personal care company. During that time, she studied interior design and graduated in communication sciences.
How did they meet?
Nyck De Vries and Evan Bruggenwirth have been in a long-term relationship for two years. They began dating in July 2020 and often share sweet photos on social media. The couple keep their romance private while still allowing fans to follow along.
Evan Bruggenwirthon social media
Evan Bruggenwirth is highly active on social media and has over 8,000 followers on Instagram as of January 2023. On her profile, she often posts pictures from her travels, day-to-day activities and cute pictures with Nyck De Vries.
Yuki Tsunoda does not have an partner
Yuki Tsunoda does not currently have a partner. However, the Japanese Formula 1 driver certainly has no shortage of admirers who would love to be with him. He is known for his daring and fearless performance on the race track, which has earned him praise from all corners of the world.
Although he is still very young and new to Formula 1 racing, it looks like a bright future awaits him. Fans are sure to hear more about Tsunoda's relationship status in the upcoming season. Until then, they will just have to appreciate him from a distance. Meanwhile, Tsunoda will remain focused on his career and will undoubtedly continue to make waves in the world of Formula 1 racing.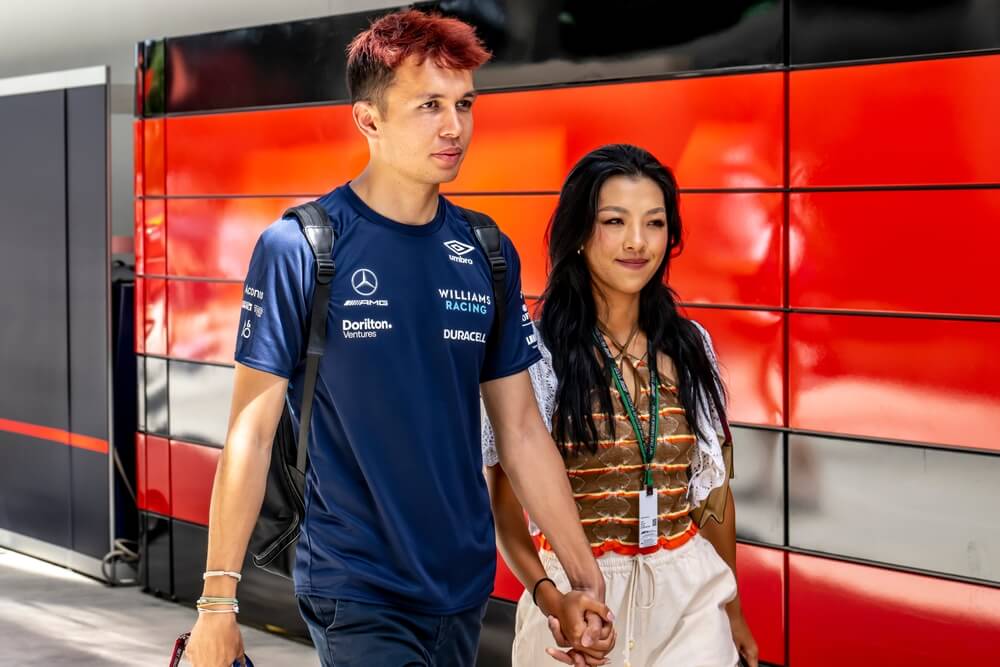 Alexander Albon's girlfriend is Lily He
Alexander Albon is a London born racer, competing in Formula 1 under the flag of Thailand. After two seasons with Red Bull, he returned to the F1 grid in 2022 driving for Williams, where he is due to stay for 2023. Alexander Albon's girlfriend Lily He, has been supporting him with all the ups and downs of the Formula 1 seasons.
Lily He, also known as Muni, is a professional golfer who was introduced to the sport at an early age by her father. After attending Torrey Pines High School in San Diego and majoring in Communications from the University of Southern California, Lily turned pro in 2017 and earned her first professional victory at the Prasco Charity Championship on the Symetra Tour in 2018. Winning the LPGA Q Series in November 2019 earned her a spot on the LPGA Tour for 2020, and she stands as a pillar of support to Formula 1 driver Alexander Albon.
How did they meet?
Wondering how the duo met? Alex Albon and Lily Muni He's relationship is nothing short of a fairytale, beginning with Lily's admiration for the only Asian driver on the F1 grid when she was watching him on Netflix show "Drive to Survive". As fate would have it, Alex was also interested in golf so they connected as soon as they met. That show actually helped him get through a difficult moment in his life and their sweet romance began from there.
Lily He on social media
Lily He is quite popular on instagram and also has a huge fan following with 557k followers as of January 2023. She often shares snippets of her life on the platform, keeping her fans updated about her golf tournaments and other activities. She also posts pictures of her with Alex Albon that are simply adorable and show the strong bond between them.
Logan Sargeant does not have an partner
Logan Sargeant is the first American Formula 1 driver in almost 8 years, making his debut in 2023. Having won titles in karting, Logan has shown tremendous speed and potential across multiple single-seater championships. His consistent success has earned him a place on the F1 grid with Williams for 2023.
However, Logan Sargeant does not have an official partner as of yet. This may be because he is focusing all of his energy and attention on fulfilling his racing career aspirations. As a professional driver, Logan spends the majority of his time on the track and in the garage with his team. He may not have had the opportunity to find love given his extremely busy lifestyle. Alternatively, he may be keeping his private life away from public attention in order to remain focused on becoming successful and winning.
Sebastian Vettel's wife is Hanna Vettel
Sebastian Vettel is one of the most successful F1 drivers of all time, having won four world championships. While he was busy creating history on track, Sebastian Vettel's wife Hanna Prater Vettel supported him through thick and thin. The couple tied the knot in 2019.
Hanna Prater, the wife of F1 driver Sebastian Vettel, is known for her work in Look Magazine and the S. Oliver fashion house. Prater attended Heppenheim Middle School and went on to receive advanced education in industrial design from Badan Wurttemberg Fashion School. Since their marriage in 2019, she has taken a step back from her career and become a housewife. She is rumored to be working on her own fashion accessories brand, but there has been no official statement from Prater. The couple keeps their personal life private and refrains from making it public. Despite this, they remain an inspiring couple with a strong bond that transcends any boundaries.
How did they meet?
Hanna Prater and Sebastian Vettel had known each other since childhood, meeting in Heppenheim in 2006. Who knew that their childhood friendship would one day turn into a happily married relationship? After years of being friends and living their respective lives, the couple finally decided to take their relationship to the next level and tied the knot in 2019. Since then, they have become parents to three children and are living happily ever after.
Hanna Vettel on social media
Although there is an Instagram account with Hanna Vettel's name, it is uncertain whether she owns it herself. The account has over three thousand followers.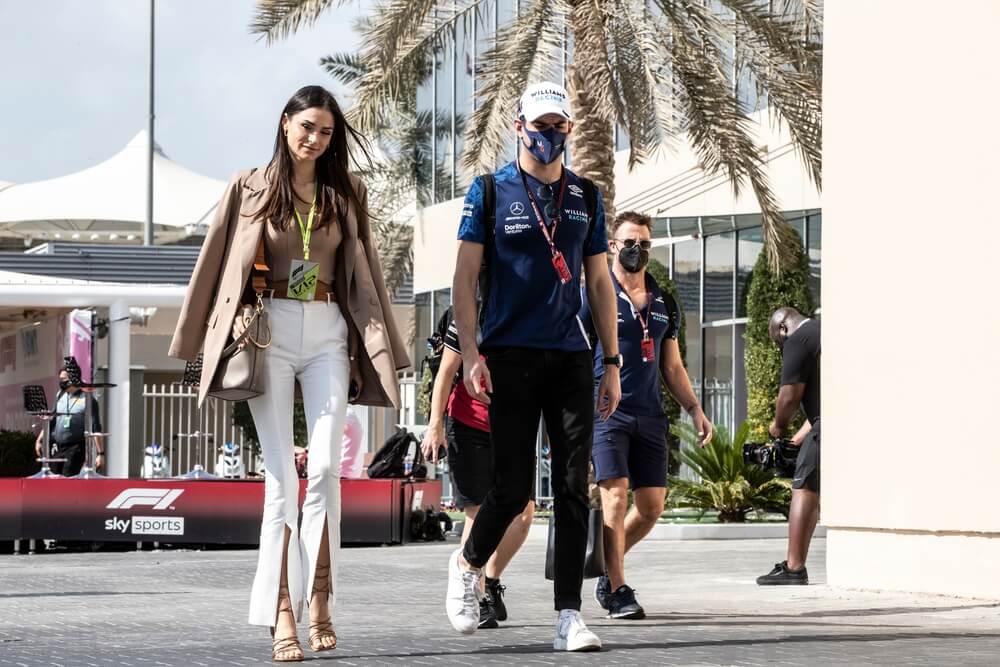 Nicholas Latifi's girlfriend is Sandra Dziwiszek
Nicholas Latifi is Canadian Formula 1 driver who made his debut in the sport in 2020. His career has seen some ups and downs but he still manages to win many hearts with his cheerful personality. The one special heart he has won is that of Sandra Dziwiszek, with whom he has been in a relationship since 2020.
Sandra Dziwiszek is the lucky lady in Nicholas Latifi's life. She is a Portuguese-born lawyer and fashion model, having completed her law degree from a university in London. 2014 presented her with an opportunity to enter into the world of modeling and since then she has been featured on campaigns for well-known brands such as Puma, Wake Up Cosmetics, Vogue, Deha and even the London Fashion Week. She has a passion for both her careers; law and modeling. Dziwiszek is an impressive combination of beauty and brains!
How did they meet?
As we mentioned, Nicholas Latifi and Sandra Dziwiszek began their relationship during June 2020, the time of the coronavirus pandemic. Since everyone was confined to their homes and social distancing was in full force, it is reported that the two met virtually through social media platforms. It didn't take long for them to establish a connection and start dating!
Sandra Dziwiszek on social media
Sandra is quite active on Instagram, with over around million followers as of January 2023. Her posts usually feature her modeling work, but she also shares creative photos and videos that give a peek into her daily life.
Conclusion
So, there you have it—a comprehensive look at Formula One drivers' wives, girlfriends, and partners. As you can see, these ladies often have impressive backgrounds in their own right and are often seen standing alongside the most successful drivers on the F1 circuit. No matter who they are, though, they all demonstrate one thing—undying support for the F1 drivers they love. From cheering them on at the track to acting as their sounding board away from the track, their presence is invaluable and provides an extra bit of motivation for these elite racers.
We hope this overview provided an interesting insight into the private lives of Formula One drivers and their significant others. We wish them all the best in their future endeavors!
Article sources