Charles Leclerc is a rising star in the world of Formula One racing. Born in Monaco in 1997, Leclerc began his racing career in karting before quickly rising through the ranks to become a Formula One driver.
Since making his debut in 2018, Leclerc has established himself as one of the most exciting drivers on the grid, with a fiercely competitive spirit and a natural talent behind the wheel.
In this article, we'll explore 50 fascinating facts about Charles Leclerc, from his early years in motorsport to his current success in Formula One.
Whether you're a die-hard fan of the sport or just curious to learn more about this rising star, you won't want to miss this comprehensive guide to all things Leclerc.
Official F1 Store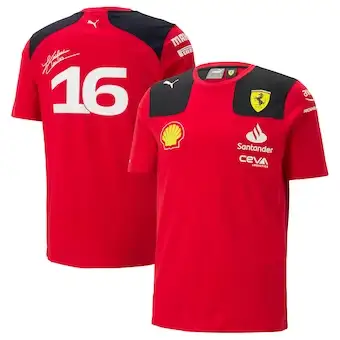 50 Facts about Charles Leclerc:
Charles Leclerc was born on October 16, 1997, in Monte Carlo, Monaco.
He is a Monegasque racing driver currently competing in Formula One for the Scuderia Ferrari team.
Leclerc began his racing career in karting at the age of four.
He won the French PACA Championship in the Cadet category in 2005 and the French Championship in the Junior category in 2009.
Leclerc moved to single-seaters in 2014, competing in the Formula Renault 2.0 Alps championship.
He won the championship in his debut season, becoming the youngest ever champion of the series at 16 years old.
Leclerc then moved on to the Formula 3 European Championship, where he finished fourth in the standings in 2015 and third in 2016.
He made his Formula One debut with the Sauber team in 2018, finishing 13th in his first race in Australia.
Leclerc's first points finish in Formula One came in his third race, finishing sixth in Baku.
He scored his first podium finish in Formula One at the 2019 Bahrain Grand Prix, finishing third.
Leclerc's first win in Formula One came at the 2019 Belgian Grand Prix, becoming the first Monegasque driver to win a race in the series.
He won his second race at the 2019 Italian Grand Prix, becoming the youngest driver to win back-to-back races since Sebastian Vettel in 2010.
Leclerc signed with the Ferrari team for the 2019 season, replacing Kimi Raikkonen.
He finished fourth in the drivers' championship in his first season with the team, scoring seven podium finishes and two wins.
Leclerc became the second-youngest pole-sitter in Formula One history at the 2019 Bahrain Grand Prix.
16. He has a younger brother, Arthur Leclerc, who is also a racing driver.
17. Leclerc is known for his aggressive driving style and his ability to perform well in wet conditions.
18. He is also known for his love of video games, particularly sim racing, and has competed in several virtual racing events.
19. Leclerc is a fan of football and supports AS Monaco.
20. He is fluent in French, Italian, and English.
21. Leclerc is a member of the Monte Carlo Yacht Club and is often seen sailing around Monaco.
22. He has a close relationship with his father, Herve Leclerc, who is also a racing driver and owns a karting circuit in Monaco.
23. Leclerc's mother, Pascale Leclerc, passed away in 2017 after a long battle with cancer.
24. He has several tattoos, including one of his father's helmet on his wrist and one of a turtle on his arm.
25. Leclerc is sponsored by the fashion brand Giorgio Armani.
26. He is also sponsored by the watch brand Richard Mille.
27. Leclerc is a member of the FIA Drivers' Commission, which works to improve safety and fairness in motorsport.
28. He is an ambassador for the Prince Albert II of Monaco Foundation, which promotes sustainable development and environmental protection.
29. Leclerc has said that his dream car is the Ferrari F40.
30. He enjoys listening to music and lists Ed Sheeran and Coldplay among his favorite artists.
31. Leclerc is a skilled pianist and often plays for relaxation.

32. He is active on social media, with over 2 million followers on Instagram.
33. Leclerc is also known for his charity work and has supported several causes, including cancer research and youth development programs.
34. He has been recognized for his achievements in motorsport, winning the prestigious Autosport Rookie of the Year award in 2018.
35. Leclerc is the first driver from Monaco to compete in Formula One since Olivier Beretta in 1994.
36. He has a close relationship with his teammate at Ferrari, Carlos Sainz Jr.
37. Leclerc's racing hero is Ayrton Senna, and he has often been compared to the Brazilian legend for his driving style and talent.
38. He is a fan of the television show Game of Thrones and has named some of his helmets after the series.
39. Leclerc is also a fan of the Japanese manga and anime series One Piece and has named one of his helmets after the main character, Monkey D. Luffy.
40. He has a reputation for being a hard worker and spends a lot of time in the simulator and in the gym.
41. Leclerc has a unique driving technique that involves braking later and carrying more speed into corners.
42. He has had several close calls and accidents during his career, including a crash in qualifying at the 2019 Azerbaijan Grand Prix.
43. Leclerc has been described as a "future world champion" by several motorsport experts.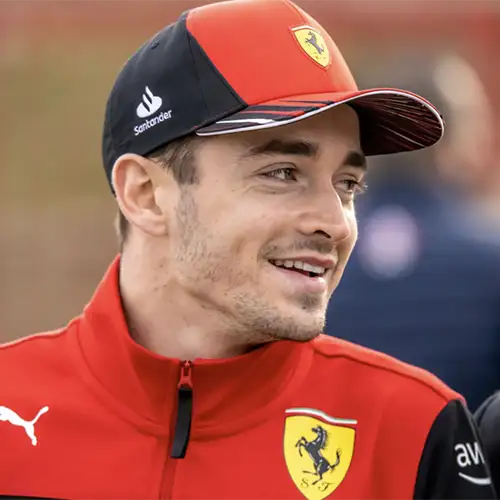 44. He has a strong following in his home country of Monaco, with fans often lining the streets to watch him drive his Ferrari through the city.
45. Leclerc is known for his dedication to his craft and his ability to bounce back from setbacks.
46. He has a strong work ethic and is constantly looking for ways to improve his performance.
47. Leclerc is considered one of the most talented drivers on the grid and is expected to be a title contender in the future.
48. He has been praised for his ability to adapt to different cars and race tracks.
49. Leclerc is also known for his calm demeanor under pressure and his ability to stay focused during races.
50. He has a bright future ahead of him in Formula One and is expected to be one of the sport's top drivers for many years to come.
We have also published an article about Charles Leclerc net worth and salary.