Pierre Gasly is a powerhouse in the racing world and one of the most down-to-earth and charming personalities in Formula 1. He has recently been sighted with a certain someone that the media suspects to be his latest girlfriend, which has undoubtedly caused quite a stir! 
Who is Pierre Gasly's Girlfriend?
Gasly was seen with Portuguese model and up-and-coming social-media celeb Francisca Cerqueira Gomes, who usually goes by Kika. Gomes, 19, reportedly started dating Gasly (26) in late 2022. 
There is a lot of speculation about their official relationship status. Still, the two have been spotted close in many public gatherings, and fans say it is all but official!
How Did They Meet?
Many details about Kika and Pierre Gasly's relationship have yet to be made public. The couple was first spotted together at the 2022 Abu Dhabi Grand Prix paddock. 
Soon after, another source confirms a midnight sighting in a Porto nightclub with rather lascivious images. So their relationship is pretty new, but according to speculators, the two have been vacationing together all over Europe; Paparazzi spotted them last month at a beautiful resort in Ibiza. 
Fans are ravenous for any details about Gasly's private life, and some creators on TikTok have compiled Instagram posts of the two that prove they were in the same place at the same time in multiple different resort locations. Gasly and Gomes will have a tough time concealing their romantic trysts from the all-seeing eyes of the internet!
All you need to know about Pierre Gasly's girlfriend Francisca Cerqueira Gomes
| | |
| --- | --- |
| First Name | Francisca |
| Last Name | Cerqueira Gomes |
| Age | 19 |
| Height | 5' 7" / 172cm |
| Hometown | N/A |
| Religion | Christian |
| Nationality | Portuguese. |
| Profession | Model, Actress, and Social media influencer. |
| Boyfriend | Pierre Gasly (2022) |
| Children | Not yet |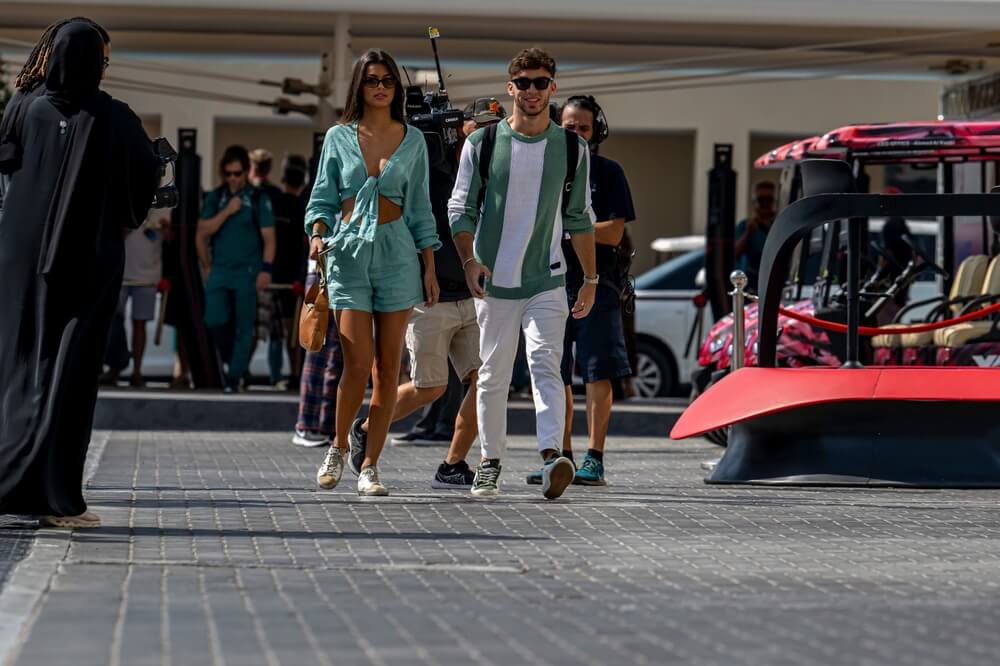 Where is She From?
Francisca was born in Portugal on 24th January 2003 and has lived there for most of her life. If you're new to F1 gossip, you may think Gomes's fame is a product of her romantic life, but you would be wrong. 
While being sighted with Pierre Gasly is sure to be a social booster, Kika's fame comes from her roots. Her mother is Maria Cerqueira Gomes, a famous Portuguese television presenter and model. Gomes's mother has had a tumultuous dating history, and in her prime, she achieved the height of desirability. 
Maria's husband at the time (also Kika's father) was Goncalo Gomes, a Portuguese racecar driver with a thrilling history of championship wins under his belt, including the 1993 Formula Ford Portugal and the 2002-2003 Formula Novis Portugal championships. So the affinity for racing runs in the family!
Occupation
Even though Kika is only nineteen, she has accomplished a lot! Her sensational fan following on her social media accounts has turned her into a public figure and social influencer. She has also had a brief acting career, which she wishes to pursue further after she has advanced her education.
Still, she has acted in several small-scale Portuguese tv-shows as a recurring star, including Casa Feliz (2021), Estamos em Casa (2021), and Festa é Festa (2021) for multiple episodes. 
Following in the footsteps of her mother, Maria Cerqueira Gomes, by pursuing a modeling career as well. She has signed up with Central Models Portugal, done advertising campaigns and shoots for Calzedonia and Natura Portugal, and collaborated with famous Portuguese personality Margarida Cordeiro.
Social Media Accounts
Kika is very social media savvy and regularly updates her fans about her brand partnerships, latest vacation spot, and daily exploits, which have now amassed over 200,000 followers.
Here are her accounts:
Instagram: francesca.cgomes
TikTok: franciscagomes020
Facebook: Francisca Gomes
Youtube: Francisca Gomes
Pierre Gasly's Relationship and Dating History
Despite being one of the more private figures in the world of Racing, Pierre Gasly's dating history makes its way to the Paps quite regularly. At only 26, the Alpine driver has amassed quite a cult following for his romantic history. Which includes liaisons with some of the most desirable women in Europe.
His first official girlfriend was Caterina Masetti Zannini. Zannini became involved with Gasly in early 2018, and the couple went public with their relationship soon after. They broke up in 2020 but is still one of the most well-known celebrity relationships among F1 fans. It is rumored that Caterina broke it off with the racecar driver due to his overreaching involvement in his career, which left very little time for the two to spend together. It probably didn't help that most of their relationship was on a long-distance basis. They parted on good terms towards the end of 2020 and made the announcement to their fans on social media.  
After a brief sabbatical, the internet discovered that a new beauty had caught Pierre Gasly's eye: beloved Ukrainian model and social-media influencer Katerina Berezhna. Although the two tried to keep their affair on the down low, it was soon apparent to any fan that they were enamored with each other. 
Interestingly, Gasly was not her first Formula 1 romantic partner; her ex-boyfriend, Lando Norris, was a British-Belgian racer for McLaren. Berezhna and Galsy had a loving relationship for almost two years before they announced their breakup on social media in covert terms and wished each other the best. 
After seven months, the GrandPrix winner was rumored to be dating Francisca Cerqueira Gomes, a Portuguese model and Actress. Although the couple hasn't officially announced the start of their journey together, fans are convinced of the strength of their speculation. 
Dating Rumors in the Past
With a string of relationships and heartbreaks comes an inevitable mill of rumors or a pot of gossip that constantly threatens to bubble over. Gasly has handled all of this in stride; however, fans have had a good field day with the rumors that have followed his trail of heartbroken beauties.
One of the most prominent rumors after Gasly's breakup with Zannini was about them being secretly engaged. We believe this happened because of fans' adoration and overwhelming support for their relationship. Of course, Gasly quickly shut the speculation down when he got wind of it, and that was all.
Moreover, the internet also suspected (and still does!) that there was infidelity involved in Gasly and Berezhna's brief relationship. This is likely a widespread suspicion because of both ex-lovers' romantic pasts. However, there is no way to know what happened during those two years.
Frequently asked questions
Is Pierre Gasly married to Francisca Cerqueira Gomes?
No, the two have not officially confirmed their relationship, and they are not married.
Do Pierre Gasly and Francisca Cerueira Gomes have children together?
The (rumored) couple has no children, and to the best of our knowledge, they do not have any children from their previous relationships either.
How did Pierre Gasly and Francisca Cerqueira Gomes meet?
The couple met at a nightclub in Porto in 2022, hardly seven months after Gasly's breakup with his ex, Ukrainian model Katerina Berezhna.
Pierre Gasly's relationships always become the talk of the town, and it is undoubtedly no wonder his dating history is riddled with bombshells from all over Europe. The racer experienced a surge in fame after replacing Daniel Riccardo in 2018. Since then, fans have been engaging daily with his romantic partners and actively speculating about his relationship status(es). While nothing about his and Francisca's relationship is set in stone (yet), we know that it's only a while before it becomes official. Read more about all Formula 1 drivers' girlfriends and wives.