A sport that merges thrill and fear, Formula One is an internationally recognized auto racing sport. Candidates partaking in this thrill-filled competition either climb the ladder to fame or fall right off it. However, given that Mika Hakkinen retired from Formula One at the peak end of 2001, fans and critics tend to be inclined towards Mika's profession, personal life, and, most crucially, his net worth. 
We break down Mika Hakkinen's rise to fame, career highlights, and more within this article.
Mika Hakkinen's net worth 2023
According to most sources, Mika Hakkinen presently has a net worth of $30 million since he was one of the only three competitors to reach the Formula One World Championship. Ever since he left Formula One, his wealth has witnessed a rise. After his retirement, Mika switched to driver management and competed in the DTM series.
Mika is currently a brand ambassador for several brands, including Mclaren Racing, Malbro, and various companies. He presently has some properties within his possession in France and Finland.
| | |
| --- | --- |
|   | Mika Hakkinen's financials |
| Net worth | $30 million- |
| Salary from Driving Management | Not known |
| Investments | Properties in Finland & France |
| Assets | None to have been reported- |
| Loans and liabilities | None to have been reported- |
Mika Hakkinen's Salary From Driver Management
Mika Hakkinen is currently working in the driver-management industry. The figure of his exact salary has not been disclosed yet, however, one thing is for sure. To this day, Mika Hakkin earns quite a hefty amount, along with his several brand endorsements and sponsorships.
Watch this video to understand Mika Hakkinen's net worth, salary and lifestyle.
Mika Hakkinen Endorsements
Along with his driver management-related duties, Mika Hakkinen is currently sponsored and endorsed by numerous brands, including the FAI aviation group, Mclaren, Marlboro, Artisans de Geneve, and Unibet which is the number one company within the gaming industry.
 Additionally, Mika Hakkinen also worked as an affiliate with Rolex, which led to the ' Mika Hakkinen Challenge'. Mika also sits alongside the Executive Director and Staff of Mclaren marketing. Lastly, Mika Hakkinen is currently a brand ambassador for Mercedes Benz, UBS, and Formula One. 
Mika Hakkinen made his debut in Formula One in 1991 with a team called Lotus.

Mika is a two-time world champion and presently has a net worth of thirty million dollars.

Mika Hakkinen is popularly known as 'The flying Finn.

His racing career began at the early age of five with Karting, which was a defining moment for his career as he realized that he was fond of racing.

He started competing in many national and local karting events that had been conducted in Finland when he was ten years old, and he ended up winning every championship.

Then he decided to explore the world of open-wheel racing.

Mika Hakkinen competed in three different championships in 1987 and won each competition.

After winning a championship for West Surrey Racing, he was offered a contract for Formula 1 in 1990.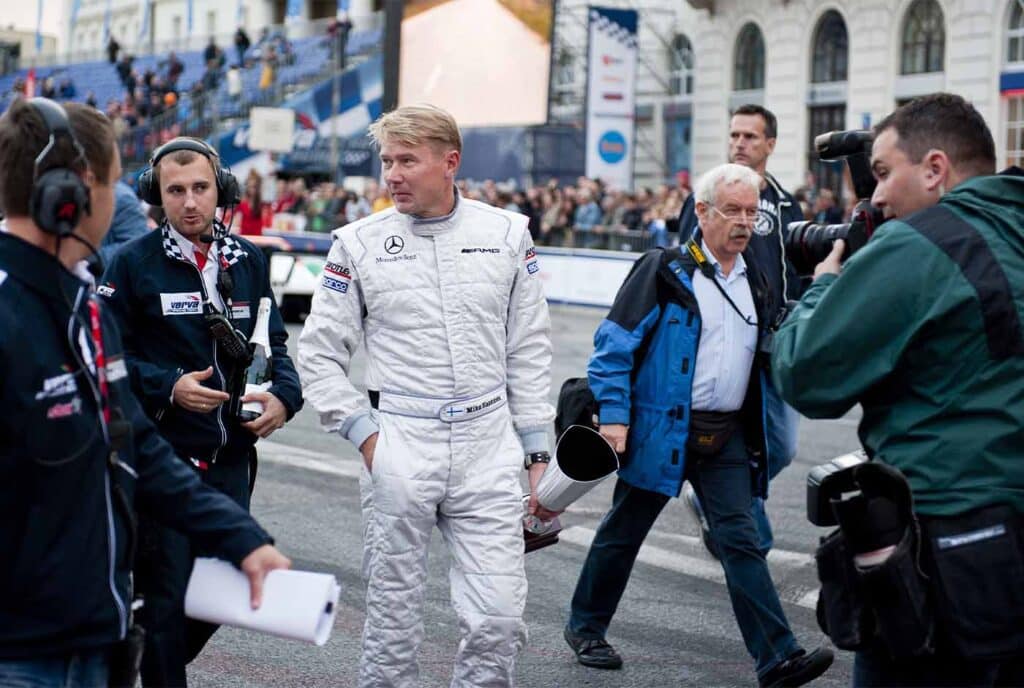 Lean more about Mika Hakkinen
| | |
| --- | --- |
| Full name | Mika Pauli Häkkinen  |
| Nationality | Finnish |
| Date of birth | 28/09./1968 |
| Height | 1.78 m |
| Weight | 70 kg |
Considering that Mika Hakkinen won several championships, numerous fans are incredibly curious about how Mika Hakkinen's life journey started. Below, we discuss every tiny aspect from early life to Mika Hakkinen's career highlights.
Early Life
Mika Hakkinen was born on the 28th of September, 1968. He was conceived by Aila Hakinnen who worked as a secretary, and Harri, a shortwave radio operator, and an occasional taxi driver.
Since the age of five, Mika Hakkinen has demonstrated a fascination for racing. When he was five, his parents hired a go-kart for him as a push for Mika to give karting a try. Despite encountering an accident on his very first lap, Mika showed resilience throughout the race.
As Mika's enthusiasm for Karting grew and his skills improved, his family, including his sister Nina, started racing for entertainment by forming their team. 
Mika preferred action to books but managed to complete primary school before enrolling in a course related to metalworking. Mika quickly dropped out of that course,  to climb a ladder toward his desired career.
Mika Hakkinen won his first karting championship in a competition held at the Keimola Motor Stadium. He won championship after championship over the ensuing years, eventually taking home the 85cc class of the Finnish Karting Championship as his debut karting victory.
His career reached its apex when he switched from karting to car racing after winning numerous championships.
After transitioning from Karting to Car racing, Mika Hakinnen's career has witnessed ups and ups only. In 1986, he competed in the Swedish, Finnish, and Nordic Formula Ford championships where he won each title on his first attempt and secured victory in nine races. He then decided to compete in the British Formula 3 Championship, where he won the seventh position. 
He was elevated to Formula One by team Lotus after winning the British Formula 3 title. He achieved seven podium finishes in 1995, but the championship ended in a complete disaster since he experienced the worst accident of his career.
Mika Hakkinen was named the 1998 World Champion after regaining his momentum. The essence of victory was Mika's constant companion in the years that followed. But shortly after Erja and Mika welcomed a kid, Mika decided to take a year off from racing to spend more time with his family. It's regrettable that Mika Hakinnen never again participated in a Formula One race.
When Mika competed in the 1993 Portugu Grand Pix, Mika defeated Aryton Senna during the qualifying round for the race. Although Mika was amongst the youngest competitors, he finished in the third position.

During his third Formula One race in 1991, held in San Marino, Mika Hakkinen finished in the top ten. What set this race apart from others was that it was raining heavily, yet Mika kept his cool together and still managed to succeed. 

During the Monte Carlo race in 1998, Mika Hakkinen won his first championship title. This particular race was the highlight of his career, as he was the competitor that took the podium along with the fastest pit stop and the fastest lap record!  

Throughout his career, Mika Hakkinen participated in a total of 266 races and won 56 of them. 

The only driver to have won the "World Champion title" twice is Mika Hakkinen, who won the Formula One World Championship in 1988 and 1999.

During his time in Formula One, he competed in 151 races and won the first position twenty times

 
Favorite Quotes from Mika Hakkinen
We have mentioned some famous quotes from Mika Hakkinen below.
Listed below are some quotes by him. 
"You can only get over your fears if you attack them head-on."

"I've been through so much in my career in F1, particularly in 1995, and I did achieve so much that I thought that it's not worth it anymore to push your luck further."

"Formula One is a mind game, no question. You have to think so hard sometimes smoke comes out of your ears! And if you don't keep your head in gear the car will overtake you"
What else does Mika Hakkinen own?
Considering the handsome net worth attached to Mika Hakkinen's name, there's no refuting the fact that Mika Hakkinen owns numerous fascinating items that are worth millions and millions of dollars. Below, we have listed a few things that Mika Hakkinen owns.
Considering that Mika Hakkinen found a passion within racing, being fond of cars was a trait of his that we always saw coming. Mika Hakkinen currently owns a McLaren P1, which is worth more than a million dollars.
According to sources, Mika Hakkinen owns several properties in Finland and France. Mika has resided in Monte Carlo since 1991. His mansion in France burned down in 2008, due to a short circuit due to which he lost several valuable possessions, including his F1 trophies.
Mika Hakkinen does not own any boats or yachts under his name. However, his F1 car had been showcased on a yacht before in Monaco.
Along with his driver management-related duties, Mika Hakkinen is currently sponsored and endorsed by numerous brands. Apart from that, there have been no reports of Mika having shares in some other company or brand.
Frequently asked questions
How much did Mika Hakkinen earn in a year in F1?
The exact details of how much Mika Hakkinen was paid are unknown to this day, however, he was paid a hefty amount during his time at Mclaren. Furthermore, he was able to earn much more due to his sponsorship with Malbro as he was featured in various promotional campaigns.
How rich is Mika Hakkinen?
Mika Hakkinen has an estimated net worth of thirty million dollars. Before retiring, he earned a hefty amount from Mclaren. Mika currently earns through the various sponsorships he is a part of.
Why is Mika Hakkinen so rich?
Mika Hakkinen earned most of his wealth during his time at Formula One. After he retired, he transitioned into driver management. Apart from that, he earns a handsome amount via sponsorships and brand ambassadorship.
Where did Mika Hakkinen get his money?
Mika Hakkinen earned most of his money during his Formula One days. However, he also earns via his various sponsorships, endorsements and most importantly, his driver management duties.
Is Mika Hakkinen a billionaire?
Mika Hakkinen may not be a billionaire, but he certainly is a millionaire as he has a net worth of thirty million dollars.
Mika Hakkinen's net worth compared to active Formula 1 Drivers
Mika Hakkinen retired twenty one years ago, and currently has an estimated net worth of thirty million dollars. Along with the wealth he accumulated from Formula One, he also currently earns through various passages, including sponsorships, endorsements and his current driver management duties. However, there's no denying the fact that Mika Hakkinen's net worth falls within the high net worth standard. However, athletes competing within Formula One nowadays do have net worth that shoot up to around 3 billion dollars.
Mika Hakkinen's net worth compared to former Formula 1 Drivers
Mika Hakkinen began his Formula One journey in the early 1990s, and since then his career only witnessed ups and ups. That was until he retired in 2001. Presently, he has a net worth of thirty million dollars. Compared to former Formula One drivers, Mika Hakkinen's present net worth may be regarded as amongst the lower net worths. Former Formula 1 drivers have net worth's that range from  100 million to even 600 million! See a list of former Formula 1 drivers net worths.
Mika Hakkinen is undoubtedly one of the most renowned Formula One racers and has unquestionably redefined his legacy. With several championships bagged under his name, there's no questioning why numerous racers throughout look up to him. Mika Hakkinen is the sole racer to have been declared a world champion twice, that too in a short period of only ten years. Mika Hakkinen may have retired from Formula One racing twenty-one years ago, but it's indefinite that his legacy still lives on.