The youngest ever Formula One champion, Sebastian Vettel, is a 4-time world champion and German race car driver who decided to retire from the sport at the end of 2022. 
He made his Formula One debut in 2007, driving for BMW Sauber before being promoted to Red Bull Racing where he achieved historic success with four consecutive titles between 2010 and 2013. With 53 Grand Prix wins to his name, Vettel is third on the all-time list of Grand Prix winners.
We have no idea what he will be doing after his retirement but one thing is for sure: he will have plenty of time to spend with his wife, Hanna Vettel. What a great time to find out more about her! In this article, we'll explore who she is and how the couple met and eventually got married.
Watch this video to learn more about Sebastian Vettel's wife.
Who is Sebastian Vettel's wife?
Sebastian Vettel's wife is Hanna Vettel and the couple married back in 2019 after having first met in 2006. They are also proud parents of three children. 
How did they meet?
There's a famous saying that "love finds a way" and this couldn't be truer for Sebastian Vettel and his wife, Hanna. This fairytale story began when the two met in Heppenheim Middle School in Germany and their love continued to blossom even with long-distance. Since Vettel was pursuing his racing career in Switzerland, it was only a matter of time until they reunited. 
In 2010, he bought a home for them and the couple has been living together in a beautiful medieval-style farmhouse ever since. Hanna and Sebastian have now become proud parents of three children, Emily and Matilda (born in 2014 and 2015) and a boy who was born in 2019. The two sealed their love with marriage in 2019, proving that true love can stand the test of time.
All you need to know about Sebastian Vettel's wife Hanna Vettel
Now that we know how the couple found their way to each other, let's find out more about Hanna Vettel.
| | |
| --- | --- |
| Name | Hannah Prater |
| Age | 36 years |
| Height | 5 feet 6 inches |
| Hometown | Heppenheim, Germany |
| Religion | Christianity |
| Nationality | German |
| Profession | Fashion designer, Businesswoman |
| Husband | Sebastian Vettel |
| Children | Two daughters and a son |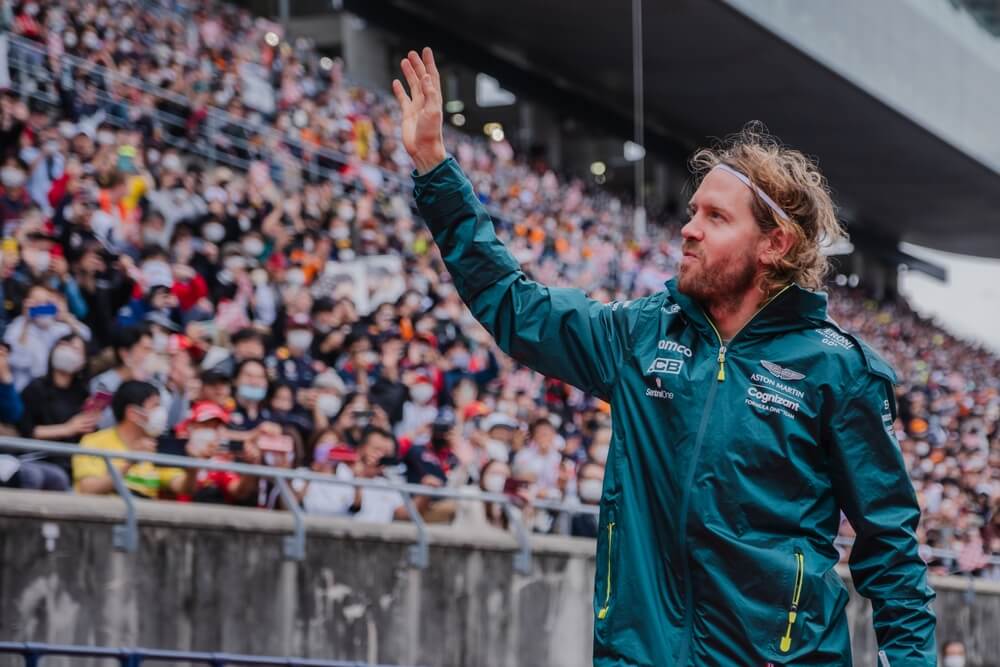 Where is she from?
Hanna Vettel hails from Heppenheim, Germany, the same hometown as her husband Sebastian.  Both of them were born in the same town in 1987 and are now living together in a gorgeous medieval-style farmhouse located in Switzerland.
Occupation
Hanna Vettel seems to have a passion for the fashion industry, having gone to the Heppenheim Middle School and later Badan Wurttemberg Fashion School. After completing her studies, she took up a job in the industry with Look Magazine and S. Oliver fashion house. She left her job after getting married and has been a housewife ever since, but is currently working on her own brand of fashion accessories. As of yet, she hasn't confirmed it.
Social media accounts
Hanna Vettel is not very active on social media, with an Instagram account linked to her name that has a modest following of over three thousand. It's unclear whether she herself owns the account or not, as she generally keeps a low profile unlike the other Formula 1 Wives and Girlfriends. 
Sebastian Vettel relationship and dating history
Sebastian Vettel's dating history reveals that he had been in a committed relationship with his now-wife, Hanna Prater, since they were both young adults. The couple has been together for over a decade and their connection has only grown stronger during this time. It seems that Sebastian has had his eyes set on one girl since all this time, and that is his wife. 
Vettel 's wife, Hanna Prater, always had a special place in his heart. Vettel has publicly credited her for the support she has provided during their time together, stating that her love and guidance have kept him sane throughout his career. 
He went on to explain that this support was not only evident through simple gestures such as bringing chocolate or uplifting words, but also through the moments of understanding and love that they shared. This support has been essential in helping Vettel stay focused on his career and ultimately achieve success, making her an integral part of his success. 
With the F1 career of Vettel coming to an end in 2022, it's clear that Prater will always be remembered for the part she played in his success. Her love and support have been instrumental in his journey, making her a true source of strength and motivation for him.
Frequently asked questions
Is Sebastian Vettel married to Hanna Vettel
Yes, Sebastian Vettel is married to his long-term partner, Hanna Vettel. The couple tied the knot in a romantic ceremony in 2019 and have been together ever since.
Do Sebastian Vettel and Hanna Vettel have children together?
Yes, the couple has three children together - Emily and Matilda (born in 2014 and 2015) and a boy who was born in 2019.
How did Sebastian Vettel and Hanna Vettel meet?
The couple met when they were both still in school in Heppenheim, Germany. They started dating in 2006 and have been together ever since.
So, there you have it – after a successful F1 career, Sebastian Vettel is now officially retired and will no doubt enjoy the vast fortune he has acquired with his family, his wife Hanna Vettel and  their three children. 
Despite the challenges he faced throughout his career, he was able to remain focused thanks in large part to the love and support of his wife. It's clear that they will continue to be a source of strength and motivation for each other in their future together. We wish them all the best! Read more about all Formula 1 drivers' girlfriends and wives.