Carlos Sainz Vázquez de Castro, also known as Carlos Sains Jr, has been an integral element of formula one since 2015. Carlos is a Spanish racing driver and competes for the Scuderia Ferrari Formula One team. The Spanish-based driver is the son of a double-world rally champion and is undoubtedly bringing some of his dad's skills to the circuit. 
There is no denying that concealing your private life can be incredibly challenging when a wide range of people adore you. Thousands and thousands of fans cherish and support the well-known Spanish racer, Carlos Sainz, and cheer upon him at every F1 race. 
A significant proportion of Carlos's support comes from his girlfriend, Isabel Hernaez. With Carlos accumulating much fame, many fans have displayed interest and have raised questions about his personal life. 
One such aspect the Formula One Community wants to know is Carlos Sainz's love life. Therefore, here is an insight into the Spanish Formula One racer's love life.
Watch this video to learn more about Carlos Sainz's girlfriend.
Who is Carlos Sainz's Girlfriend?
Carlos Sainz Jr has been in a relationship with Isabel Hernaez since 2017. The pair have been together for around seven years and have mutually decided to keep their relationship private. 
Isabel Hernaez was brought up in Madrid. The racer's girlfriend was born on February 24, 1995, and has completed her bachelor's in bilingual journalism.
The graduate in bilingual journalism currently works as a press officer for Victoria Collection and Scalpers Company. Isabel is presently working as a fashion journalist and resides in Madrid. Isabel is a part of the marketing department of the mentioned companies and promotes their content via Social Media marketing and traditional means. 
In addition to that, she also plays the role of a fashion consultant for the same companies and occasionally models for various brands.
How did they meet?
The exact details about Carlos Sainz and Isabel Hernaez's relationship have been concealed from social media as the pair prefers to keep their relationship private. Despite Isabel's social nature, the couple mutually decided to keep their relationship life as private as possible. 
According to sources, the couple first locked eyes in 2016.  The couple met when they were on vacation in the Balearic Islands. The Spanish race driver decided to make the first move and approached Isabel, and the two lovebirds began their dating journey not long after they met. 
The pair values their privacy and prefers to stay away from social media's eye, which is why the exact details of their relationship are yet to be released. 
Information about Isabel Hernaez
Isabel Hernaez Foster was born in Madrid on the 24th of February, 1995. Isabel has decided to keep a major chunk of her personal life out of social media, including any details about her parents and siblings. After completing her schooling, Isabel graduated with a bachelor's in bilingual journalism and describes herself as a 'journalist' on social media platforms.
Apart from displaying an inclination towards the fashion industry, Isabel has always nurtured a passion for cooking and actively shares the treats she makes on social media. Isabel is a career-driven woman and has an excellent profile within her industry. 
In addition to being passionate about cooking and fashion, Isabel has been a fan of Formula One for a long time and is spotted frequently in numerous races. This definitely explains why Isabella and Carlos are so compatible together.
| | |
| --- | --- |
| Name | Isabel Hernaez Fster |
| Age | 27 |
| Height | 5 ft 4 in |
| Hometown | Madrid, Spain  |
| Religion | Christianity |
| Nationality | Spanish |
| Profession | Journalist |
| Boyfriend | Carlos Sainz |
| Children | None |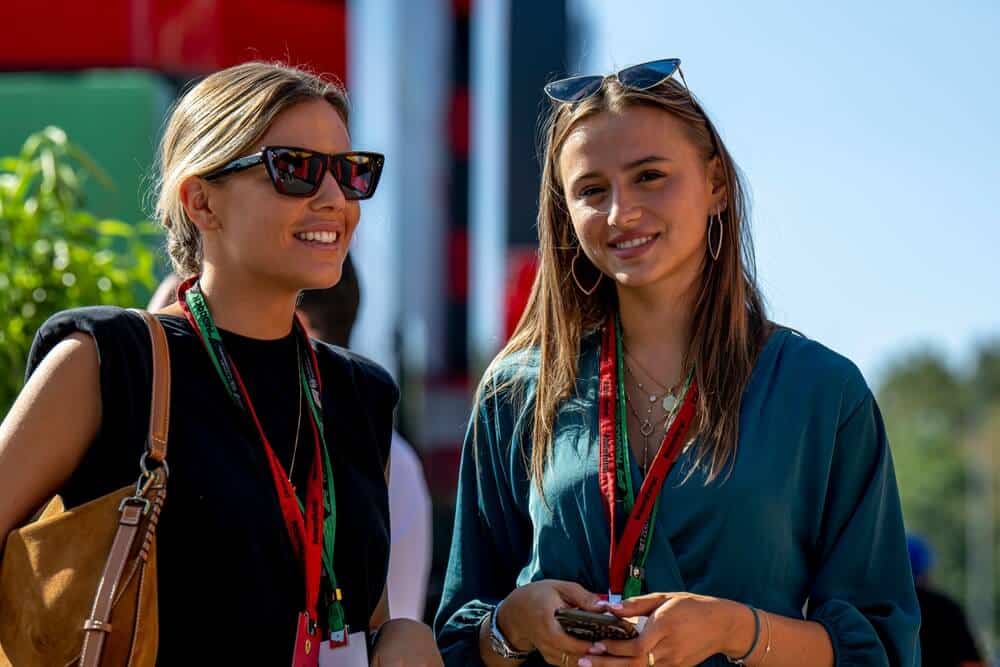 Where is she from?
Isabel Hernaez was born in the largest city and capital of Spain, Madrid.  To this day, Isabel Hernaez still resides in Madrid. There is no questioning why Isabel and Carlos are so compatible with each other, the two even originate from the same hometown!
Occupation
Isabel Hernaez is a career-oriented woman and describes herself as a 'journalist' on social media platforms. After completing her bachelor's from "Universidad Carlos III de Madrid' in Madrid, Isabel began working with numerous companies. Isabel works with the Scalpers Collection and Victoria Company as a press officer. 
She also works with countless newspapers, advertising firms and social media platforms with merely one goal – to help the companies achieve their goals. Behind the scenes, she continues to work with different brands and models for some of them. In addition to working in the marketing department of the Victoria Company and Scalpers company, Isabel also works as a fashion consultant for different brands. The Scalpers Company is a fashion brand and is right up Isabel's domain. 
She handles the public relations department of the company and focuses on expanding the company's fanbase by promoting its fashion products via traditional and digital marketing means. 
According to her LinkedIn, Isabel is in charge of styling for Scalpers women and is a press and PR executive of the company. She was previously affiliated with DRESTIP and worked as a product managing and fashion consultant departing. Similarly, she previously worked as an SEO manager trainee and E-commerce manager at MPTEC London.
Social media account
Isabel Hernaez is very active on her Instagram account and has a following of over 177 thousand followers. She frequently posts on Instagram and shares her passion for cooking, fashion and Formula One with her fan base. 
However, Isabel prefers to keep her private life under the shadows and refrains from sharing details about her family and her relationship with Carlos. Her Instagram account is @Isahernaez. Isabel Hernaez does not actively post on her Twitter account, @isahernaez and sticks to reposting posts about her podcast. 
The twenty-year-old woman shares behind-the-scenes videos of her shoots, workout videos and videos of her getting ready on her TikTok account, @Isa Hernaez. Isabel has a wide following on her Tik Tok account and currently has around seventy-thousand followers and a million likes. Isabel values her career above all, and her LinkedIn account indicates her passion for her career. She uses Instagram and Tiktok to promote the numerous businesses she works with and their products.
Carlos Sainz's Relationship And Dating History
As established above, Carlos Sainz prefers to keep his personal life away from the spotlight and details about his love life are seldom available. Carlos Sainz has only been in one (confirmed) relationship. Isabel Heraez and Carlos Sainz have been dating since 2016.
Dating rumors in the past 
Before meeting Isabel Hernaez in 2016, many individuals were curious about Carlos's love life. According to rumors, Carlos Sainz was involved in a romantic relationship with Angele Gastanga, prior to meeting Isabel. Carlos was spotted with Angela numerous times. 
However, according to the rumors, the relationship between Angela Gastanga and Carlos Sainz was quite short-lived and the couple eventually parted ways. Other than his relationship with Isabel and Angela, details about Carlos's love life are not available. 
Frequently asked questions
Is Carlos Sainz married to Isabel Hernaez?
No, Carlos Sains and Isabel Hernaez have not tied the knot yet. Most people believe that the two have a long-distance relationship as Carlos has a hectic Formula One schedule, and Isabel is usually busy with her career. The pair has been together since 2017.
How did Carlos Sainz and Isabel Hernaez meet?
While the couple has decided to keep their relationship off the limits of social media, it is rumored that the couple locked eyes during their vacation in the Balearic Islands. Carlos approached Isabel and the couple has been history ever since.
How did Sebastian Vettel and Hanna Vettel meet?
The couple met when they were both still in school in Heppenheim, Germany. They started dating in 2006 and have been together ever since.
Carlos Sainz has been a big name in Formula One and is a well-known racer. In addition to his stellar victories, the formula one racer continues to walk the path of success every day. However, Carlos prefers to keep his personal life away from the eyes of social media. Within the article above, we delved into his love-life. Read more about all Formula 1 drivers' girlfriends and wives.