If Formula One could be encompassed in one word it would not be cars, speed, or innovation, instead, it would be a clock. This is because a clock is a visual representation of time and time is one of the key factors a driver needs to keep track of if he wants to win the Grand Prix events.
Formula One is one of the elitist sports in the world. Hence, it is no wonder when luxury, elite brands like Rolex and Ferrari sponsor the sport. Rolex is among the oldest sponsors of the Formula One sport. 
The sponsorship not only helps Formula One with its management but also helps Rolex with its sales and marketing. Plus, this sponsorship also helps to give a positive message to the public that Formula One is all about youth, elegance, and time management. In this article, we will be discussing Rolex's sponsorship with Formula One, its history, and more.
Watch this video to learn more about Rolex's relationship to motor sports.
How much does Rolex pay for F1 sponsorship?
For many years, a gold-plated timepiece with a crown head has watched over Formula One. The sport and the timepiece both are the pinnacles of luxury, class, and eliteness. For decades the Swiss watch has been tightly wounded to the idea of victory. 
The watchmakers make sure to display it through their gold color and by using the crown as their logo. 
In horology, Rolex has been the pioneer of victories. Hence, it is befitting that they sponsor a motorsport that is in itself an encompassment of luxury, class, victories, time management, and more. It has been estimated that Rolex sponsors Formula One sports for a whopping amount of 45 million dollars.
Formula One is all about time management, elegance, and class. Hence, a brand like Rolex is one of the perfect fits as a sponsor of this event.

Rolex started by sponsoring the event in 1968 when it partnered with Jackie Stewart as a brand ambassador.

However, it wasn't until 2012 that Rolex officially announced itself as a sponsor for Formula One.

In 2013 Rolex became the official global partner, official timepiece, and official timekeeper for the Formula One events.

The brand eventually beat out big partner brands of Formula One such as Hublot and TAG Heuer.

 It has been estimated that Rolex sponsors Formula One sports for a whopping amount of 45 million dollars

Rolex isn't the only big brand that has been sponsoring Formula One events. Many brands such as Aramco, Crypto.com, DHL, Emirates, Lenovo, Heineken, Pirelli, MSC Cruises, AWS, Salesforce, and more have been sponsoring the motorsport.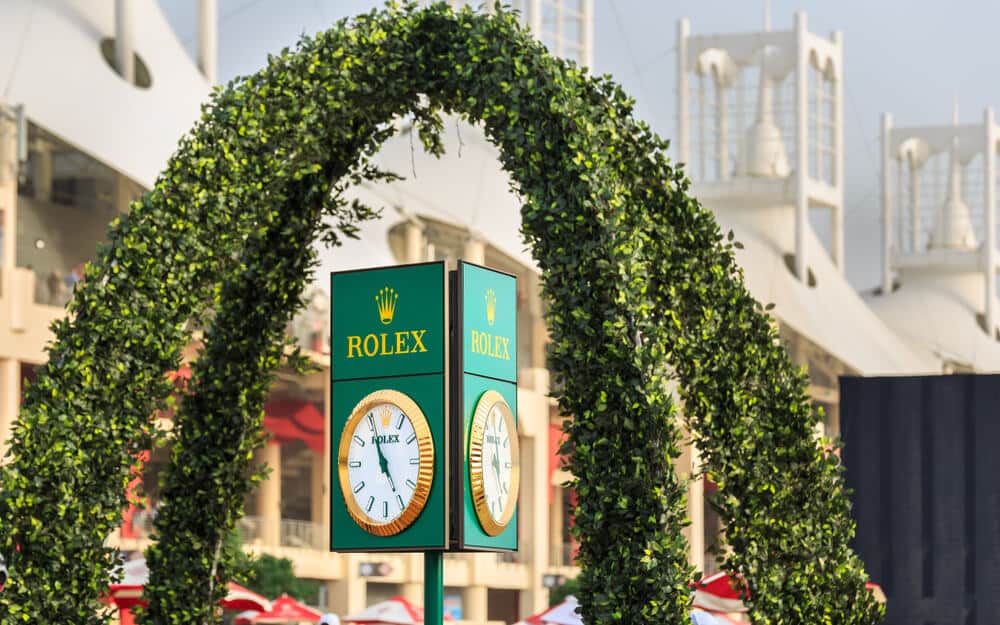 How many years have Rolex sponsored F1?
Time has been around longer than cars. It has been preserved in the form of hourglasses, sundials, water clocks, and more, all forming the very basis of our modern-day watches. Throughout the many years, humans have been on Earth, the time has shaped our nature and helped us answer one of our everyday questions, who is the best? 
Whatever the game, whether it's horse riding, soccer game, swimming, or any other game, all require time to be its deciding factor. Which player is the fastest or who can score the most points in this time frame; all of these questions are based on time.
With such importance of time, it was inevitable that timekeeping and watch brands entered a sport that had time as one of its fundamental deciding factors. Which other timekeeping brand could have been better other than Rolex; who had experience being involved in motorsports since the 1930s?
After world war two in 1950, Formula One races reemerged but with more public attention. Formula One cars were basically single-seater cars with aerofoil wings that helped create downforce so that the cars could achieve greater speeds without slipping through the tracks. It was in 1968 that Rolex partnered with a three-time Formula One Driver's Champion, Jackie Stewart as a brand ambassador.
Rolex has been working with Formula One since 1968. However, it wasn't until 2012 that it announced itself as an official sponsor of Formula One. Hence, in 2013 Rolex became the official global partner, official timepiece, and official timekeeper for the Formula One events. The brand eventually beat out big partner brands of Formula One such as Hublot and TAG Heuer.
As Rolex and FormulaOne's contract states that the Swiss watchmaker is the official timekeeper of the event globally. Hence Rolex is the sponsor of many important Formula One races. There is an official Rolex pit lane clock at every Grand Prix that showcases Rolex's commitment to excellence, timing, and precision.
Does Rolex have any partnership with Formula 1 besides sponsorship?
Rolex is the official global partner, official timepiece, and official timekeeper for all Formula One events since 2013. With a large number of races across 21 different countries on five continents, the FIA relies on Rolex timepieces to precisely keep the time of the race and the drivers. However, apart from this contract, Rolex has no other partnership with Formula One.
Does Rolex sponsor any F1 teams?
Rolex has certainly been known to sponsor Formula One events, but it has not been known to sponsor any teams on an individual basis. However, it has sponsored drivers on an individual basis such as the likes of sir Jackie Stewart.
Biggest Formula One Partners and Sponsors
If you have been an avid fan of Formula One events, you must have come across some popular and well-known brands in the race. These names are partners and sponsors of the Formula One events. 
The reason why these brands sponsor one of the biggest and most popular motorsports in the world is that through this sport these brands get a chance to reach billions of potential customers which helps them to increase their sales. 
Hence, it is no shock that only the biggest brands would want to sponsor and partner with this sport.
Aramco
Aramco is one of the biggest chemical and energy companies in the world. They have a core belief that every opportunity is energy and there is energy in every opportunity. Aramco is the biggest oil supplier company in the world, supplying one in eight barrels of oil in the world.
The company is famous for investing in sustainable, long-lasting, and dependable energy as they want it to be available for every class of people. Apart from investing in sustainable energy, Aramco is also famous for investing in technologies and innovation. They sponsor many research and science innovation franchises such as Formula One. 
The company made a deal to be Formula One's global partner in 2020. This led Aramco to be the title sponsor for that year's Grand Prix events. To date, Aramco is one of the biggest sponsors of Formula One's events.
Crypto.com
Crypto.com was founded in 2016 and is the world's largest cryptocurrency platform with more than ten million costumes on board. The company is built on a solid foundation of privacy, security, and compliance. It is the first cryptocurrency company in the world to have ISO 27001:2013, ISO/IEC 27701:2019, Level 1 compliance, and CCSS Level 3, and is assessed at the highest level of cybersecurity and privacy frameworks at Tier 4 NIST.
Crypto.com made a five-year deal with Formula One sponsoring them an amount worth $100 million on a Tuesday in 2021. The agreement stated that the brand will get a presence in all Formula One events and a trackside slot at Formula One races in the remaining seasons.
DHL
DHL is the global logistics partner of Formula One and has an experience in motorsports for more than thirty-five years. It is one of the biggest shipping companies around the world ensuring the shipment of your freight in the shortest time possible. They are known for their exceptional speed in delivering the freight, a quality that perfectly matches that of Formula One cars.
For over sixteen years, DHL has been responsible for the shipment of Formula One cars, racetracks, replacement parts, hospitality equipment, marketing, and more. It is estimated that they transport more than 2000 tons of freight at every Grand Prix. The mode of transport usually used is land, sea, or air.
DHL also sponsors some interesting awards at Formula One like DHL Fastest Pit Stop Award and DHL Fastest Lap Award. These awards help recognize the spectacular performances done by drivers and their team members. Apart from this, DHL is also the first official partner for the Formula One Esports series.
Emirates
Emirates is the world's largest airline with a route spanning six continents, 85 countries, and more than 155 destinations. Sheikh Ahmed bin Saeed Al Maktoum, the chairman, and chief executive of the airline, see sponsorship as a vital form of marketing. The brand first started sponsoring races with a boat race that was held in Dubai in 1922.
Emirates started sponsoring Formula One in 2013. The brand Fly Emirates was featured on the majority of tracks in UAE, Europe, North America, Asia, Australia, and South America. This kind of sponsorship seems just right for Emirates as Formula One promotes traveling just as they do. 
This is because in order for a fan to see a Formula One race in person he would have to travel, and what could be an ideal company besides Emirates which could be seen at every Formula One Grand Prix event?
Heineken
Heineken is one of the most famous brands when it comes to beer. It supplies beer to more than 192 countries. Heineken became the title sponsor of Formula One in 2017. It is the exclusive global beer partner of the sports franchise. This sponsorship just fits right as many of the 
Formula One fans want to watch the races with a beer in their hand. Plus, the ones who are watching the live races will be in need of this cold beer more as they would have to stand or sit on a hot day. The beer franchise renewed its deal in 2023 with a sponsorship amount worth $337 million.
Pirelli
Formula One needs tires all the time. Which other company to partner with other than Pirelli, which has experience in supplying the best quality tires to motorsport cars since 1907? Pirelli signed a contract with Formula One in 2011 which will last till 2023. 
However, it is much more likely that the contract will be extended and Pirelli will continue to sponsor Formula One. Apart from motorsport cars, Pirelli's products can be seen on trucks, bicycles, cars, and more.
Rolex
Rolex signed a partnership with Formula One as a title sponsor from 2013 to 2020. Currently, the Swiss watchmaker brand is the global partner, official timepiece, and official timekeeper of Formula One events. 
The brand supports youth and luxury with classic teaching of time management, qualities that are a must-have if one wants to participate in and win a Formula One event. 
It is estimated that the Swiss watchmaking brand signed a deal of sponsorship worth 45 million dollars.
MSC Cruises
MSC Cruises partnered with Formula One and is the official cruise partner for the motorsport franchise. MSC Cruises is the world's third-largest cruise franchise in Europe, Asia, North America, and Southern Africa. The brand has a fleet of 21 ships with six more in line till 2030. 
The company is inspired by its European heritage and offers its customers an immersive, safe, and enriching experience. 
Just like Formula One, MSC Cruises is also in line with the idea of making its brand carbon-neutral by 2050. Hence the contract signed with Formula One encompasses both of the companies' interests.
Salesforce
Salesforce is a CRM platform that helps manage a company's marketing, commerce, sales, IT, and services team allowing them to work as one from anywhere around the world. The company signed a five-year contract with Formula One that is worth $130 million. 
The goal of Salesforce and Formula One is to make the motorsport franchise carbon-neutral by 2030. This will be done by using Salesforce Customer 360 to give insights to the fans helping Formula One to get a better understanding of the fanbase. 
Both of these efforts will help Formula One come closer to its fans and its goal of being a more sustainable motorsport franchise, which will in turn help create loyal and long-lasting relationships all around the world.
AWS
Amazon Web Series has been involved with Formula One for quite a few years. It provides the graphics needed for Formula One. AWS is used to stream live data by using advanced machinery. With the help of this brand, Formula One is improving its fans' experiences by allowing them to know more about their favorite drivers and teams. From the 2022 Canada Grand Prix, the event will formally be known as Formula One AWS Grand Prix in Canada.
Lenovo
Lenovo is a Fortune Global 500 company worth 60 billion dollars delivering its products in more than 180 different countries. Lenovo has a vision of delivering smart technology that will help power its customers through its devices, infrastructure, solutions, software, and services so that it can help create a more trustworthy, inclusive, and sustainable digital society for millions of its customers. The company signed a multi-year deal with Formula One in March 2022 making Lenovo an official partner for the upcoming seasons. The deal includes using Lenovo's cutting-edge technology in Formula One as a means to combine sports with advanced technology.
Rolex is undoubtedly a symbol of luxury, class, elegance, precision, and time management. Since its inception, the brand has proved to be an unmatched symbol of the stated characteristics. 
It was obvious that a watchkeeping brand, whose core fundamental is timekeeping, will be involved in some kind of sport as time is one of the key deciding factors in sports-related decisions. 
What better motorsport than Formula One? Formula One is one of the biggest and most popular motorsports in the history of the world. It is a sport that is the epitome of time management as time is all that a driver needs to stay careful of. This partnership has not only helped Rolex send out a positive message to the world that it stands with the youth of today but has also positively helped Formula One.