If you're into Formula One, you probably know that there are four major engine suppliers. Ferrari, Mercedes, Renault, and Red Bull engines. Out of these suppliers, Ferrari engines is one of the oldest and most successful engine suppliers in F1 history. 
In addition to supplying their own racing team, Ferrari has also supplied engines to many world championship winners like Mclaren, Williams, and Red Bull.
Ferrari has unparalleled experience in making race-winning engines, and with their sheer commitment to the sport, it's unlikely that their reign would soon be challenged.

However, the last couple of years has been unlucky for the engine manufacturers. Ferrari took a significant hit to performance, but this year they rose up again with their renewed hybrid system engine.
With a V6, 1.6-liter engine coupled with turbocharging and hybrid-electric technology the F1 is an absolute beast when it comes to power, speed, design, and technology.
For the future, Ferrari is ambitious to produce a revolutionary Formula One engine design that will finally erase its competitors off the grid. This new Ferrari F1 engine is rumored to be their "best one yet."
Watch this video to learn more about the three leading engine manufacturers in Formula 1.
What engine does Ferrari use in F1?
Ferrari uses its own engine in F1. The team has used its own engine for many years and also manufactures engines for other Formula 1 teams.
Power unit: 066/7.
Cubic capacity: 1600 cc.
Maximum rpm: 15.000.
Supercharging: single turbocharger.
Maximum fuel flow rate: 100 kg/hr.
Configuration: 90° V6.
Bore: 80 mm.
Stroke: 53 mm.
4 valves per cylinder.
Direct injection, max 500 bar.
ERS System.
Configuration: hybrid energy recovery system with electric motor generators.
Battery pack: Lithium-ion batteries with a minimum weight of 20 kg.
Maximum battery pack capacity: 4 MJMGU-K.
maximum power: 120 kW (163 cv).
MGU-K maximum rpm: 50.000MGU-H, maximum rpm: 125.000
Does Ferrari make their own F1 engine?
Ferrari has been manufacturing their own engines since the 1950s. In addition, they have also been supplying excellent racing engines to some other teams. Since 1991, Ferrari has been able to secure over 240 podium finishes using its own engines.
In Formula One racing history, Ferrari holds a key position. It's one of the most successful racing-engine suppliers. 

Ferrari manufactures and uses its own engines for its racing team Scuderia Ferrari.

The Formula One engine is a V6, 1.6-liter engine with turbocharging and hybrid-electric technology.

Ferrari also supplies engines to customer teams, Alfa Romeo and Haas.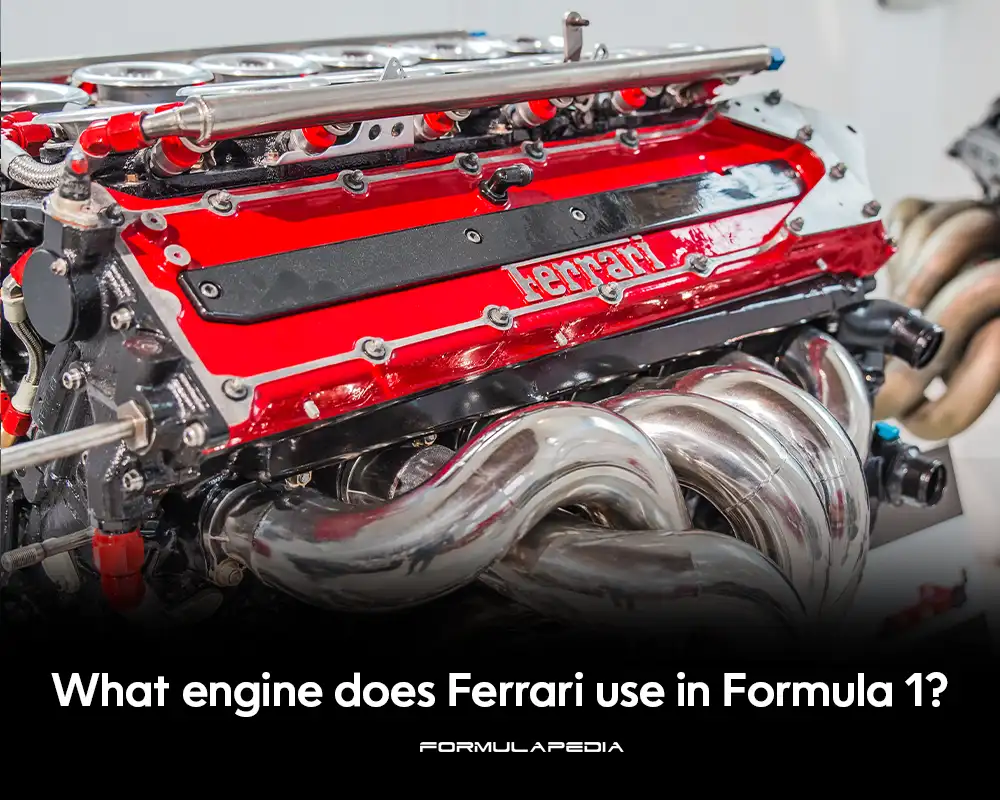 Which teams use Ferrari engines in F1?
Currently, Scuderia Ferrari, Ferrari's own racing franchise uses their own engines. Ferrari also supplies the Haas F1 Team and Alfa Romeo Racing.
Formula 1 teams that use Ferrari's engines:
Ferrari Scuderia
Haas F1 Team
Alfa Romeo Racing
Ferrari has a long history of manufacturing quality match-winning engines. Since 1991, they've supplied engines to Minardi, Scuderia Italia, Sauber, Red Bull Racing, Spyker, Scuderia Toro Rosso, Force India, and Marussia.
Year
Teams
Best Finish
1956
Bardahl-Ferrari
DNQ
1960
Fred Armbruster
11th
1963
Scuderia Settecolli
DNQ
1966
J.A. Pearce Engineering
11th
1991
Minardi
4th
1992
Scuderia Italia
6th
1993
Lola BMS Scuderia Italia
7th
2006
Red Bull
3rd
2007
Toro Rosso, Spyker
4th (Toro Rosso)
2008
Toro Rosso,
Force India
1st (Toro Rosso)
2009
Toro Rosso
7th
2010
BMW Sauber, Toro Ross
6th (BMW Sauber)
2011
Sauber, Toro Rosso
5th (Sauber)
2012
Sauber, Toro Rosso
2nd (Sauber)
2013
Sauber, Toro Rosso
4th (Sauber)
2014
Sauber, Marussia
9th (Marussia)
2015
Sauber, Marussia
5th (Sauber)
2016
Sauber, Haas, Toro Rosso
6th (Toro Rosso)
2017
Sauber, Haas
6th (Haas)
2018
Sauber, Alfa Romeo Sauber
4th (Haas)
2019
Haas, Alfa Romeo
4th (Alfa Romeo)
2020
Haas, Alfa Romeo
2021
Haas, Alfa Romeo
8th (Alfa Romeo)
2022
Haas, Alfa Romeo

Ferrari Scuderia is one of the most loved brands in motorsport. It has a rich history with Formula One racing. Ferrari has competed in every single Formula 1 season since 1950.
Scuderia Ferrari is the name of the official racing division of the brand. It was created by Enzo Ferrari himself. The Italian team is one of the most successful and oldest teams in F1 racing.
Due to the implementation of some engine regulations by the FIA in 2019, the succeeding year was a mess for Ferrari, as they found themselves struggling with optimizing their engines according to these new regulations.
However, in 2022 Ferrari managed to maneuver itself to the top of the grid and outshine their competitors, especially by capitalizing on Mercedes' lack of performance. But their win could easily be accredited to their new power engines.
Ferrari's 2022, F1-75 engine is an absolute beast. May it be speed, drivability, or reliability, it is the best engine that Ferrari has yet to produce.

Haas F1 racing team is an American licensed Formula One racing team that was established in 2014 by Gene Haas.
The team has been in a close partnership with Ferrari engines since their first Formula One championship in 2015.
Initially, the manufacturers were able to construct a low-cost model for the new racing team due to budget issues. But as the years progressed, Ferrari started using power units for the racing team.
The turbocharged V6 engines seemed to be working well for the racing team. But in 2019-2020, they were outclassed by their competitors due to performance issues.
In 2021, the Haas racing team used Haas VF-21, which was powered by the Ferrari SF21 power unit 065/6 for the Turkish Grand Prix. The new engine was a major boost for the racing team, and it enabled them to get an edge over other teams.

Alfa Romeo F1 team or previously known as Sauber Motorsport, is the racing division of Alfa Romeo Automobiles, an Italian luxury car manufacturer.
Previously Alfa Romeo was the sponsor of the Swiss racing team Sauber. The franchise showed keen interest in taking over the Swiss racing team. And in 2019, it was announced that Alfa Romeo would participate in the Formula One Championship.
Alfa Romeo has a long history with Scuderia Ferrari. They have appeared numerous times on the Ferrari Formula One racing cars. Alfa Romeo has been using Ferrari-manufactured engines since 2015.
From the beginning, the team used Ferrari's SF15-T engine. They were supplied with a turbocharged V6 engine, 15,000 RPM, and a capacity of 1.6 liters.
In 2021, Alfa Romeo Developed their own Formula One racing car called the Alfa Romeo Racing C41. It was powered by a Ferrari powertrain engine. Analysts described it as "both more powerful and aerodynamically competitive than its predecessor C39," because of the Ferrari-powered engine and Alfa Romeo design.
Other F1 Engine Manufacturers
It is far from all Formula 1 teams that manufacture their own engines. Below we go through the manufacturers that sell engines to the other teams.

Mercedes is also a well-renowned name in the Formula One world. Just like Ferrari, they also manufacture their own engines for their F1 racing team.
Mercedes is one of the most successful manufacturers in motorsport, they've won multiple championships and look to continue their legacy in 2023. They are rumored to supply engines to Aston Martin and Mclaren in 2023.
The last few years haven't been so successful for the team, as they were overpowered by Ferrari's new engine. But with speculations of a new powerful engine, Mercedes-powered fans should be excited about the upcoming events.

The Red Bull Powertrains, RBPT, is a Formula One racing-engine manufacturing company that was established in 2021.
The Red Bull F1 racing team had been using engines manufactured by other companies like Cosworth in 2005, Ferrari in 2006, Renault from 2007-2018, and Honda in 2019.
But the Honda partnership has proven to be the most effective for Red Bull's racing team. With Max Verstappen World's Driver's Championship victory in 2021 and 2022, Honda sealed the deal with manufacturing engines for Red Bulls.
Although the Japanese Manufacturer withdrew the sport officially in 2021, they still continue to supply Red Bull and will do so until the end of 2025. Red Bull Powertrains is speculated to manufacture its own engines by the start of 2026.
Renault is a french automotive manufacturer. They've been a part of Formula One racing since 1977. 
Originally, Renault joined Formula One as a manufacturer. They introduced turbo-powered engines to the sport. After some years, the manufacturer began supplying engines to other teams. 
In 2002, the Renault racing team was launched. They won several titles till 2007. They also had a successful run with Red Bull Racing from 2010-2013.
However, since then the team's performance has severely decreased and they've failed to win titles. The team was finally rebranded to Alpine in 2021.
Frequently asked questions
Are Ferrari Making Their Own Engines in F1?
Yes, Ferrari has been manufacturing their own Formula One Engines since the 1950s.
Is Ferrari's F1 engines bad?
No, Ferrari is one of the most successful racing-engine manufacturers. They've won multiple championships with their own team and Ferrari-powered engine teams.
Why is Ferrari's F1 engine not as fast as Red Bulls?
Ferrari-powered engine racing cars run with more downforce as compared to Red Bulls racing cars. This results in Ferrari being 7km/h slower than Red Bulls. 
However, Ferrari has the fastest rate of acceleration compared to any other F1 racing team. Due to Ferrari's new Superfast Ignition, this is no longer an issue.
Ferrari is a huge name in the motorsport world. In Formula One racing, Ferrari engines are one of the most successful manufacturers. And their racing team, Scuderia Ferrari, is one of the oldest F1 racing teams. It would be safe to say that the history of Formula One racing is Ferrari's history.
The Italian manufacturers have been constructing their own engines since the 1950s. Since 1991, they have been supplying engines to other teams like Sauber, Red Bulls, and Toro Rosso. In addition to making power engines for their own team, they're also making racing engines for customer teams, Alfa Romeo and Haas.