COVID rocked the global economy by an unprecedented degree in the past few years, and like most enterprises, motorsports were also hit pretty badly. F1 in particular endured a couple of lean patches during the initial stages of the pandemic, but the last season has seen revenue on the rise. 
Salesforce, an enterprise software corporation based in San Franciso, USA, is close to finalizing a mega-sponsorship deal with the owner of F1, Liberty Media Corporation, and it is reported to be a 5-year deal.
Watch this video to learn more sponsors in F1.
How much does Salesforce pay for F1 sponsorship?
Salesforce pays 30 million dollars to Formula One annually for 5 years, as part of their deal with Liberty Media Corporation ahead of the 2022 season opener in Bahrain. It is just one of the several brand sponsorships that have underlined the reversal of Formula One's commercial fortunes after the COVID crisis.
Companies like Salesforce and Lenovo have signed sponsorship deals due to the newfound hype surrounding the sport. 

Salesforce specifically has signed a 5-year sponsorship deal worth 30 million dollars annually. 

Apart from sponsorship, Salesforce will aim to enhance fan engagement with Formula One, and also help with its sustainability goals.

Salesforce has only recently joined F1, and the 2022 season was it's first as a Global Partner. They do not sponsor a specific team directly.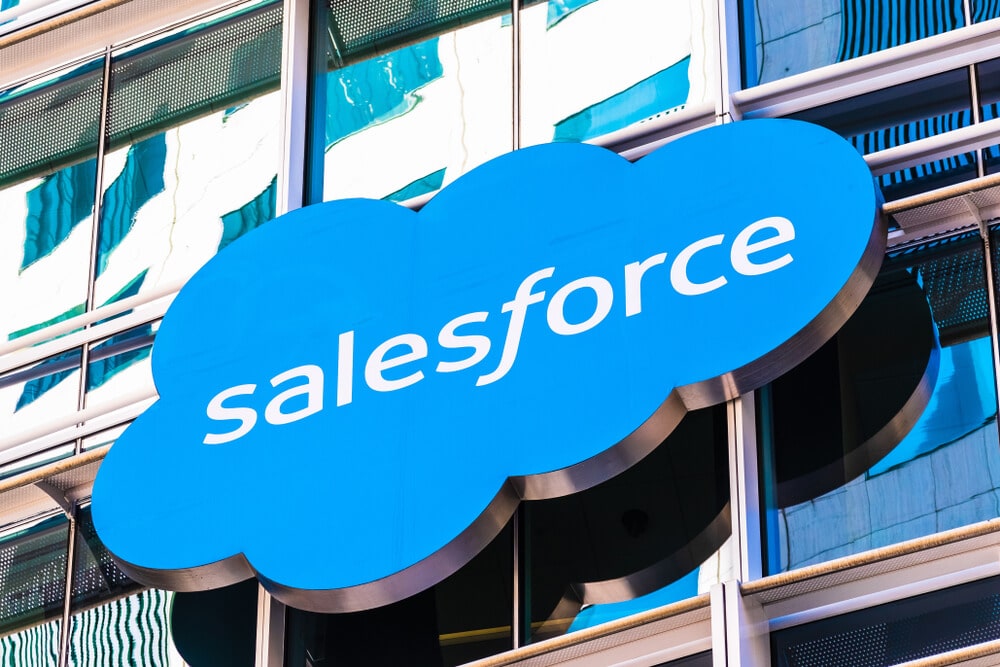 How many years has Salesforce sponsored F1?
The 2022 season was the first time that Salesforce joined as a sponsor of Formula One. It is a five-year deal, and as the leading customer relationship management firm in the world, Salesforce will help increase and enrich fan engagement with the sport. 
Another aspect in which Salesforce aims to assist Formula One is its carbon footprint. Formula One is planning on reaching zero net carbon emissions by 2030, and Salesforce is uniquely positioned to provide some valuable guidance on the endeavour.
Does Salesforce have any partnership with Formula 1 besides sponsorship?
Sponsorship is not the only goal on Salesforce's mind when it comes to its deal with Formula One. It plans on enhancing the experience fans have with the sport, as well as having a more active role in the sustainability efforts that Formula One has initiated.
Their first and foremost priority is to bring the sport to as many people as possible, and also strengthen the existing fans' engagement. Their revolutionary Salesforce Customer 360 data analysis software will closely monitor the global fanbase and their preferences and help to make informed decisions about the behaviour and communication with the fandom.
Does Salesforce sponsor any F1 teams?
As of last season, Salesforce does not sponsor any Formula One team directly. Their association is with the larger media group that owns Formula One, the Liberty Media Corporation.
They do help the teams be more interactive with the general fandom at large. The teams' communication with their fans, organizing fan events, giving a deeper insight into the behind-the-scenes of each unit. 
But as far as directly sponsoring a single team and having their brand sticker on a car goes, Salesforce does not currently do that. They may make that move in the future, but as of the 2022 season, they don't have any deals with any teams.
Biggest Formula One partners and sponsors
The increase in brand deals with Formula One is mainly because there has been an increased level of interest in the sport. A large part of this newfound hype is due to Netflix's popular documentary series Drive to Survive, which documents the behind-the-scenes drama of some of the major teams involved in the competition. 
The 2021 season saw viewership increase by a whopping 4 percent to 1.55 billion, including the 108 million who tuned in to watch the final race in Abu Dhabi. Formula One revenue in the fourth quarter also saw an increase of 62.3 percent to a mammoth 787 million dollars, mainly due to an uptick in race promotion revenue, and sponsorship companies have been trying to ride the coattails of this sudden success.
Aramco
Saudi Aramco is a Saudi-based natural gas and petroleum company. Based in Dhahran, it is one of the largest companies in the world by revenue and has also surpassed Apple Inc as the most valuable company by market cap globally. 
Aramco joined Formula One as a Global Partner in March 2020 as part of a new long-term Global Sponsorship plan. Aramco joined as Formula One's sixth Global Partner to better familiarise itself in the eyes of the sports 500 million (and growing) strong fandom. 
Both Aramco and Formula One have agreed to collaborate in researching sustainable fuels and increasing engine efficiencies and emerging mobility technologies. The deal includes trackside branding for Aramco in the races and title rights for the Hungarian, US, and Spanish Grands Prix in 2020.  
Crypto.com
Based in Singapore, Crypto.com is an online cryptocurrency exchange platform with over 4000 employees and 50 million customers. Before being renamed to Crypto.com, the company was founded in Hong Kong by the name "Monaco", by Kris Marszalek, Bobby Bao, Rafael Melo, and Gary Or. 
Crypto.com became the official partner of the Miami Grand Prix, with advertising across the Miami International Autodrome and branding on the event title and logo. It was already a Global Partner of F1, since 2021, and also sponsored the Sprint series. 
DHL
DHL is a German logistics company founded in America, providing services like express mail, courier, and package delivery. DHL has been an F1 partner for nearly 40 years, responsible for the transport of up to 4000 metric tons of equipment from one venue to the next. 
Emirates
The biggest Middle Eastern airline, Emirates is one of the two flag carriers of the United Arab Emirates. Since 2013, Emirates has been a Global Partner of F1, and in 2018 they renewed their partnership till the end of 2022. 
Heineken
Operating over 165 breweries across 70 countries, Heineken is a Dutch multinational brewing company established in 1864. Heineken is the title race partner for the 2023 Las Vegas Grand Prix and has joined F1 with a mission to promote responsible drinking. 
Pirelli
Founded over 150 years ago in Milan, Italy, Pirelli is now the 6th largest tire manufacturer on the planet. While it has been attached to motorsport since 1907, Pirelli's foray into F1 started in 2011 when it became its official tire partner.
Rolex
Headquartered in Geneva, Switzerland, Rolex is a British-founded Swiss watch manufacturer and designer. Rolex's partnership with Formula One began in 2013, and since then, it has been a Global Partner and also the Official Timepiece of motorsport events.
MSC Cruises
An Italian global cruise line with branches in Naples, Venice, and Genoa, as well as a headquarters in Geneva, Switzerland, MSC Cruises is the world's largest privately owned cruise company. MSC joined up with Formula One because it identified with its constant drive for innovation and new environmental technologies. 
Salesforce
An American cloud-based software company, Salesforce develops customer relationship management software geared towards sales, analytics, customer service, application development, and market automation. Salesforce announced a 5-year deal with Formula One in 2022 as part of their efforts to enhance fan engagement with the sport. 
AWS
An offshoot of Amazon that deals in on-demand cloud-computing platforms on metered pay-as-you-go terms to individuals, corporations, and even the government, Amazon Web
Services power the Formula One Insights program. 
Lenovo
Lenovo, a Chinese conglomerate, is involved in designing and manufacturing consumer electronics, business solutions, personal computers, and assorted software. Lenovo signed a multi-year deal with F1 in 2022 and will provide the latest software to be used across various Formula One operations.
Formula One is a very lucrative sport, with hundreds of millions of fans worldwide and billions of dollars of revenue generated every season. So it's no surprise that a lot of high-profile brands, such as Salesforce, have jumped on the bandwagon to provide exposure to their companies to a wider audience. As Global Partners of one of the most prestigious motorsports in the world, they are sure to find immense success.