Crypto.com is one of the most successful cryptocurrency companies in the world and has made a strong mark on the digital currency space. It was founded in 2016 and has been rapidly expanding its operations ever since. In 2021, they made a major move by entering into a multi-million dollar sponsorship deal with Formula 1 to become the "Official Crypto Partner" of the sport.
However, one of the most interesting questions that arise from this deal is: how much did Crypto.com pay to become a Formula 1 sponsor? After all, Formula 1 sponsorships are known to be among the most expensive in sports and this deal was no exception. 
In this article, we will take an in-depth look at the amount of money Crypto.com paid to sponsor Formula 1 and how it compares to other sponsorships.
Crypto.com and Formula 1 partnership.
How much do Crypto.com pay for F1 sponsorship?
Crypto.com pays a whopping $100 million over five years to sponsor the iconic Formula 1 racing series. This hefty sum of money will bring great visibility to the cryptocurrency company's brand at F1 events.
Here are some key aspects that you should know about the Crypto.com Formula 1 sponsorship:
Crypto.com paid a whopping $100 million over five years to sponsor the iconic Formula 1 racing series. 

This hefty sum of money will bring great visibility to the cryptocurrency company's brand at F1 events. 

Their token will not only provide a revenue stream for the team involved, but also open up new avenues of fan engagement and innovation. 

The sponsorship deal is a great example of how the cryptocurrency industry is rapidly growing and expanding its reach into mainstream sports.

This deal further cements Crypto.com's position as one of the leading digital currency companies in the world.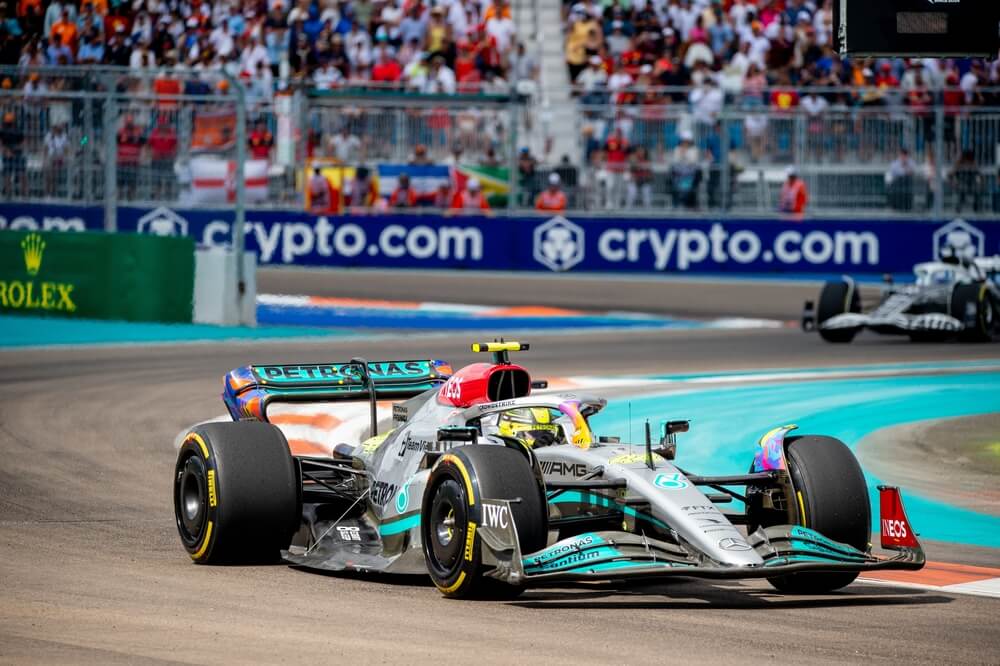 How many years have Crypto.com sponsored F1?
The deal between Crypto.com and Formula 1 began in 2021, so it has only been around for a little over a year. The deal is set to run for five years, which will bring Crypto.com's branding to F1 events until the end of 2025. During this period, the cryptocurrency company is likely to focus on increasing its visibility at F1 events and using its token as a source of revenue.
Do Crypto.com have any partnership with Formula 1 besides sponsorship?
Apart from Crypto.com's $100 million sponsorship deal with Formula 1, the cryptocurrency platform has also announced a nine-year partnership with the Miami Grand Prix. This new deal will see the race officially called the Formula 1 Crypto.com Miami Grand Prix and will feature the company's logos on all podiums and winners' trophies.
The Miami International Autodrome was the 11th different venue in the United States to host a World Championship Formula 1 race and the first race at the venue was held on May 8, 2022. This partnership is a unique opportunity for Crypto.com to increase its visibility and engagement with fans in the US, as well as providing a potential revenue stream from their token.
Do Crypto.com sponsor any F1 teams?
Apart from sponsoring Formula 1, Crypto.com has also signed a multi-year deal with the Aston Martin Cognizant Formula One Team. This shows that the cryptocurrency company is looking to expand its reach in sports and make a mark on mainstream culture.
Biggest Formula One partners and sponsors
Sponsors are a major source of income for Formula One teams, and Crypto.com isn't the only company paying big money to support the sport. Let's take a look at some of the biggest and most well-known sponsors and see how they compare to Crypto.com.
Aramco
Aramco is one of the largest sponsors of Formula One, with a five-year deal worth an estimated $450 million. The Saudi-based oil and gas company has been sponsoring the sport since 2020, with its partnership seeking to power sustainable oil to F1 cars by 2025. Additionally, Aramco is utilizing this sponsorship agreement to expand its reach on a global level. 
The deal also involves Aramco paying $65 to Formula One every Grand Prix, and an annual fee of between $40 million to $45 million. This agreement demonstrates how significant a role sponsors play in the success of Formula One racing.  By leveraging its sponsorship, Aramco is furthering its position as a major player in the sport.
Crypto.com
With the rise of cryptocurrency, crypto companies are starting to enter the fray. Crypto.com has become one of the most well-known sponsors of Formula One, having signed a five-year deal worth an estimated $100 million in 2021. This sponsorship is set to bring great visibility to the company's brand at F1 events and its token will provide a revenue stream for the team involved, as well as opening up new avenues of fan engagement and innovation.
They are also the first sponsor to have a cryptocurrency-specific title race, the Crypto.com Miami Grand Prix. This is an ambitious move by Crypto.com and could be an indication of what's to come in the years ahead as more companies enter the F1 sponsorship scene. 
DHL
DHL is a long-time partner of Formula One, and their commitment to the sport has been demonstrated by the multi-year contract they recently renewed in 2021. As part of this agreement, DHL provides an undisclosed amount of funding to Formula One each year, believed to be around thirty million dollars annually. 
They have also introduced two unique awards – the DHL Fastest Lap Award and the DHL Fastest Pit Stop Award – to recognize remarkable F1 racers and teams. This demonstrates how much of an influence sponsors have on Formula One, with their financial contributions allowing for innovation and boosting fan engagement. 
Emirates
There's no denying the influence sponsors have on Formula One, and for over a decade Emirates was one of the major partners of the sport. However, in 2021 it was announced that Emirates would be ending their contract with F1 due to payment issues. F1 requested an amount twice as much as what Emirates had been paying – $25 million per year – which was not accepted. 
In addition to sponsoring races, Emirates also provided entertainment programs for fans and ticket holders, which won't be continuing under the new deal. This is a significant loss for Formula One, but it's hoped that a suitable replacement will be found soon to keep the sport running at its best.
Heineken
Heiniken- the world's leading beer company- has been a major sponsor of Formula One for over eight years. For this privilege, the company pays an annual fee of $50 million, with the current deal coming to an end at the conclusion of 2023. This is not the first time Heineken has provided sponsorship for a major sporting event, and their involvement in F1 marks an important part of their sports marketing strategy.
Heineken is also using their sponsorship rights to promote their campaign, "when you drive, never drink" in order to discourage irresponsible drinking. And what could be the better setting for such a message than the fast-paced world of Formula One? With the current contract set to expire in 2023, there is a high chance that Heineken will renew it. This would be huge news for the sport and its fans alike.
Pirelli
Pirelli has been a proud sponsor of Formula One since 2011 and their association with the sport goes all the way back to the 1950s. If you're an F1 fan, you likely recognize the Pirelli logo on the side of each race car, as well as their tire-changing equipment and staff. 
The company's commitment to sustainability is also a major draw – with their tires made from environmentally friendly materials like bio-based components, F1 teams can rest assured that they are protecting the environment while driving. About their deal with F1, it is estimated that Pirelli pays around $30 million per season for their sponsorship.
Rolex
As one of the most luxurious and sought-after watchmakers in the world, Rolex has a long history with Formula One. The company's distinct golden crown logo is an iconic symbol within motorsports, and for decades it has been closely associated with victory. Their partnership with F1 began in 1968 and only became official in 2012 when they announced themselves as an official global partner of the sport.
Rolex is estimated to pay around 45 million dollars for their sponsorship of F1, a hefty sum that shows the commitment of the company to be part of this premier league.  Rolex has no intention of leaving the sport any time soon, and will continue to be a major sponsor for many years to come.
MSC Cruises
MSC Cruises is an Italian cruise line that recently became the official global cruise partner for Formula One. The multi-year deal between both parties was signed in the Bahrain Grand Prix in 2022. This sponsorship agreement is estimated to be around $20-$30 million per year, with Formula One even promising annual title sponsorship to MSC Cruises. 
This new partnership is a major push for MSC Cruises, as it allows the company to expand its reach with the world's premier motorsport. The innovative contract between both parties is likely to be beneficial for each side, and MSC Cruises can look forward to many more exciting years ahead as part of Formula One.
Salesforce
With its five-year contract, Salesforce has become the global power partner of Formula One. This groundbreaking partnership between F1 and Salesforce will utilize their combined strengths to collaborate on multiple fan engagements and create a sustainable environment. From marketing, sales, commerce, to customer services, the IT teams of Salesforce will work hand in hand with Formula One to make sure that the partnership between both parties delivers maximum value. 
The value of the partnership between Salesforce and F1 is estimated to be around $130 million, a testament to the giant strides that both companies are taking together.
AWS
Amazon Web Services (AWS) is a new big player when it comes to Formula One sponsorships as the company recently announced a multi-year partnership with F1 in November 2022. The partnership between F1 and AWS is expected to revolutionize the sport through machine learning, artificial intelligence, and cloud technologies. 
Furthermore, AWS also sponsors the Scuderia Ferrari team of Formula One which further reinforces its commitment to the sport. With this new partnership, both Formula One and AWS are looking to create innovative ways for fans around the world to enjoy F1.
Lenovo
Lenovo announced its global partnership with Formula One in March 2022, to provide the motorsport franchise with essential computing and hardware solutions. The multi-year deal between both parties is reported to be worth twenty million dollars and will extend past just sponsoring the track space of Formula One.
Lenovo also provides F1 with PCs, servers, and high computing performances that are necessary for the race. With this deal, Lenovo is looking to expand their brand presence and increase their visibility in the world of motorsports
So, there you have it! Crypto.com sponsors Formula One with a sum of around $50 million, while other big companies like Rolex, MSC Cruises, Salesforce, AWS and Lenovo have also invested heavily to become official partners of F1. It is clear that Formula One has no shortage of sponsors when it comes to providing cutting-edge technology and services to its fans around the world. With these sponsorships, F1 continues to be one of the most exciting and popular sports in the world.