Alfa Romeo is an Italian Motor Manufacturer that has been part of several seasons of Formula One. After a brief hiatus, they have returned to the competition and operated as Alfa Romeo Racing Orlen – owned by Sauber Motorsport AG since 2018.
With a brand value estimated at 105 million US dollars, Alfa Romeo stands out from other teams for its quality, prestige, and impressive drivers, including Kimi Raikkonen, Antonio Giovinazzi, Zhou Guanyu, Valtteri Bottas, and Robert Kubica.
The Alfa Romeo Formula 1 team is one of the most successful teams in the sport's history, having won multiple championships over the decades. But as with any business, profitability is key to its ongoing success. 
So, what is the financial performance of this iconic Italian racing team? In this article, we will explore whether or not the Alfa Romeo Formula 1 team is profitable and examine some of the factors that may influence its financial performance.
Watch this video to learn more about Alfa Romeo team history.
Does the Alfa Romeo F1 team produce a profit?
The Alfa Romeo F1 team is making a profit, making 105 US million dollars in 2021. Despite the pandemic, they still managed to bring 18,252 sales with a 0.12 market share. With sponsors and partners such as PKN Orlen, Adler, Acer, and more – Alfa has been able to sustain its success even during difficult times.
Alfa Romeo Racing is an iconic racing team and one of the most successful Formula One teams to ever participate in the sport. Here are key takeaways about this incredible team:
The Alfa Romeo F1 Team Orlen is based in Hinwil, Zürich, Switzerland, and is currently led by a TBA Team Principal.

In 2019, Sauber changed its name to Alfa Romeo Racing and rejoined F1 racing for the first time since 1985. Until 2021, Kimi Räikkönen and Antonio Giovinazzi were the drivers, but in 2022 they were replaced by Valtteri Bottas and Guanyu Zhou.

The brand has been a commercial partner in motor racing between 1950 and 1987 and again since 2015.

This team has participated actively in Formula One World Championship since the 1950 British Grand Prix and is scheduled to compete at the 2022 Abu Dhabi Grand Prix.

It has participated in 192 races, using a combination of Alfa Romeo and Ferrari engines throughout its history.

The most notable successes for this team include two Drivers' Championships – one from 1950 and another from 1951.

In addition to their success on the track, the team has earned 10 race victories, 26 podiums, 183 points, and 12 pole positions.

They have managed 15 fastest laps over their lengthy career so far. 

Going into 2022, they are currently in 6th place in the overall standings with 55 points – a testament to their dedication and commitment to Formula 1 racing!

Before World War II, Alfa Romeo often raced and won in Grand Prix events. However, in 1934 German Mercedes and Auto Union cars became faster, and Alfa stopped manufacturing cars for racing but still supported private racers like Enzo Ferrari. From 1934 to the start of World War II in 1939, Alfa struggled to win, and their cars appeared outdated compared to the competition.

The Alfa Romeo F1 team, constructed by the Brabham organization between 1976 and 1979, achieved a total of two wins during that time. Their first victory was earned at the 1978 Swedish Grand Prix, followed by another win at the Italian Grand Prix later that same year. This would ultimately be one of the key accomplishments of the Alfa Romeo F1 over this period.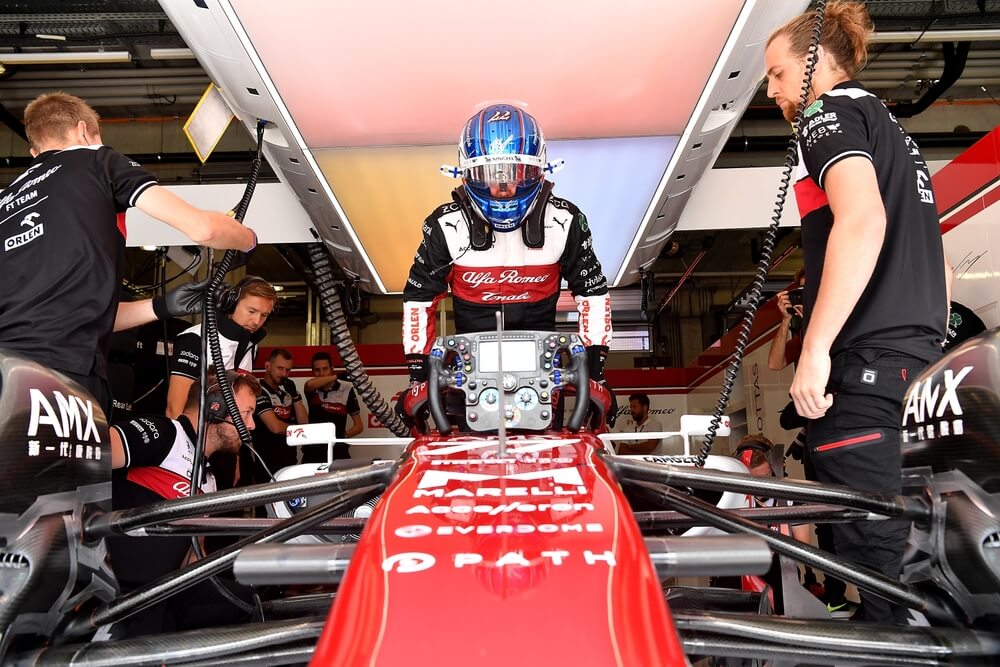 Understanding how Alfa Romeo F1 earns their money
Since the formation of Sauber Motorsport in 1993, the Swiss-based racing team has been a fixture in Formula 1. In 2005, BMW Sauber F1 joined the Formula 1 grid, and with it began an era that would ultimately lead to Alfa Romeo Racing's entrance into the sport.
Ways Alfa Romeo Earns their Money
Alfa Romeo generates revenue through race winnings, wherein funds are given out depending on a driver/team's performance over any particular season or race weekend. 
This makes up for just a fraction of each team's total budget since costs tend to far outweigh prize money by a large margin due to technological advancements having led qualifying runs and racers towards greater speed (and thus expense).
Prize Money for Alfa Romeo
Alfa Romeo's success on the track guarantees the team's financial well-being and provides solid evidence in support of the growth of Team Alfa Romeo's net worth.
It is projected that an additional $10–12 million will be awarded to each rank of the constructors' champion. The money collected by finishing in the sixth position in the Formula 1 constructors' championship will make a "huge impact," according to Fred Vasseur, the boss of Alfa Romeo. 
Sponsors/Partnerships for Alfa Romeo
The Alfa Romeo team has found success in F1 and is once again part of the sport's elite. This success has been made possible, in part, by a series of partnerships and sponsorships that help Alfa Romeo achieve its goals. The financial stability of every F1 team is significantly dependent on its sponsors. 
Having multiple sponsors provide unobtrusive backing and financial assistance to the Alfa Romeo team can be successful in attaining top standings against other teams.
Alfa Romeo started facing numerous issues when it first entered the F1 circuit. Since then, innovations, such as Zhou Guanyu becoming China's first-ever Formula 1 driver, have helped turn things around for them. 
As soon as Zhou joined the lineup, many companies saw an opportunity to market themselves alongside a prestigious racing brand like Alfa Romeo – thus leading to increased sponsorships and partners for them. 
When recently questioned about what led to these countless new deals being secured, Vasseur – boss at Alfa Romeo, credited it all largely down to two factors: Zhou's presence in their lineup and Formula 1 proving itself as an extremely popular sport worldwide!
Some of these high-profile names associated with partnerships related to Alfa Romeo are Rebellion Timepieces, Puma Hyland Segate Web Eyewear AMX Georg Fischer – just a small selection among many others supporting this new successful team in whatever way they can! 
Allowing them access into markets rich with potential customers and providing valuable finances which go directly towards maintaining powerful performance from each entry on track!
Investment from Parent Manufacturers
Parent manufacturers that are directly involved with the F1 team are a good way to increase their potential wealth. Ferrari and Pirelli have been key partners for Alfa Romeo throughout the season, providing substantial support in engine technology and tires. 
The Ferrari engine enables the ORLEN car to reach high speeds on any grand Prix circuit, which has proven invaluable for the team's overall success.
PKN ORLEN has also made significant investments into the Formula One team, investing millions into developing a high-speed racing car that can compete against some of its biggest rivals. The investment has paid off as Alfa Romeo now holds an excellent reputation within Formula One, and their stock price continues to look healthy despite uncertain global economic conditions.
Other Financial Arrangements
While much of their success is due to their talented drivers, sponsorships, and prize money they have earned over the years, they are also making use of other financial arrangements to help bolster their net worth. 
In addition to these sources of income, Alfa Romeo's team has invested in stock markets and has established an innovative Driving Academy for aspiring racers. These investments and initiatives have resulted in a more secure future for Alfa Romeo as well as additional ways for them to generate revenue.
The Alfa Romeo Driving Academy provides a unique opportunity for younger generations looking to break into the world of auto racing by offering educational programs that teach students how to handle vehicles at high speeds on race tracks across the globe. 
Not only does this academy provide an invaluable learning experience with some of the best professionals in auto racing, but it also helps create new customers who may eventually purchase products related to Alfa Romeo or even own their own vehicle if they become successful enough.
Alfa Romeo's revenue and profit compared to other F1 teams
In the world of Formula 1, Alfa Romeo is a brand that has seen significant growth in recent years. With teams such as Ferrari, Mercedes, and Red Bull Racing dominating the sport's market share, it's easy to overlook Alfa Romeo's successes over the past few seasons. 
However, this iconic Italian manufacturer has been able to carve out its own space in Formula 1, making significant strides both financially and on the track. 
Let's compare Alfa Romeo's revenue and earnings versus other Formula 1 teams to see how they have performed against their peers over recent years.
Revenue Comparisons
When taking a look at each team's overall value for 2018, we can see that Ferrari leads with 1350 US million dollars in value, followed by Mercedes at 1015 US million dollars, and McLaren with 620 US million dollars in third place. 
Red Bull Racing holds a respectable fourth place ranking with 640 US million dollars, while Williams rounds off the top five spots with 400 US million dollars in value. The tenth member of this exclusive club goes to Alfa Romeo, who holds onto 105 million dollars in total value for 2018.
Profit Comparisons
On an annual basis, each team earns money through different avenues, such as sponsorship deals or prize money from winning races or championships (Constructors' Championship). 
It appears that both Ferrari, with US$486 million, and Mercedes, with US$450 million, are leading in terms of profit generation, especially due to their long-term commitment from sponsorships, which allows them more leeway regarding opportunity costs associated with developing cars, maintaining facilities, etc.
Even so, McLaren still managed to claim third place amongst its peers raking up profits worth US$229.37 million. Coming fourth, we have Red Bull racing, 145US Million attributable mainly due to expanding into apparel sales.
Frequently asked questions
Is owning an F1 team profitable?
Yes, owning an F1 team can be quite profitable. Teams generate income through prize money, sponsorship deals, and media broadcasting fees.
Who owns Alfa Romeo's F1 team?
Fiat Chrysler Automobile Group (FIA) owns Alfa Romeo. Sauber Motorsports AG is partnered with Alfa Romeo's F1 team. It currently participates as Alfa Romeo Racing Team Orlen.
The Alfa Romeo Formula 1 team is an amazing opportunity for success and growth in the world of racing. After a few tough years, 2022 has been a strong comeback for the team. Some truly impressive racers are at the helm, including Antonio Giovinazzi, Mario Andretti, and Robert Kubica. With involvement from major sponsors PKN ORLEN, Acer, Acceleron, Puma, and Adler Pelzer Group, it's clear that great things are being done to help them achieve their goal of being one of the best teams in Formula One. We can stay positive, knowing there'll be many more successes coming our way with Alfa Romeo!