Formula One pit stops are an achievement of engineering and teamwork. They take a few seconds, but they allow for significant vehicle customization. However, F1 pit stops are highly strategic, with three primary categories allowing teams to gain an edge over competitors.
Watch this video to see Mercedes excellent double-stack pit stop at the Chinese Grand Prix 2019.
What is a Double-stack pit stop in F1?
As part of a double-stack pit stop, two cars from the same team are brought in for servicing, with one vehicle doing a standard pit stop and the other being brought in shortly afterwards. To get everything just perfect, it is only performed on rare occasions.
Given that the same mechanics will be working on both cars in quick succession, it's a high-risk strategy. This involves keeping two sets of tires in the pit box, increasing the likelihood that one set may be misplaced or used on the wrong vehicle. Everything must occur rapidly so that neither vehicle wastes precious seconds. It can only be done safely in extremely restricted circumstances.

The time it takes for a vehicle to make a pit stop should be included in the space between them. This should take around 2 seconds, but if the first vehicle's pit stop goes longer than that, the second car will have to wait. As a result, both vehicles lose out, which may defeat the purpose of executing the double-stack in the first place.

A method like this is rarely considered and only used under exceptional conditions. Instead of the undercut and overcut methods used to gain an advantage over competitors, it is mainly a response to other drivers. A better purpose for this tactic is to keep your drivers from undercutting each other and undercutting you.

Due to the reduced time spent waiting for the pit crew, this is a common practice whenever a safety car is sent out to deal with an incident on the circuit. If everything goes well, a pit stop may be completed in as little as 20-30 seconds. However, this varies per circuit. As a result, there is a significant time saving to be had by pitting under a safety car while the vehicles on the circuit are grouped and unable to pass.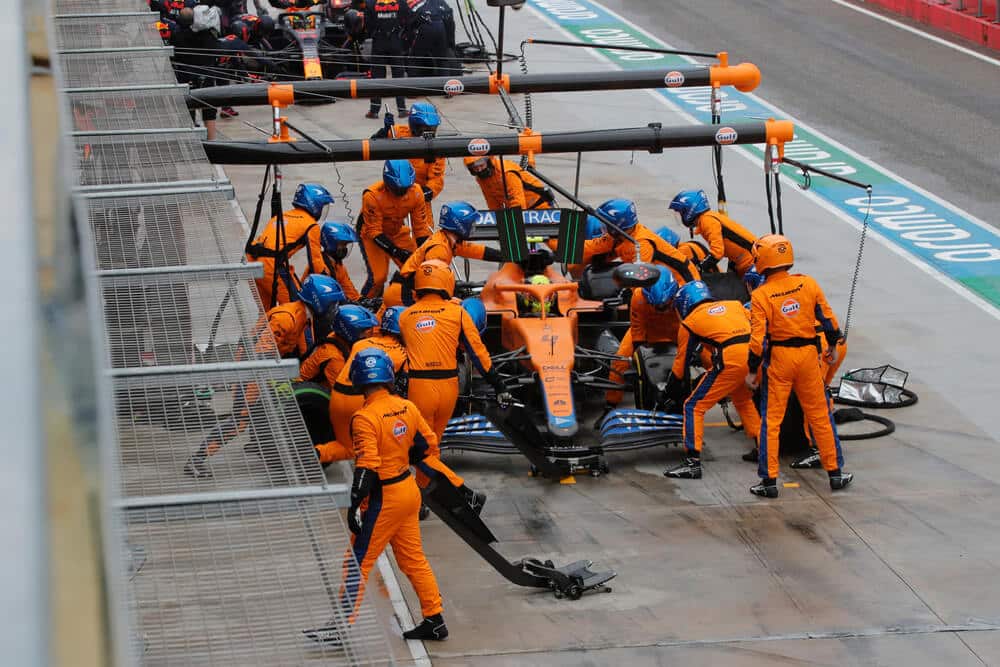 Understanding a Double-Stack Pit Stop
It is impossible to watch the footage of the way Mercedes stacked their cars for a pitstop at the Chinese Grand Prix 2022 and not be astonished by the relentless efficiency of a crew that was at the top of their game as they dispatched both vehicles in 10 seconds flat!
It is one of the most challenging things to learn since only one automobile is available for training. Specialists have a pit stop vehicle available, so we can practice quickly removing both sets of tires and doing two stops. However, you can never truly replicate the same circumstance with the car rolling into the box, so this is not an accurate simulation.
You can see that it's rather challenging for the rear jack-man since he has to move out of the way when the first vehicle pulls away and then get into position when the second car pulls up. Because of this, the choreography is very difficult. There is a little bit more to arrange, and the fact that there are so many tires in the pitlane poses a little bit of danger; thus, the appropriate tires must be mounted on the appropriate vehicles.
The double stack is only used in extreme situations when no other options are left to try. Despite its potential for effectiveness, it is rarely used.
All teams try to avoid doing them until necessary because if there is an issue with the first F1 car, it will also affect the second car. And in a concise amount of time, you may go from first and second place in the race down to third and fourth.
Double-Stack is not something the teams do daily; nevertheless, in the situations in which it is appropriate, it is a very useful weapon to have in your power tool.
Frequently asked questions about Double-stack pit stops
How much gap between the F1 cars in a double-stack pit stop?
As a rule of thumb, the time it takes for a vehicle to make a pit stop should be included in the space between them. This should take around 2 seconds, but if the first vehicle's pit stop goes longer than that, the second car will have to wait.
Why are double-stack pit stops being used by Formula 1 teams?
When the front vehicle stops for a tire change on a given lap, the second car in the team will do the same thing shortly afterwards. As a result, drivers waste less time in the pits, and the safety car may be dispatched to deal with the issue more quickly.
Pit stops in Formula One are consistently ranked among the quickest across all motorsports. Each event includes around twenty mechanics, each of which can successfully replace four tires in approximately two seconds. However, some circumstances need some serious strategy when it comes to pit stops. Tire wear is the most important consideration in pit stop strategy, and proper tire management is essential to a driver's overall performance during a race.
The undercut and the overcut pit strategy are used to reduce the gap between the following cars and the leading cars. Both of them are dependent on certain conditions and may be readily neutralized by the driver who is protecting themselves. The double-stack pit stop is the most challenging type of pit stop, and as a result, it is used very infrequently; yet, it is quite exciting to watch when it does happen.
Learn more about Formula One