Alexander Albon is a world-class racing driver from London who competes under the Thai flag. Things are going quite well for the driver, as he is being retained by Williams for the 2023 season and beyond. Nevertheless, Alexander's journey hasn't been free from hardships along the way.
The ups and downs of his racing career have been talk of the town, but there is one person who has been a constant source of support throughout his journey – his girlfriend Lily He. 
But who is Lily He, and how did she become part of Albon's life? In this article, we will take a closer look into Alexander Albon's girlfriend Lily He and their relationship. Including how the duo met in the first place.
Who is Alexander Albon's girlfriend?
Alexander Albon is currently in a relationship with Chinese golfer Lily He, who is a professional player on the Ladies Professional Golf Association (LPGA) Tour. The couple began dating in 2019 and had been going strong ever since. 
How did they meet?
You must've heard this famous saying – love at first sight. Well, for Alexander Albon and Lily He, it was certainly true! 
Their story is quite something – Lily had taken an interest in Alex after watching him on the popular Netflix series Drive to Survive as the then Redbull driver was the only Asian on the F1 grid at that time. He had an instant impact on her, and she was captivated by his charisma and talent.
Lily further revealed the information about how they met during an interview recorded earlier in 2022:
She said, "He DM'd me first, very smoothly. But we were really just friends for the longest time. We really bonded over our sports or similarities that, you know, we see, we feel, and all the struggles we were going through at the time. So we really bonded over that. And after months and months of being friends, he eventually came to L.A. and we got to meet in person."
All you need to know about Alexander Albon's girlfriend Lily He
Now that we know about how the couple met and the story of their love, let's take a look at who Lily He is.
| | |
| --- | --- |
| First Name | Muni "Lily" |
| Last Name | He |
| Age | 23 |
| Height | 1.63cm |
| Hometown | Chengdu, Sichuan, China |
| Religion | Christian |
| Nationality | Chinese |
| Profession | Professional golfer |
| Boyfriend | |
| Children | None |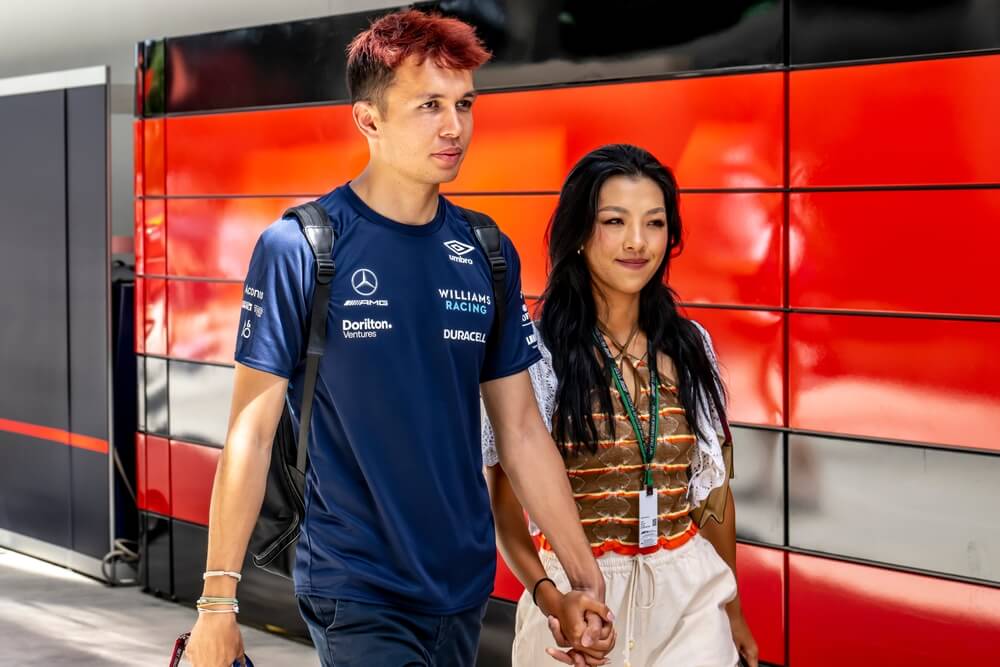 Where is she from?
Lily He was born and raised in Chengdu, Sichuan on June 17, 1999.  She took an interest in golf at an early age, thanks to her father who was an avid golfer and entrepreneur. He introduced her to the sport of golf at a young age and fostered her passion for it.
She started taking up sports at the age of five, and by the time she was a teenager, she was already playing competitive golf and won decent prizes in different tournaments. Since then, she has gone on to become a professional golfer and is currently competing in the Ladies Professional Golf Association (LPGA).
Occupation
Lily Muni He is a young and talented professional golfer on the Ladies Professional Golf Association (LPGA) Tour. At 23 years of age, she has already achieved tremendous success in her career, having started playing competitive golf at the age of five. 
In 2019, she won the eight-round LPGA Q-Series and went on to enter the 2020 LPGA Tour. In 2022, she had her first top-10 finish with a T5 result in her 20th tournament. Lily He is quickly becoming one of China's most notable athletes and is certainly an emerging star in the world of golf. Her future looks very bright, and she is someone to watch out for in the coming years!
Endorsement Deals
Lily He's good looks and amazing golfing ability has attracted a lot of attention in the golfing world, which has resulted in her landing several top-tier endorsement deals. She is currently sponsored by Bettinardi Golf, WeChat, and Nike, which have all contributed to bolstering her net worth. Her social media presence has also helped with this, as she now boasts a large following across multiple platforms.
Social media accounts
Lily He has been utilizing her Instagram account to share her journey as a professional golfer, along with snippets of her everyday life. On Instagram, she has amassed over 561k followers as of February 2023, who follow along for updates on her achievements, travels, and other personal stories. 
This has also enabled her to be approached for endorsement deals, as she is well-known on the platform and has a large following. 
Lily He has also taken to TikTok, where she has gained over 150k followers. Here, she posts funny and cute videos that her fans have come to enjoy.
Alexander Albon's relationship and dating history
If we look into Alexander Albon's past, we can see that there is no information available about any other girlfriends he might have had before Lily He. All of the evidence points toward his current relationship with her being his first serious one. The two are very much in love and it seems like their relationship is going strong.
The Strong Bond Between Alexander Albon and Lily He
Lily and Alex share an incredibly strong bond that is rooted in their mutual love of sports. Alex has been introducing Lily to the world of Formula One, while Lily has been helping Alex improve his golf game. Alex talked about how Lily has impacted his golfing skills and he is getting better with time.
He expressed that in an interview: "I started pretty badly when I was with her, and I have improved," said Albon. "I can watch and I can learn and I looked at her tempo and she has an amazing swing. It's almost textbook the way that her swing looks."
Frequently asked questions
Is Alexander Albon married to Lily He?
No, Alexander Albon is not married to Lily He. The two are in a committed relationship and have been together since 2019.
Do Alexander Albon and Lily He have children together?
No, Alexander Albon and Lily He does not have any children together. However, they both share a love of sports and enjoy spending time together.
How did Alexander Albon and Lily He meet?
Alexander Albon and Lily He first connected after she watched him on the popular Netflix series Drive to Survive. She was captivated by his charisma and talent and decided to take an interest in him.
So, there you have it—all the details regarding Alexander Albon's relationship with his girlfriend, Lily He. The two met in 2019 and have been inseparable ever since. They share a mutual love of sports and are both pursuing their respective dreams. They make a great couple and we wish them all the happiness for years to come. Read more about all Formula 1 drivers' girlfriends and wives.