Gone are the days when racing was seen as a leisurely way for time to pass for automakers. Nowadays, motorsports are one of the wealthiest professions in the world. 
Currently, Formula One racing is a huge industry and is the most popular racing sport in the world. It employs more than 50,000 people in over thirty countries. 
Formula One generates billions of dollars worth of revenue every year. However, just like the earnings, the expenses of Formula One racing are huge as well.
Formula One teams require the best drivers, engineers, and administrators available in the market. In addition, the teams also need a large sum of money for the research and development of their cars and to cover the cost of getting into the Formula One races. After knowing about the expense of the Formula One teams, fans are often curious to know if the F1 teams even make a profit or not.
The answer to this question is both yes and no. For example, in the 2021's season of Formula One, almost all the teams broke even with only Mercedes and Red Bull making a profit of about $10 to $20 million. 
Watch this video to learn more about how F1 teams make money.
Does Formula 1 teams make money?
Some of the Formula 1 teams make a profit. The bigger teams have more income but also more expenses. Small teams like Haas and Williams have a harder time finishing a season with a win on the bottom line.
Formula 1 teams make money with four different income streams:
FOM Payments
Pay drivers
Sponsorships
Manufacturers and investments
Despite the unpredictability of the Formula One sport many are seen to have an interest in either being a part of the team or owning a team. This is due to the amount of money these teams make which is expected to increase even more in the upcoming years. 
Formula One teams derive their budget from several areas such as the FOM payments, sponsorships, manufacturers, investments, pay drivers, and more. Let's discuss these areas of payment in a bit more detail.
Taking part in Formula One races is pretty expensive as teams need the best engineers and administrators to manufacture their cars. Plus, they also need money for research and development purposes and to pay the price for being able to participate in Formula One races.

The teams can make profits through several factors such as FOMs, pay drivers, sponsorships, investments, manufacturers, and more.

The bigger and better the team is, the more the chances of them securing sponsorships, FOMs, and more.

This is why teams like Ferrari and Mercedes have better chances to generate income than smaller teams like Williams and Alpha Tauri.
Money through Formula One Management is the second most remunerative way to make money. First and foremost, each and every team in Formula One receives a division one payment of an amount of $36 million that has been in the event for more than two seasons. This money is generated through TV rights and circuit sponsorships. 
In the second division of payments, each team receives prize money based on their position in the most recent Formula One event. 
For example, 61 million dollars were awarded to Mercedes for winning the title, whereas the team Williams received an amount of only $13 million for coming last in the race. 
For the third division, an amount of 68 million dollars is awarded to the longest-standing team of F1. This award is also known as the Ferrari budget as it is only given to them.
To add on, teams like Ferrari, Red Bull, McLaren, and Mercedes are awarded a sum of $38 million for winning a series of titles during the Formula One event. Apart from these, there are also some other types of earnings that are awarded to the Formula One team. 
For example, Williams is awarded 10 million dollars for heritage, 35 million dollars is awarded to Mercedes for winning two titles in every race, and so on.
Formula One teams also make money through paid drivers. They are the kinds of drivers that instead of getting paid by the team, pay the team to get a seat so that they can drive in the Formula One event. 
For example, Nicholas Latifi has a seat in the team Williams due to the huge amount of sponsorships provided by his father's and mother's companies.
Pay drivers are usually accepted by the lower-ranking teams of Formula One as they are more desperate and in need of money than other top-tier teams. 
However, these kinds of drivers aren't much appreciated by the fans and are heavily criticized by them. This is because paying the way into a team often leads to the deserving driver being left out and not getting selected into the team. You can read more about pay drivers in Formula 1 here.
Sponsors are the first and foremost way for the teams to generate enough revenue. The way sponsorships work is that a brand or a company comes to a team and pays them a mutually decided amount in return for advertising their brand on the team's car, helmets, clothes, and more. 
Brands can pay as little as 500 Euros a year to $50 million a year. Although 500 Euros won't get the brand an advertisement on the team's cars, helmets, and clothes. Big teams get the most amount of sponsorships as they secure the most wins in Formula One events, which means more screen time. 
For example, a team like Mercedes covered almost 20 percent of the air time during the last season. Hence more sponsors will be attracted to that team as they have a better chance to be marketed.
Manufacturers and investments
The manufacturers invest in Formula One teams as a means of marketing their brands. If the team proves to be successful, people would want to know about the company that made that car. In this way, the sales of that manufacturer will increase. 
Some constructors also generate money by selling F1 engines as a manufacturer or other parts of the car to other teams. 
For example, Mercedes sells its engines to teams like McLaren, Williams, and Aston Martin.
The teams can also make money if their parent company or shareholder invests an amount of money in them. For example, Daimler which is the parent company of Mercedes invested $80 million per annum in 2019 to support them in winning the Constructors Championship. 
However, some investors can afford to invest a large sum of money, whereas some can't. 
For example, where Mercedes got $80 million a year, the team Aston Martin got only $25 million. For the lower-ranking teams, investments make a quarter of their earnings, which is why smaller teams like Williams are bound to struggle.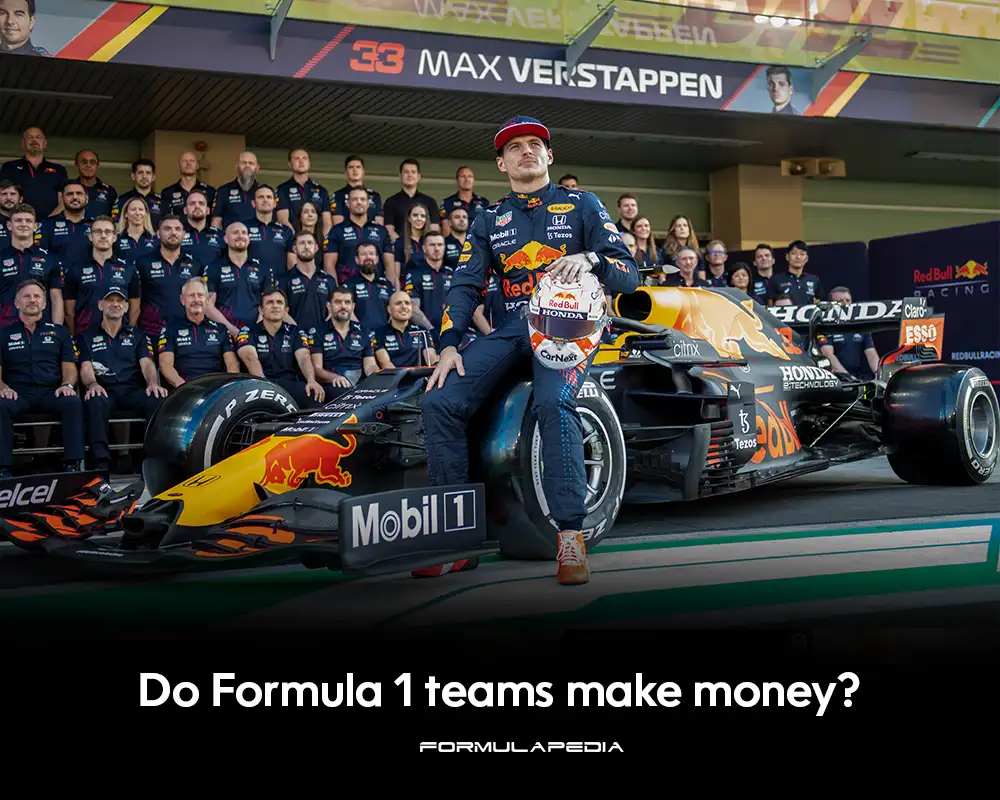 Is the Ferrari F1 team profitable?
Ferrari is among the top 10 teams that are credited as the most profitable teams of Formula One. Ferrari is also among the first teams that participated in the Formula One races since the event's inception. 
The team has produced some of the greatest drivers in the history of Formula One like Michael Schumacher, Fernando Alonso, Niki Lauda, John Surtees, etc. 
Having a team full of skilled drivers who secure positions in almost every event, the team is surrounded by companies and brands that heavily sponsor the team. 
Apart from that, the team also gets a hefty amount each year from Formula One itself. For the year 2021, Ferrari earned a whopping $486 million, a 12.9 percent increase in revenue since the last year.
Is the Red Bull F1 team profitable?
Red Bull is among the top ten profitable teams of Formula one. Every year, several titles are awarded to the drivers of the Red Bull racing team. It has produced some remarkable drivers in Formula One racing like Sebastian Vettel, Pierre Gasly, Daniel Ricciardo, and Carlos Sainz Jr. The winner of the final race of F1 2022 held in Abu Dhabi was won by Max Verstappen who also happens to be a Red bull driver.
Red Bull is sponsored by some of the biggest companies and brands around the world like Zoom, By bit, Puma, Cashapp, Blenders, and more. 
Plus, the team also receives a handsome amount of money from Formula One as well.
Is the Mercedes F1 team profitable?
After Ferrari, Mercedes is the 2nd most profitable team in Formula One. Mercedes is sponsored by some of the top tie brands like Puma, UBS, Ritz Carlton Hotel Company, and more. Mercedes has also produced some of the best drivers of Formula One like Lewis Hamilton, Karl Kling, George Russel, and more. 
Mercedes is also among the F1 teams to secure the highest number of titles in the F1 race events. 
Hence, the team receives heavy amounts of money from the sponsors, manufacturers, and Formula One itself. The team made a revenue of $76 million in the 2021 season.
Is the Alpine F1 team profitable?
Alpine is the sub-team of Renault. This means that Alpine is owned by Renault. Although Renault is a pretty famous team and earns considerable revenue, the case is not the same with Alpine. 
Alpine has a total cost of $7 million which is way lower than the running cost of top-tier teams such as Mercedes with a running cost of $145.6 million. 
With a low running cost, there is not much left to do an ample amount of research and hire the best of the best engineers and manufacturers for the team's F1 cars. 
This results in a lower number of wins and titles from the team. This in turn results in getting only a few sponsorships, hence, less revenue is generated.
Is the McLaren team profitable?
McLaren is among the top five profitable teams of Formula One. It is also among the few teams that are estimated to become billion-dollar franchises in the next five years. 
McLaren has produced some of the best names in Formula One history such as Lewis Hamilton, Jenson Button, Ayrton Senna, and Bruce McLaren. 
The team is sponsored by some top brands such as BAT, Dell, Dark Trace, Arrow Electronics Splunk, Gulf Oil, Tezos, and more. 
Apart from the sponsors, the team also receives a heavy amount of money from Formula One as it secures a number of titles each season.
Is the Alfa Romea F1 team profitable?
The first years of the Alfa Romeo team were pretty hard for them as they struggled to keep themselves in the front positions of the grid. 
However, the season of 2022 proved to be successful for the team with them scoring 51 points in just 11 rounds and securing 6 constructor's positions. This success has raised the hope for Alfa Romeo to be one the next best teams of Formula One. 
Some of the well-known drivers of Alfa Romeo are Antonio Giovinazzi, Mario Andretti, Robert Kubica, and more. 
The team is sponsored by ORLEN, Acer, Acceleron, and Adler Pelzer Group.
Is the Aston Martin F1 team profitable?
Aston Martin is not among the top-tier teams of Formula One. However, the recent performances of its skilled drivers like Sebastian Vettel and Lance Stroll have raised hope for the bright future of the team. 
Currently, the team is sponsored by Aramco, Cognizant, Juniper Networks, VOIP Unlimited, and more.
Is the Haas F1 team profitable?
The Haas team is a middle-ranked team in Formula One. Although, it has been in the limelight due to some of its highly skilled drivers like Mick Schumacher, Kevin Magnussen, Nikita Mazepin, and more. 
The team is currently sponsored by Alpinestars, home Deluxe, Pirelli, UnderArmor, and more.
Is the Alpha Tauri team profitable?
Alpha Tauri is not among the well-known teams of Formula One. However, the team generates a considerable amount of money through the patent textile industries. 
Plus, the team is also sponsored by Honda, Fantom, Epicore, Pirelli, DAZN, Riedel, and more.
Is the Williams team profitable?
The team Williams suffered a series of financial losses after the pandemic. However, there have been hopes for it to come back on track. 
The team has some of the best drivers of Formula One like Nigel Mansell, Damon Hill, Alan Jones, Nelson Piquet, and more. 
The team is sponsored by Sofina Foods, Lavazza, Duracell, Verse, Honibe, and more.
Frequently asked questions
Is owning an F1 team profitable?
Yes and No, Formula One has proved to be profitable for the top teams. New teams in Formula 1 is often not profitable in several years.
Which teams are not profitable in F1?
Small teams like Williams, Alfa Romeo, Alpha Tauri, and Haas are not profitable in Formula One.
Which teams are profitable in F1?
Bigger teams in F1 are generally profitable as they have more sponsors, like Ferrari, Mercedes, McLaren, and Red Bull.
Just like any other sport, Formula One sport comes with a lot of risks. 
To add on, in order to participate, a team has to have a heavy sum of money to invest in its cars, manufacturing, transportation, and more so that it could ensure the best performances by its drivers on the circuit. 
The money could be generated through many ways such as FOMs, pay drivers, sponsorships, investments, and more. However, the bigger and better a team is the more sponsors it has. 
Hence, the growth of small teams is often difficult in this sport. That is one of the reasons why there are not that many new teams in Formula 1. Here you can read more about how new teams enter Formula 1.