Interested in getting to know more about George Russell? We have put together 50 fun facts about the Mercedes Formula 1 driver! Keep reading to learn some new things about GR.
50 facts about George Russell:
George Russell was born on February 15, 1998, in King's Lynn, Norfolk, England.
He started his motorsport career in karting, winning numerous national titles in the UK.
In 2014, Russell made his car racing debut in the BRDC Formula 4 Championship.
Russell won the 2017 GP3 Series championship with ART Grand Prix, taking four victories and seven podium finishes.
He made his Formula One debut with Williams Racing in 2019.
Russell is a member of the Mercedes-AMG Petronas F1 Team's junior driver program.
He is managed by former Formula One driver Jenson Button's management company, JMI.
Russell's helmet design features the colors of the Union Jack and his initials in a stylized font.
His favorite Formula One track is Spa-Francorchamps in Belgium.
Russell's racing hero is the late Ayrton Senna.
In his debut season, Russell out-qualified his more experienced teammate Robert Kubica in every race.
Russell scored his first points in Formula One at the 2020 Sakhir Grand Prix, finishing ninth.
At the same race, Russell replaced Lewis Hamilton at Mercedes after the seven-time world champion tested positive for COVID-19.
Despite starting from the back of the grid, Russell led the race for 59 laps before a botched pit stop and a puncture cost him the victory.
Russell has been described by Mercedes team principal Toto Wolff as "one of the future stars of our sport."
He is known for his impressive performances in qualifying, having made it to Q2 on numerous occasions in a Williams car that is not competitive.
Russell's preferred race number is 63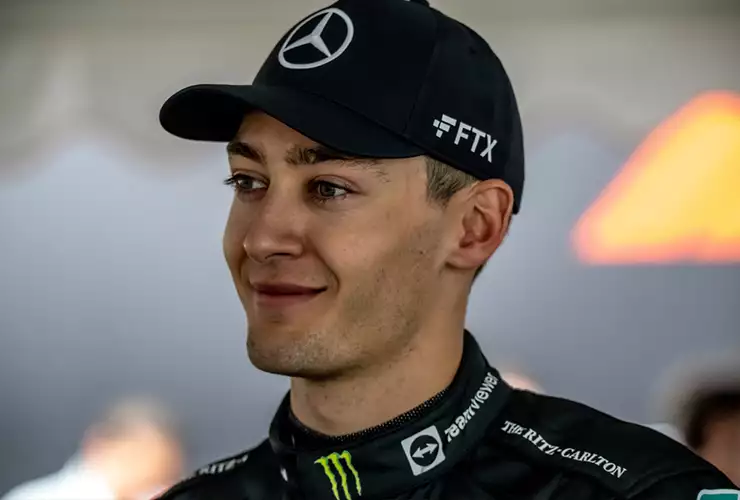 18. In 2021, Russell finished second in the virtual Australian Grand Prix held on the F1 2020 video game during the COVID-19 lockdown.
19. He has a close friendship with British driver Lando Norris, who he has known since they were both karting.
20. Russell's favourite food is sushi.
21. He is a fan of the English football team Norwich City.
22. Russell's first car was a Volkswagen Polo.
23. He enjoys playing golf in his free time.
24. Russell is 6'1″ (185cm) tall, making him one of the tallest drivers on the grid.
25. His father, Steve Russell, is a businessman and motorsport enthusiast who introduced George to karting.
26. Russell's mother, Alison Russell, is a former nurse.
27. He has a younger sister named Cara.
28. Russell attended the independent school Wisbech Grammar School in Cambridgeshire.
29. In 2017, he was awarded the prestigious McLaren Autosport BRDC Award, which recognizes the most promising young British racing driver of the year.
30. Russell's favourite video game is FIFA, and he has been known to challenge his friends and fellow drivers to matches.
31. He is also an ambassador for the Malaria No More UK charity.
32. Russell has a partnership with Bell Helmets, who provide him with his race helmets.
33. He is an avid user of social media, with over 500,000 followers on Instagram.
34. Russell's favorite film is Inception.
35. He listens to a wide variety of music, including rock and pop
36. Russell enjoys reading books about history and politics, with some of his favorite authors being Yuval Noah Harari and David Attenborough.
37. His favorite TV show is Peaky Blinders.
38. George has expressed his interest in competing in the Le Mans 24 Hours race in the future.
39. He is a big fan of vintage cars and has a particular interest in classic Mercedes-Benz models.
40. Russell is a supporter of environmental causes and tries to live a sustainable lifestyle.
41. George is a big fan of coffee and has his own signature blend, called "GR63", which is sold on his website.
42. Russell's pre-race routine includes drinking coffee and listening to music to help him get in the zone.
43. He has a competitive streak, even outside of motorsport, and enjoys playing games and sports with his friends.
44. Russell has said that if he wasn't a racing driver, he would have liked to be a professional golfer.
45. He has a tattoo on his arm that reads "Every second counts", which is his personal mantra.
46. Russell is a skilled sim racer and has competed in several virtual racing events during the COVID-19 pandemic.
47. He has been praised for his maturity and level-headedness, both on and off the track.
48. Russell has said that he sees himself as a future world champion in Formula One.
49. He is known for his graciousness and sportsmanship, often congratulating his rivals on their successes.
50. He is a skilled pianist and often plays for his friends and family.