With the introduction of the turbo-hybrid era in 2014, teams and drivers were given more tools than ever before to change the way their cars behaved throughout the Grand Prix. 
Engine mapping is one such tool that has been around for a while but has evolved dramatically.
Let's look at engine mapping in more detail, how it works, how teams use it, why it's also called engine mode and why it's become such an important part of Formula 1.
Watch this video to learn what engine mapping is and how a F1 driver can use it.
What Is Engine Mapping (engine mode)?
Engine mapping in Formula 1 refers to the modification of how an engine performs its functions by the team or the driver. From conserving fuel during the race to extracting every last bit of power for a qualifying lap, engine mapping is critical in winning a Grand Prix. It is also called Engine mode.
The key takeaways you should know are that:
Although engine maps and modes are frequently used interchangeably, they have very different meanings.

Engine maps cannot be changed after qualifying begins, but engine modes can.
Changing engine modes on the fly is an important part of racing and can either make or break a race.
Drivers can use engine modes to save fuel, while overtaking or defending, as well as to save parts after an engine failure.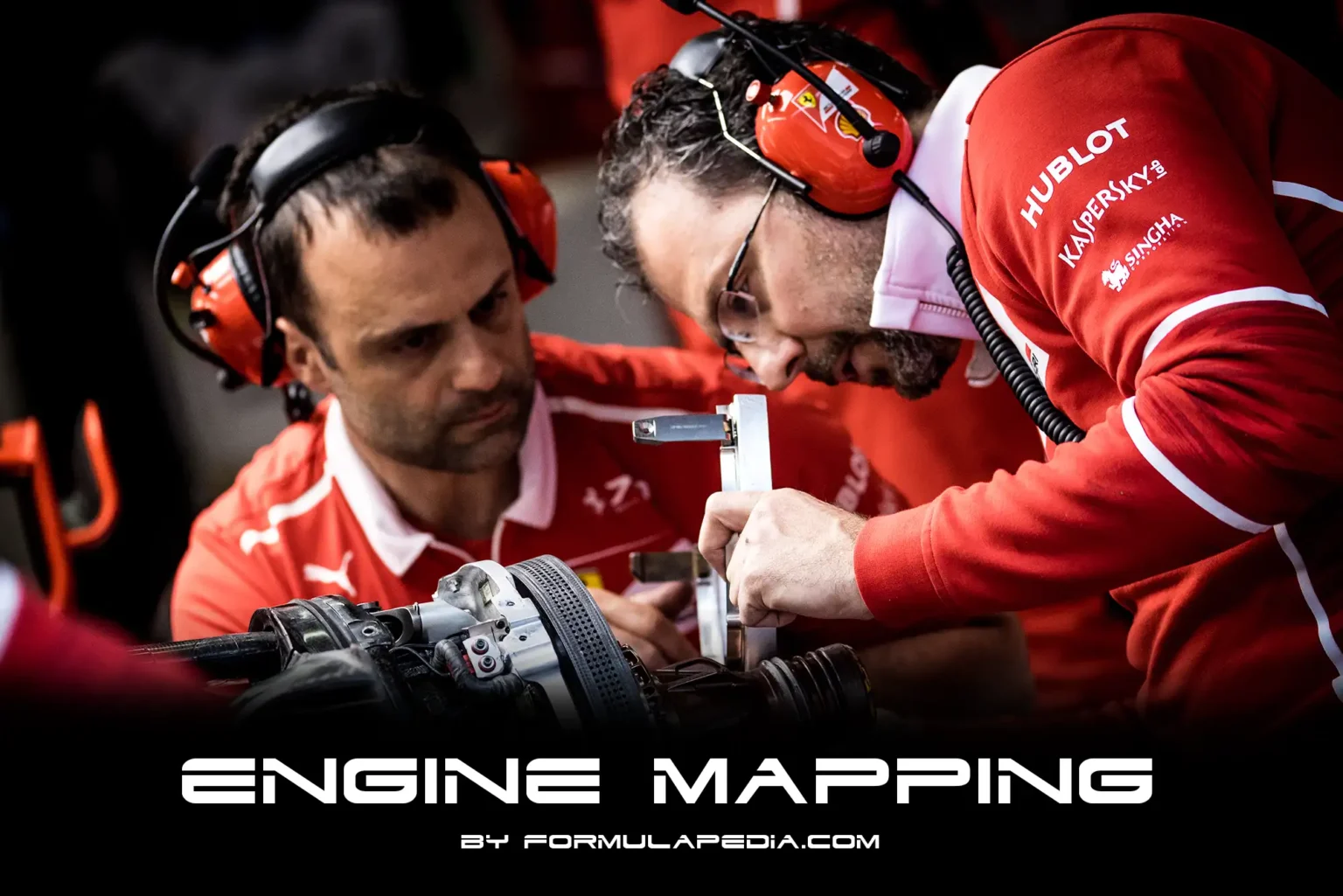 How does Engine Mapping work in F1?
The Power Unit (PU) of today is much more than just an engine. It is made up of six different elements – the Internal Combustion Engine (ICE), Turbo, MGU-K, MGU-H, Control Electronics and Energy Store. All of these components work together to provide various Power Unit modes that a driver can use to achieve their goals.
PU modes are a set of settings that adjust the ICE's performance as well as the flow of electrical energy.
Power vs. Fuel
The performance of an ICE can be altered by changing the amount of fuel injected into the combustion chamber or the timing of the ignition.
These can be used to save fuel by reducing engine power to make it to the checkered flag, or they can be used to spend more fuel in exchange for more power.
Better Reliability
The primary goal of PU modes is to strike a balance between performance and reliability. Formula One is all about speed, but with only a limited number of parts available during the season, reliability has become increasingly important.
The days of using one engine per Grand Prix and spooling turbos to incredible speeds just for one qualifying lap are long gone.
As a result, staying in higher power modes for an extended period of time will cause the engine pout to wear out faster.
This is how an F1 driver can use engine mapping and engine mode
It is mainly in two positions on the track that the driver used engine mode or engine mapping. These two occasions are when the driver has to overtake or when the driver has to defend himself from someone else overtaking them.
When Attacking and Overtaking
The modes will also change the interaction and scheduling of electrical energy for both deployment of the MGU-K and recovery of both the MGU-K and MGU-H on the Hybrid side of the Power Unit.
In conjunction with the fuel mode, these can be used to rapidly increase power for short bursts in order to more easily make an overtake.
Defend Against Being Overtaken
While different engine modes can help with overtaking, the same principle can be applied to defending. For example, a driver may choose to use less electric power in parts of the circuit where overtaking is more difficult in order to recover enough energy to use on defense.
What is the difference between engine mode and engine mapping?
This is a contentious issue because there appears to be a hazy line between the two. Mercedes describes the distinction as follows:
"There is no accepted universal definition of what constitutes a map or a mode, but we draw a general distinction between a 'mode' and 'mix' settings: what the question refers to as a 'map' we would refer to as a 'mode', and what the question calls a 'mode' we would call 'mix settings'.
"Generally we accept that by 'mode' we mean a broad description of a regime under which we run the engine. This defines the philosophy of ignition mapping, fuelling and the distribution of fuel cut strategies used to achieve the torque that the driver demands. Engine 'mix' settings are detail changes to fuelling that are routinely used during the race to reposition ourselves on the curve between fuel consumption and engine power.
"Crucially, because all teams now use a common engine management system, there are limitations as to what any team can change with the car on-track, and these are only the engine 'mix' settings. Fundamental changes to engine 'modes', where teams may chose to put aggressive or fuel-inefficient strategies into their cars for qualifying, can no longer be made for the race with the car in the garage or by the driver on-track."
Frequently asked questions
What is party mode in F1?
To maximize the use of energy recovered by the two energy recovery systems, qualifying modes, often referred to as "party modes" after a moniker created by Mercedes, offer increased engine revs and the option to operate without harvesting power and diverting it to the battery. Additionally, these modes are known to use fuel mixes and ignition timing that are more aggressive.
Why was party mode banned in F1?
During the build-up to the Spanish Grand Prix in 2020, it was revealed that the FIA and Formula 1 were planning to mandate only one engine mode per race weekend. The ban on multiple engine modes appeared to be an attempt to dilute Mercedes' significant advantage in qualifying, in which it was able to turn up the engine to benefit from the pace of the Brixworth-designed power unit. There were several other loopholes that the new rule, issued in the form of a technical directive, aimed to close in order to reduce the mix of engine modes that teams frequently used over the course of a Grand Prix weekend.
Engine mapping and the use of engine modes are critical factors for teams to get right if they want to compete at the pinnacle of motorsport. And while they can help with overtaking and defending, their primary function is to provide a balance of reliability and performance.
When it comes to engine modes, the FIA has gone to great lengths over the years to provide a more level playing field between engine manufacturers, but teams continue to use them in different ways, adding another layer of strategy to the mix. 
We believe you can be interested in this article: Can a F1 driver change engine during a weekend?
Learn more about Formula One