Formula 1 (F1) is one of the most popular sports in the world, and race fans are always looking for ways to get closer to the action. After all, what could be more thrilling than watching the world's best drivers battle it out at speeds of up to 200 miles per hour?
If you're interested in F1 racing, you might be wondering how much F1 tickets cost.
In this blog post, we'll take a look at ticket prices for the Formula 1 Grand Prix, so you can start planning your next big race vacation.
Watch this video to learn more about F1 ticket prices.
How much do F1 tickets normally cost?
Tickets to an F1 race may range anywhere from around $100 to $13.000. F1 ticket prices can vary depending on the race location, time of year, and availability. The cheapest price of a single-day ticket varies from $100 to $700.
This figure fluctuates greatly based on the sort of seats and facilities a fan is prepared to pay for. For instance, the higher-end tickets may cost up to $13000. The most basic ticket is the three-day weekend pass. 
These passes, which cost between $125 and $225, allow fans to attend the event on Friday, Saturday, and Sunday. 
Grand Prix tickets vary in price depending on several factors. Understanding what determines the overall cost of a ticket will allow you to find yourself some cheaper Grand Prix races.
F1 tickets price comparison
Below you can see a comparison made by VegasInsider.com when it comes to ticket prices for each Formula 1 event. 
They have also tried to find out what the total price can be, as you need to stay somewhere and eat a couple of meals. Download the full comparison of F1 ticket prices below.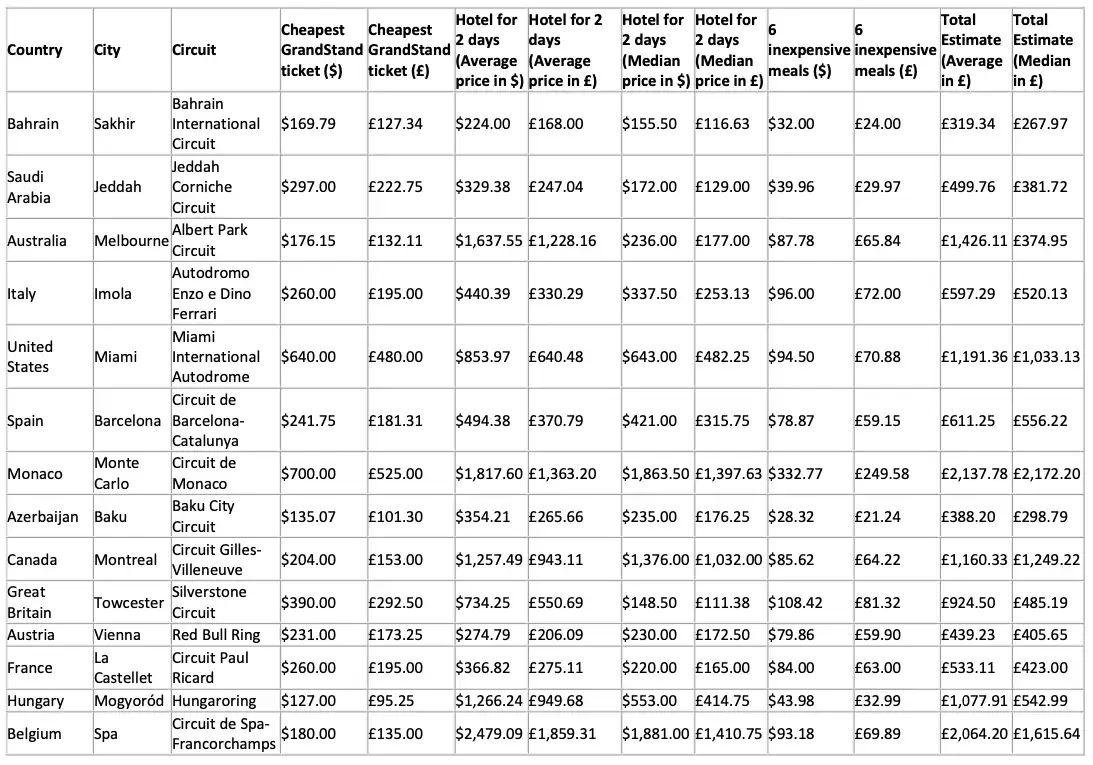 Here are some key aspects that you should be aware of regarding F1 tickets pricing:
The average price of a single-day ticket for the Formula 1 Grand Prix is around $2,000. 

Ticket prices can vary based on the race location, time of year, and availability. 

The most basic ticket is the three-day weekend pass, which typically costs between $125 and $225 but can cost up to $700 for some Grand Prix. 

More expensive tickets may cost up to $13,000. 

Fans can find cheaper tickets by planning ahead and keeping an eye on ticket prices.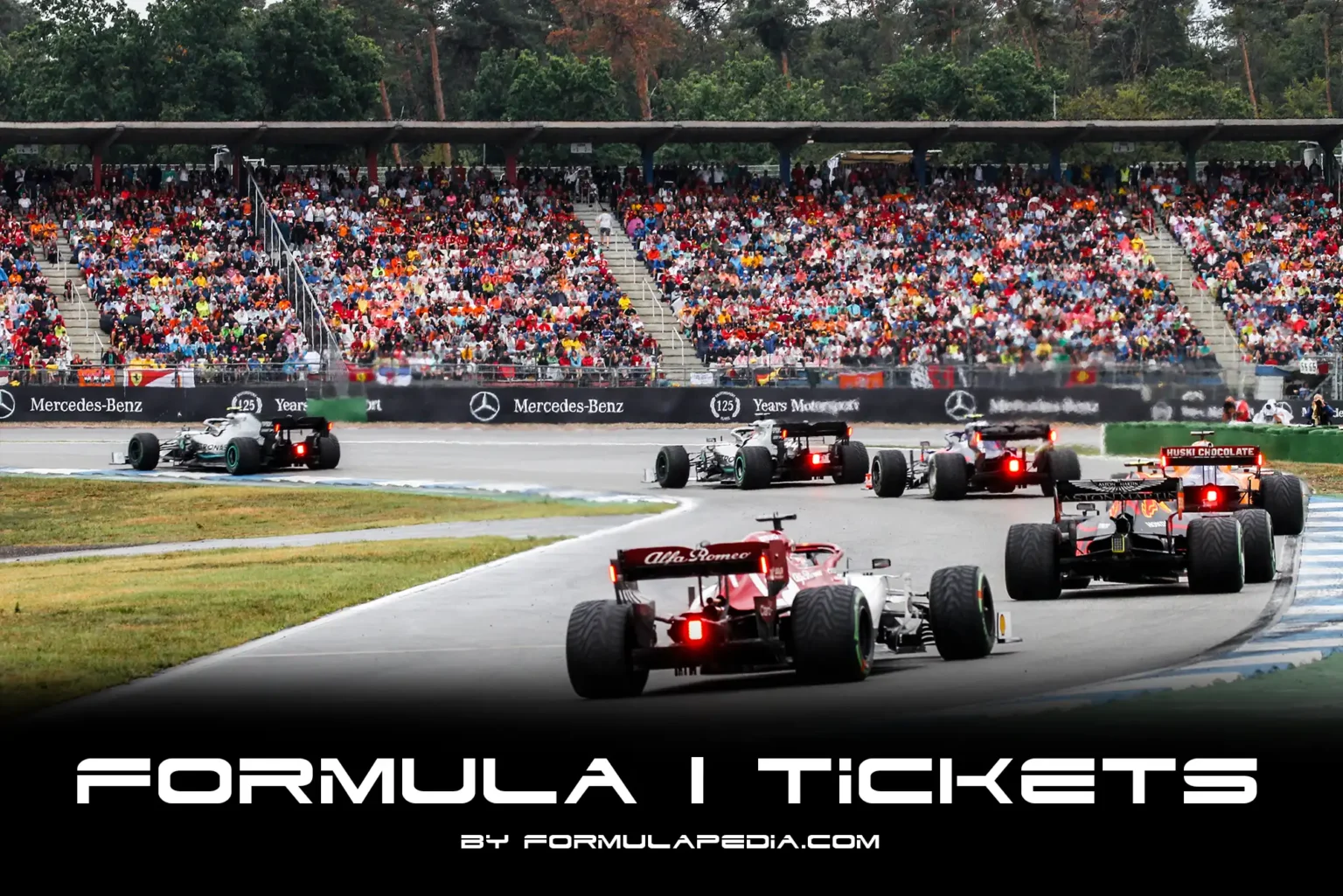 Factors that affect the price of F1 tickets
There are few key factors which affect F1 ticket prices:
1. The race location
The cost of attending a Grand Prix can be expensive, depending on the location of the race. For example, races held in Europe are typically more expensive than those in other parts of the world.
Formula One tickets are often the least expensive in Russia, Japan, and China.
Sometimes, the reputation of the track can make all the difference. For instance, the atmosphere and historical importance of the Monaco Grand Prix make it the event that everyone wants to attend, hence tickets to the Monaco GP are among the most expensive in the whole F1 season.
2. Seating
Not all seats are created equal and, as you would expect, the better the seat, the more expensive the ticket. The type of seat will also determine how much you'll pay. For example, a general admission ticket will be cheaper than a reserved grandstand seat.
You should always check the views from each type of seat at a particular circuit before buying your tickets. Some seats may have an obstructed view, or you may be too far away from the action to really enjoy the race.
It is usually more comfortable to sit at the end of a long straight or at series of corners. Watching cars is much easier when you are seated where they have to slow down. There will also be opportunities to pass at these corners, which is also fun.
3. Time of year
The time of year can also affect ticket prices. Generally speaking, tickets for races held early in the season (March to May) are cheaper than those for races held later in the year (June to November).
This is because there are fewer races early in the season, so demand is lower. As the season progresses and the number of races increases, demand usually goes up as well, resulting in higher ticket prices.
Now that you know how much F1 tickets cost and what affects their price, it's time to learn how to buy them. Here are a few tips:
1. Choose what Grand Prix you want to visit
The first step in trying to find out how much F1 tickets cost is to select which Grand Prix you would like to attend. There are a total of 22 races generally in F1 calendar, spanning across  different countries. 
Prices for tickets will vary depending on the location of the race and the popularity of the event. For example, tickets to the Monaco Grand Prix will be more expensive than tickets to the Azerbaijan Grand Prix.
It's important to pick a race that you're interested in and will actually enjoy attending. There's no point in spending a lot of money on tickets if you're not going to have a good time.
2. Choose what kind of ticket you want 
Now that you know which Grand Prix you want to attend, it's time to decide what type of ticket you would like. A few different kinds of Formula 1 tickets are available, each with a different price:
General Admission – This is the most basic and cheapest type of ticket. It usually gives you access to the circuit for all three days of the race weekend (Friday, Saturday, and Sunday), but it doesn't guarantee you a seat. 
General admission tickets are perfect for those on a budget or those who don't mind standing or sitting on the grass.
Grandstand seats – Tickets for the grandstand are good for (mostly) numbered seats in the tribunes, so your spot is guaranteed. The view from these tickets is often better than the view from general admission tickets. 
Most of the time, the tribunes have roofs, which can be helpful in both hot and wet weather.
Hospitality – If you want the ultimate F1 experience, then you might want to consider buying a hospitality package. These packages usually include access to exclusive areas, such as VIP lounges and restaurants, as well as a reserved grandstand seat. 
Prices for hospitality packages can vary widely, so it's important to shop around and compare different options before making a purchase.
Experience packages – Now if you want to go the extra mile, there are also experience packages available. These often include access to the pit lane, guided tours of the paddock, and even meet-and-greets with drivers and team personnel.
Of course, these packages come at a price, but they're a great way to get an insider's look at the world of Formula 1.
Choose between a 3-day ticket and a single day ticket
You have the option to buy a 3-day ticket, which will give you access to the circuit for all three days of the race weekend, or a single day ticket, which will only grant you access for one day.
If you're only interested in attending the race itself and don't care about any of the other events happening over the weekend, then a single day ticket might be the way to go. However, if you want to experience everything that Formula 1 has to offer, then a 3-day ticket is probably your best bet.
Keep in mind that prices will vary depending on which type of ticket you choose.
Buy your F1 tickets from F1experiences.com
The best way to ensure that you get the tickets you want at a price that you're comfortable with is to buy them directly from the official Formula 1 website, F1experiences.com.
F1 experiences offers a wide range of ticket options, so you're sure to find something that fits your needs and budget. And because you're buying directly from the source, you can be confident that you're getting the real deal.
Frequently asked questions
Why are F1 tickets so expensive?
The main reason why F1 tickets are so expensive is because they need to cover the costs of preparing and maintaining the track, staffing costs, and the various other costs of running the entire event.
Which Formula 1 Grand Prix is the most expensive to visit?
The most expensive Formula 1 Grand Prix to visit is the Monaco Grand Prix. This is because the Monaco Grand Prix takes place in the Principality of Monaco, which is one of the most expensive places in the world.
What is the cheapest F1 ticket?
The cheapest F1 ticket is a General Admission ticket. These tickets give you access to the circuit, but not to any of the exclusive areas or events. Prices for General Admission tickets can vary depending on the race, but they are typically quite affordable and in the range of $100-500.
As you understand, the high-profile drivers and Team principals are stars in the sport. F1 drivers' salaries and Team principal's salaries are many times hundreds of millions for each team. This makes Formula 1 ticket prices expensive only in principle.
Now you know everything there is to know about buying Formula 1 tickets. Remember, the key is to do your research and compare prices from different sources before making a purchase. 
With a little bit of planning, you can score some great deals on tickets to the world's most prestigious motorsport event. Happy planning!