Formula One, also known as F1, is the highest class of single-seater auto racing sanctioned by the (FIA). The F1 World Championship has been one of the premier forms of racing since its inaugural season in 1950. The word "formula" refers to a set of rules to which all participants and cars must conform. The F1 Season starts from March to December, with races held around the globe.
It is the most popular and well-known auto-racing sport in the world. It consists of a series of races, known as Grands Prix, held on purpose-built circuits and public roads. Millions of fans follow this sport, and many consider it the pinnacle of motorsport. Because the cars are incredibly fast, and the drivers are some of the best in the world.
Watch this video to learn more why any new joining team need to pay $200 million.
How do new teams get into F1?
To enter the Formula 1 World Championship, teams must comply with the sport's technical and safety regulations, which the FIA sets. So, apply and pay a 200$ million entry fee, then construct or purchase a car that meets these requirements and submit it to the FIA for approval.
1. Apply and pay a $200 million entry fee to FIA
Applying for membership is a simple process. Manufacturers and teams interested in joining the FIA can fill out an application on the organization's website. Once the application is processed, a $200 million fee must be paid to become a member officially.
2. Build their car
F1 teams have to design and build their cars from scratch, which means they have total control over how the car looks and feels. It allows them to create a vehicle perfectly suited to their driving style and preferences. But, of course, this also means that they must put in a lot of hard work to get everything right!
In the process of building an F1 car, there are certain parts that only F1 provides. Because the sport has such specific and unique requirements, the engine must be capable of high speeds and have excellent power output. The suspension and brakes must also be solid and durable to cope with the immense forces exerted on them during a race.
3. Once approved, they can enter the championship.
When teams are done with constructing a car that meets certain specifications, they submit an application to the sport's governing body, the FIA. Once their vehicle has been approved, they can compete in the championship.
The process of applying for and constructing a car can be pretty costly, so only some teams can enter the championship. However, those who can do so often find it advantageous financially and in terms of prestige.
In order for new teams to get into F1, they have to pass a voting process. 

Teams need a license, which FIA grants after demonstrating the team's financial stability.

They must have a minimum of two cars that meet all of the FIA's technical specifications.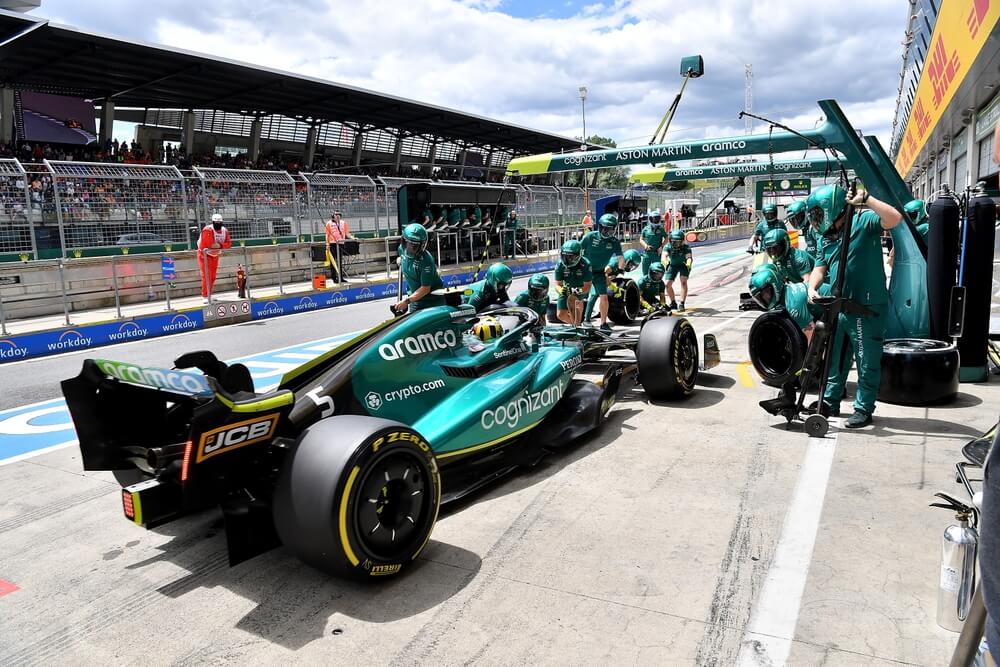 Application for new F1 teams must include the following:
The application process for new Formula One teams contains several requirements that must be met to be considered for entry into the sport. Here is the list of those requirements:
1. Team name
The team name, which includes the chassis name, tells the FIA what kind of car the team will use in the race.
2. Engine and the make of the car
The engine and make of the car are vital to adding in the application form because it tells the FIA who will supply the tires for the team. 
3. Signed agreement of participating in all races
The agreement formally declares the team's commitment to compete in all races and adhere to sporting and technical regulations. It is a binding contract between the team and the FIA and sets out the terms under which the team will be allowed to participate in F1.
4. Two nominated drivers
The nominated drivers must be of a high caliber and have the ability to challenge for the championship. They must also work well together and complement each other's strengths.
5. Signed terms and conditions set by FIA
The terms and conditions set out by the FIA are clear. Teams must agree to race according to the rules and regulations the FIA set out and abide by the stewards' decisions.
How many teams can there be in F1?
In the world of Formula One racing, there is no set number of teams that can compete. The field is constantly changing, with new teams entering and old teams leaving. However, there are some constraints on how many teams can be in F1.
First, each team must have two cars. So if there are 24 cars on the grid, there must be at least 12 teams. Second, each team must have a certain amount of money to compete. As mentioned earlier, It varies yearly but is typically around $200 million.
With these constraints in mind, we can estimate that the maximum number of teams in F1 is around 20-24.
Will there be more F1 teams in the future?
In recent years, Formula One teams have decreased from twelve to ten. It has led some to question whether there will be more teams in the future.
However, it is possible that there will be more teams in the future. For example, if a new team could find enough sponsors, they could enter the sport. Additionally, if a wealthy individual or company bought another team, they could enter Formula One.
So while the number of teams may have decreased in recent years, there could be more teams on the grid in the future.
How much does it cost to start a new F1 team?
Starting an F1 team is a very costly endeavor. First, buying an F1 license can cost upwards of $500,000. Then there are the costs of building and maintaining a race car, which can cost millions $ per year. And remember the costs of hiring drivers and other team personnel. So, it would take tens of millions of dollars to start an F1 team from scratch.
Who gets the $200 million entry fee?
In a new Concorde Agreement, it has been decided that the $200 million entry fee will be split equally among ten existing teams. It is a significant increase from the previous agreement, which saw the teams receive $130 million each.
The new agreement, which will run until 2025, is a welcome relief for the teams who have been struggling to compete with one another financially. The increased entry fee will help to level the playing field and ensure that all groups can continue operating at a high level.
This move will help to make Formula One more competitive and exciting for fans and ensure that the sport remains financially viable in the long term.
In the world of Formula One, teams come and go. Some are around for decades, while others only last a few years. There are many examples of old F1 groups. Unfortunately, some of the most successful teams in F1 history are no longer in existence. Here are a few examples of old F1 teams.
It is an example of an old F1 team that was once at the top of its game.
Williams was founded in 1977 by Sir Frank Williams and Sir Patrick Head. The team quickly found success, winning its first Constructors' Championship in 1980. Over the next few decades, Williams would go on to win nine more Constructors' Championships.
In recent years, however, Williams has struggled. The team has not won a race since 2012 and has failed to score a point in the last two seasons. As a result, they are one of the minor grid teams facing an uncertain future.
After years of domination, McLaren is an example of an old F1 team. It is one of the most successful teams in Formula One history. With eight Constructors' Championships and 12 Drivers' Championships, they are one of the most decorated teams on the grid.
However, McLaren's recent form has been lackluster, with their last Constructors' Championship coming in 1998 and their previous Drivers' Championship coming in 2008. As a result, the team has struggled to keep up with the pace of development of other groups, and their cars have often needed to be more competitive.
When it comes to old F1 teams, there is no team more iconic than Renault. The French manufacturer entered the sport in 1977 and quickly became a force to be reckoned with. They scored a podium finish at the British Grand Prix in their first year.
By 1979, they had won their first race, with driver Jean-Pierre Jabouille taking victory at the French Grand Prix. They would win two Constructors' Championships and two Drivers' Championships in the 1980s.
This team was one of the most successful teams of the 1990s. They competed in 1986 and won their first Constructors' Championship in 1995. Their drivers included Michael Schumacher, who won two Drivers' Championships with the team, and Giancarlo Fisichella, who won one race. The team was also notable for its striking livery, which featured a light blue and white color scheme.
Despite their success, Benetton is no longer in Formula One. They last competed in 2001 and were replaced by Renault F1. However, their legacy still lives on, and they are remembered as one of the great teams of Formula One history.
This team was also one of the most successful in Formula One history. Founded in 1958 by Ken Tyrrell, the team won six Constructors' Championships and three Drivers' Championships. However, the team ceased operations in 1998 after British American Racing bought it.
It was the most innovative team in F1, with several groundbreaking designs. These included the six-wheeled Tyrrell P34, which was used significantly by Jody Scheckter and Patrick Depailler in 1976. The team also produced several future stars, including Michael Schumacher, who made his debut with Tyrrell in 1991.
Frequently asked questions
Can more teams be added to F1?
Yes, there is room for more teams in Formula One. The sport has seen a resurgence in popularity in recent years. Adding 1-2 more teams would not only add more competition but also help grow the sport further. More teams mean more cars on the grid, making for an even better show.
Can anyone start an F1 team?
Yes, anyone can start an F1 team. However, it takes a lot of money and commitment to be successful. To start an F1 team, you must have a racing license from the FIA (Fédération Internationale de l'Automobile). And prove that you have the financial resources to sustain a team for multiple seasons.
How do you get into F1?
The best way to get into F1 is to start young and work your way up through the lower racing ranks. Many drivers start karting and then move up to open-wheel cars such as Formula Three or Formula Renault. If you can do well in these junior formulas, you may be noticed by an F1 team and offered a drive.
In conclusion, the process of how new teams enter F1 is both complicated and costly. It requires a great deal of financial backing and support from established groups. The process is also lengthy, taking several years from initial application to finally being granted entry into the sport. 
However, for those who are successful, it can be a gratifying experience financially and in terms of the prestige associated with being a part of the Formula One World Championship.