Formula 1 is undoubtedly a highly technical and competitive sport, with each team striving to find the ultimate edge. Fuel mapping is one such crucial element that plays a part in giving teams an advantage over their rivals. 
It involves finely tuning the engine control unit (ECU) to adjust the fuel and air mixture for maximum power output while meeting the demanding regulations. By effectively harnessing fuel mapping, teams can gain a valuable advantage on the racetrack and take their performance to the next level. 
In this article, we will explore what fuel mapping is and why it holds so much importance to the success of a Formula 1 team.
Watch this video to learn more about fuel mapping in F1.
Fuel mapping is a way to fine-tune your engine's performance so that it runs at maximum efficiency and power. It involves adjusting the ignition timing, fuel injection, and air-to-fuel ratios. All to ensure that you get the most out of your vehicle. This method can help minimize emissions, improve fuel economy, and provide an edge over the competition on the track.
Components of fuel mapping
Let's take a look at the components of fuel mapping and how they are tailored for Formula 1 cars.
Fuel injection is a vital part of Formula 1's fuel mapping system, enabling teams to tune their engines for maximum performance finely. How fuel is injected into the combustion chamber tremendously affects power output and efficiency. To put it simply, fuel injection is the process of atomizing the fuel and then mixing it with the incoming air to ensure that combustion is as efficient as possible. 
F1 cars typically use high-pressure direct fuel injection systems. It allowes for greater control over the amount of fuel injected into the engine's combustion chamber.
The next critical component in fuel mapping is ignition timing. In Formula 1, this process refers to the moment when an electric spark ignites a mixture of fuel and air inside the combustion chamber. 
This must be done at the precise instant for maximum power output and engine reliability, requiring extensive tuning from F1 teams. Ignition timing must account for variables such as engine load, temperature, and atmospheric conditions. 
In order to optimize performance and minimize the risk of engine knock or detonation, teams adjust the timing of the spark plug in relation to these factors. Getting this process just right has tremendous potential for increased efficiency and power from F1 engines.
The last component of fuel mapping is the air-to-fuel ratio (AFR). This is the proportion of air to fuel in an engine's combustion chamber. This must be regulated for maximum power output and efficiency. 
Formula 1 teams use advanced sensors and control systems to monitor and adjust the AFR as conditions change. That allows them to optimize performance without exceeding fuel consumption regulations or emitting too much exhaust. 
The ideal AFR for a Formula 1 engine will vary depending on factors such as engine load, ambient temperature, and track conditions. It requires careful calibration and tuning from the team. Getting this process right can help F1 teams extract the maximum performance out of their engines. 
How fuel mapping works in a Formula 1 car
Fuel mapping in Formula 1 is a complex process requiring cutting-edge technology. It also requires detailed calculations and ongoing adjustments during each race. At the heart of this process is the Engine Control Unit (ECU), an advanced device which monitors various engine parameters. The ECU adjusts these parameters based on data gathered from sensors throughout the car, such as throttle position and air pressure. Formula 1 teams spend countless hours creating pre-defined fuel maps for different driving conditions like acceleration or deceleration, as well as high-speed straights and corners. 
During a race, the ECU adjusts the engine parameters according to these maps and the real-time data collected from the car's sensors, ensuring peak performance while adapting to changing conditions. After each race or testing session, teams analyze the collected data and refine their fuel maps based on track characteristics, race strategy and technical regulations. This ensures a car's engine maintains optimum efficiency and performance.
How fuel mapping affects performance in F1
Now that we understand the basics of fuel mapping in Formula 1, let's look at how it affects performance.
Importance of fuel mapping in optimizing engine performance
The importance of fuel mapping in Formula 1 can't be overstated. It is essential to engineering optimal engine performance. Fuel mapping ensures the combustion process occurs at the most efficient part of the engine cycle and helps maximize power output. This involves fine-tuning aspects like ignition timing, air-to-fuel ratio and fuel injection. This allows teams to extract the maximum energy from their fuel with minimal losses.
Additionally, effective fuel mapping helps reduce engine wear and the risk of mechanical failure. In a sport where the slightest mistake can bring dire results, this is key to success. As such, refined fuel mapping can provide F1 teams with a decisive edge in an ultra-competitive environment.
How fuel mapping can affect power, fuel efficiency, and overall performance
Fuel mapping is one of the most important factors in maximizing a Formula 1 car's power, efficiency, and performance. It enables teams to tweak engine parameters to adjust their cars for certain conditions or strategies.
When it comes to power, fuel mapping can be used to ensure the engine operates in the optimal power band and maximize horsepower and torque. Poorly configured fuel maps can lead to reduced power output and increased engine stress, affecting the car's performance.
Fuel efficiency is also greatly affected by fuel mapping. F1 teams need to find ways to conserve fuel without sacrificing lap times. This can be achieved through careful adjustment of the air-to-fuel ratio and other parameters. This allows them to run competitively while using less fuel, which is key to successful race strategies and overall performance.
Fuel mapping is an essential tool for achieving optimal engine performance and unlocking the car's full potential. With finely tuned fuel maps, F1 teams can gain that all-important edge in a highly competitive environment.
Examples of how fuel mapping has affected races in the past
Now that we know fuel mapping can influence F1 cars let's look at some examples of how it has been used to affect racing outcomes in the past.
1986 Australian Grand Prix
At the 1986 Australian Grand Prix, Alain Prost made history with his fuel-saving drive. With a finely tuned fuel map that prioritized efficiency, Prost was able to conserve enough fuel to finish 4th in the race and secure the championship title. This tactical approach relied on careful management of his fuel consumption throughout the race and is now regarded as one of the greatest examples of fuel mapping in Formula 1.
The famous story of the 2005 Japanese Grand Prix cannot be forgotten. Kimi Raikkonen, driving for McLaren, started the race from 17th position but was able to take the win dramatically. His success was due to both a skillful driving style and a fuel mapping strategy tailored to deliver more power when it counted and preserve fuel when necessary. This allowed him to make fewer pit stops and ultimately overtake Giancarlo Fisichella on the final lap, securing a historic victory.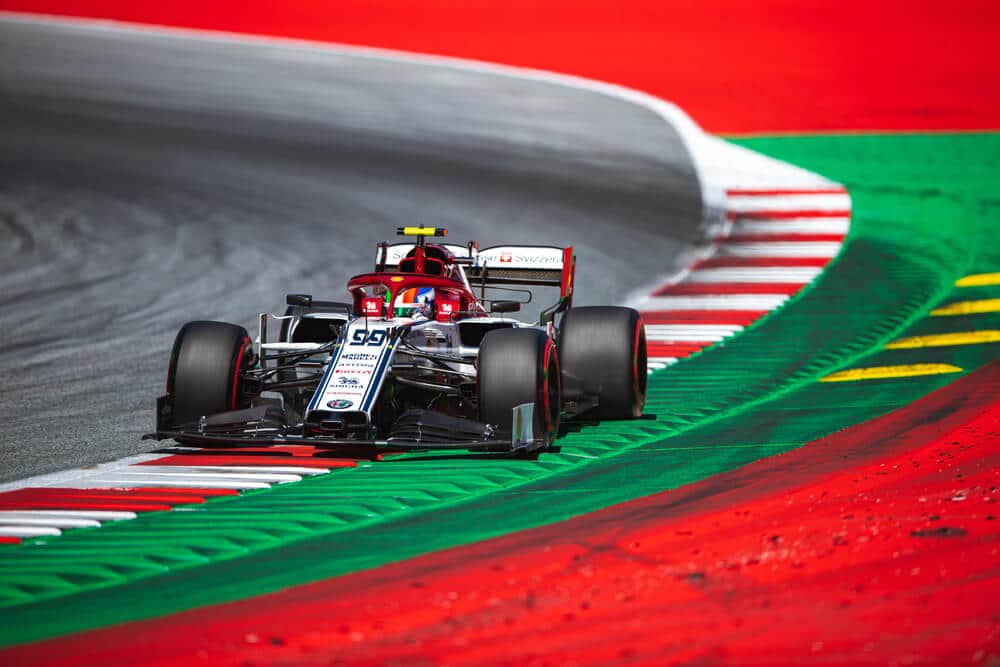 How teams develop fuel maps
It's an interesting question as to how teams go about developing fuel maps. If you're curious like us, here's the answer.
To develop the perfect fuel maps for their Formula 1 car, teams must rely on a combination of tireless testing, sophisticated simulations and comprehensive data analysis. By collecting data from various car sensors during testing and races, engineers can identify areas needing improvement in terms of power, efficiency and reliability. 
Based on their findings, they refine the fuel maps to match specific track conditions and race strategies. This enables the car to reach its maximum potential. This iterative process requires a lot of skill and precision, which is essential for success in the highly competitive F1 environment. 
Importance of track-specific fuel maps
The importance of track-specific fuel maps cannot be overstated. Every Formula 1 circuit is different, bringing with it its own challenges in terms of elevation changes, temperature and track layout. 
To ensure engine performance and fuel consumption are at their best for each circuit, teams design fuel maps that reflect the unique demands of the event. This includes balancing high-speed straights with slow corners and taking into account grip levels and tyre degradation. 
By customizing fuel maps for each track, teams are able to optimize engine performance and fuel efficiency as well as their overall race strategy.
Role of simulation in fuel map development
Simulation is an integral part of formulating the perfect fuel map. It allows teams to experiment with engine settings and strategies in a virtual setting, thereby avoiding costly on-track testing. By using sophisticated computer models to simulate performance under track conditions, weather variations, and different fuel loads, teams are able to refine their fuel maps before putting them to the test on the actual car. 
During race weekends and other testing sessions, teams can then monitor engine performance and collect data from fine-tuning their fuel maps further. This combination of simulation, testing, and analysis helps teams maximize engine performance while also complying with fuel consumption and emissions regulations. 
Future developments in fuel mapping
The evolution of technology is making a huge impact on fuel mapping in Formula 1. By utilizing the power of AI and machine learning, teams are able to rapidly analyze massive amounts of data with increased accuracy and precision. This allows them to uncover subtle nuances that may have been overlooked with traditional methods. It leads to more sophisticated fuel maps that are tailored specifically for each track.
Moreover, simulation technology is advancing at a rapid pace. It enables teams to refine and adjust their fuel maps in a virtual environment that closely replicates real-world conditions. This reduces the need for expensive on-track testing, allowing teams to reduce costs while developing more efficient and effective fuel maps
Finally, advanced algorithms are being leveraged to update fuel maps in real-time, offering teams the flexibility and agility to adapt their strategies on the fly. All of these innovations are revolutionizing fuel mapping in Formula 1 and paving the way for more competitive racing.
Possible future restrictions on fuel mapping
As Formula 1 strives to become more sustainable and reduce its environmental impact, it is possible that future regulations may bring additional limitations to fuel mapping. These could include stricter limits on fuel consumption, tougher emissions standards, or even the introduction of standardized fuel maps to ensure a level playing field. 
It is unclear what restrictions may be put in place, but teams will need to stay ahead of the curve by staying abreast of new developments in fuel mapping technology. This will enable them to remain competitive and quickly adjust to any potential changes in regulations that could have an impact on their strategies. 
Frequently Asked Questions
1. What is fuel mapping in motorsports?
Fuel mapping is the process of designing, refining and optimizing engine performance through fuel delivery. It involves customizing the fuel map for each track to ensure optimal engine performance and fuel efficiency.
2. How do racing teams develop fuel maps?
Racing teams develop fuel maps by utilizing a combination of simulation, on-track testing and data analysis. Simulation allows them to experiment with engine settings in a virtual environment before fine-tuning their fuel map on the actual car.
3. What are the future developments in fuel mapping?
Future developments in fuel mapping include leveraging the power of AI and machine learning, advancing simulation technology, and utilizing advanced algorithms for real-time updates. These innovations are revolutionizing fuel mapping in Formula 1 and paving the way for more competitive racing.
So, there you have it – a comprehensive guide to fuel mapping in motorsports. Fuel mapping is an essential element of engine performance. Teams are constantly striving to refine and optimize their fuel maps to stay ahead of the competition.
With the help of modern technology, such as AI, simulation and advanced algorithms, teams are now able to develop more sophisticated fuel maps tailored specifically for each track. Going forward, teams may need to adapt to possible future restrictions on fuel mapping in order to remain competitive and compliant with regulations.  All of this illustrates the importance of fuel mapping in motorsports and its ongoing evolution.
Learn more about Formula One