Have you noticed how Formula 1 racing is getting more popular? It's not just about fast cars and top drivers anymore. 
This sport is turning into a big moneymaker, reaching more and more people every day. We have sourced real statistics for the growth of Formula 1.
The proof is in the numbers. More money is coming in, the profits are going up, and more people are watching the races in person or on TV. 
This article is all about Formula 1 statistics in 2023. We're going to look at why Formula 1 is growing so fast and what this means for the future. 
Formula 1 attendance statistics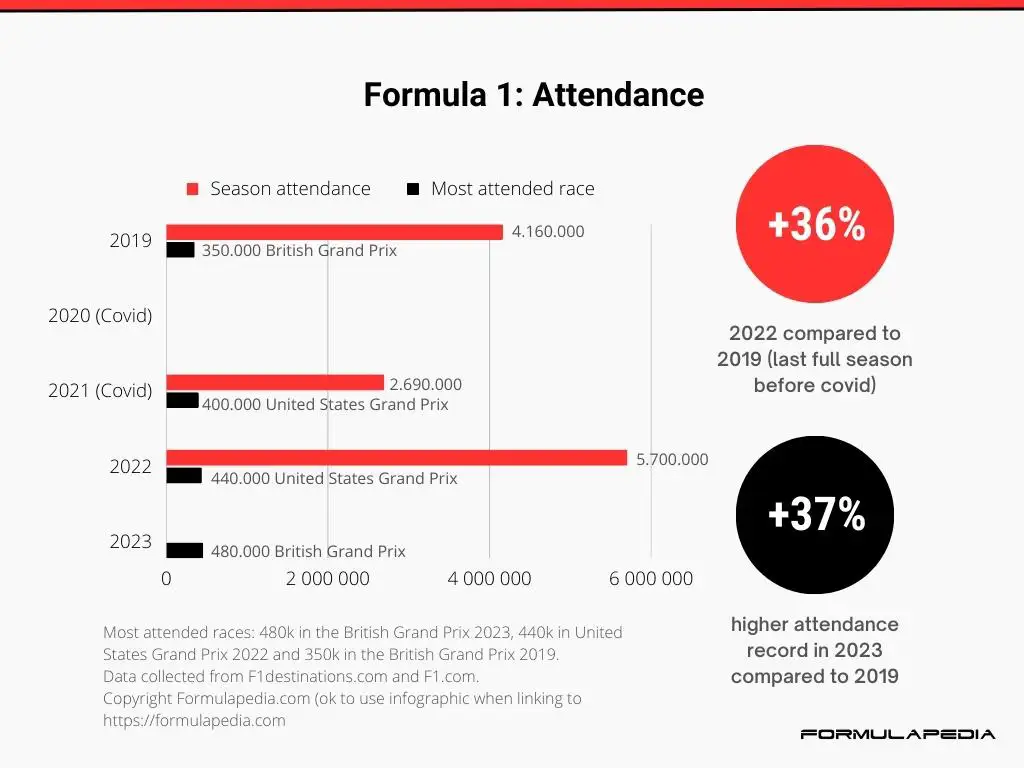 There's no denying that Formula 1 is roaring back to life after a couple of difficult years. The numbers are in, and they're showing a trend that can't be ignored – fans are flocking back to the track in droves.
After an impressive 4.16 million attendees gracing various circuits worldwide in 2019, the COVID-19 pandemic put a significant dent in the 2020 season's attendance. However, even amid the pandemic, about 2.69 million devoted fans showed up in 2021, demonstrating their unwavering passion for the sport.
By 2022, the figures roared back with a vengeance, surpassing pre-pandemic levels. A whopping 5.7 million people attended the races across the season, marking an impressive resurgence.
Focusing on the highest attended Grand Prix, the British Grand Prix was the favorite in 2019 with a hefty 350,000 fans in attendance. In 2021, the United States Grand Prix took the lead, drawing in 400,000 spectators despite the lingering effects of the pandemic. It maintained its popularity in 2022, attracting an even larger crowd of 440,000.
But in 2023, the British Grand Prix regained its crown, hosting an astonishing 480,000 attendees. This record-breaking number reflects not just a return to normality, but a burgeoning interest in the sport beyond pre-pandemic levels.
All these figures represent the undeniable truth: Formula 1's popularity is surging, and the fans' appetite for high-speed competition is greater than ever.
As the engines continue to roar, we can expect even more growth in the years to come.
Formula 1 revenue and profits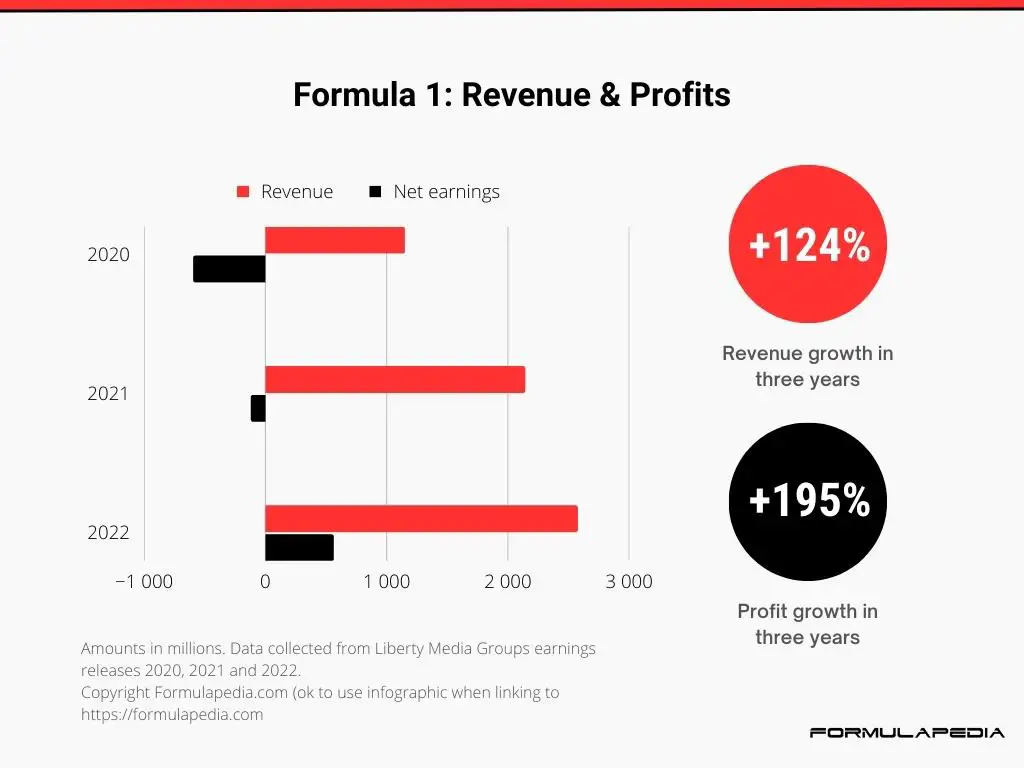 The financial health of the Formula One Group is showing promising signs of improvement. After a challenging 2020, both revenues and profits are now on an upward trajectory.
In 2020, the group reported revenues of $1.145 billion. The impact of the COVID-19 pandemic was harsh, leading to an unfortunate loss of $594 million. But even in these difficult circumstances, the sport remained resilient.
The following year, revenues more than doubled, soaring to $2.136 billion in 2021. Despite the increase in revenue, the group still reported a loss, but it was significantly less severe at $120 million, indicating a positive trend.
By 2022, the group finally turned a profit. With revenues further rising to $2.573 billion, the group's profit stood at an impressive $563 million, marking a remarkable turnaround.
The following table presents the statistics of Formula 1 financials:
| Year | Revenue | Profits |
| --- | --- | --- |
| 2020 | $1,145,000,000 | -$594,000,000 |
| 2021 | $2,136,000,000 | -$120,000,000 |
| 2022 | $2,573,000,000 | $563,000,000 |
These financial results indicate the resilience and long-term potential of the Formula One Group. 
The sport has bounced back from a challenging period, proving that it is more than capable of achieving economic success while providing high-octane entertainment to millions of fans worldwide.
Formula 1 popularity growth (TV viewers)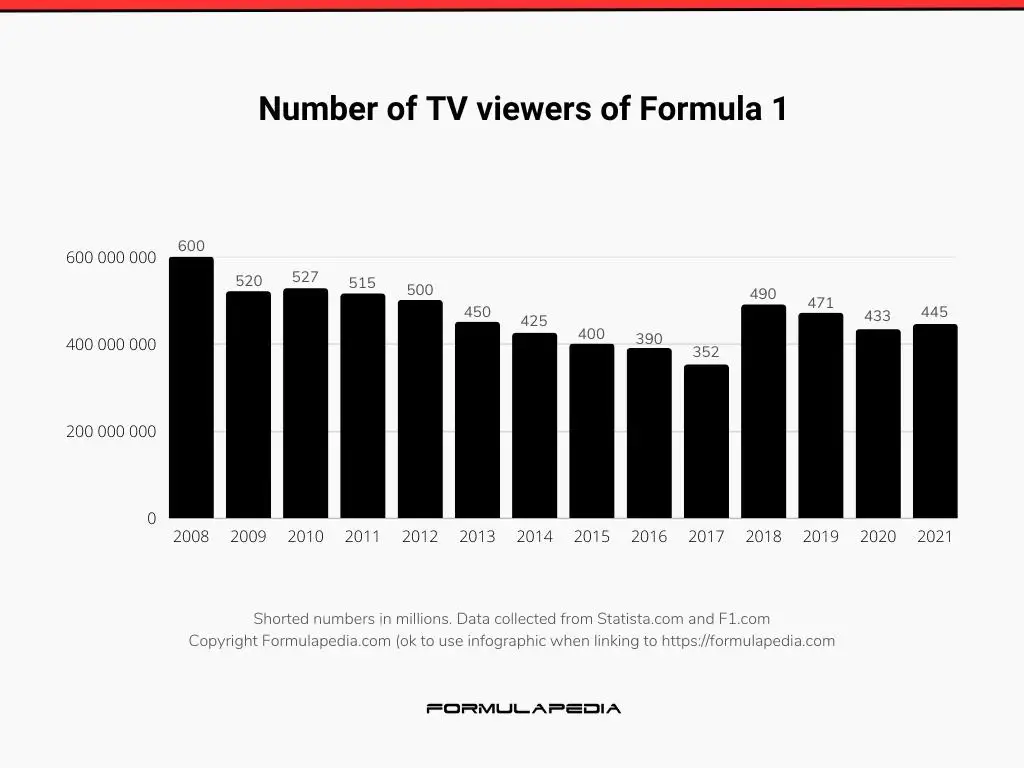 There's no denying that Formula 1's popularity has seen some dramatic ebbs and flows over the past decade. After peaking at 600 million viewers in 2008, the figures gradually declined, reaching a low of 352 million in 2017.
However, in recent years, the sport has experienced a resurgence. Viewer numbers climbed back up to 490 million in 2018, and despite minor fluctuations, they have remained relatively steady since then, with 445 million viewers tuning in during 2021.
The following table presents the TV viewership numbers over the years:
| Year | TV Viewership (Millions) |
| --- | --- |
| 2008 | 600 |
| 2009 | 520 |
| 2010 | 527 |
| 2011 | 515 |
| 2012 | 500 |
| 2013 | 450 |
| 2014 | 425 |
| 2015 | 400 |
| 2016 | 390 |
| 2017 | 352 |
| 2018 | 490 |
| 2019 | 471 |
| 2020 | 433 |
| 2021 | 445 |
It's worth noting that a key factor behind the recent increase in popularity has been the Netflix documentary series "Drive to Survive". 
This captivating series provides a behind-the-scenes look into the high-stakes world of Formula 1 racing, rekindling interest in the sport and drawing in a new generation of fans.
By offering a glimpse into the drivers' lives, the team dynamics, and the high-pressure decisions that shape each race, "Drive to Survive" has brought a human element to the sport, engaging viewers on a new level and contributing to the growing numbers of TV viewers in recent years.
Formula 1 website visitors and app users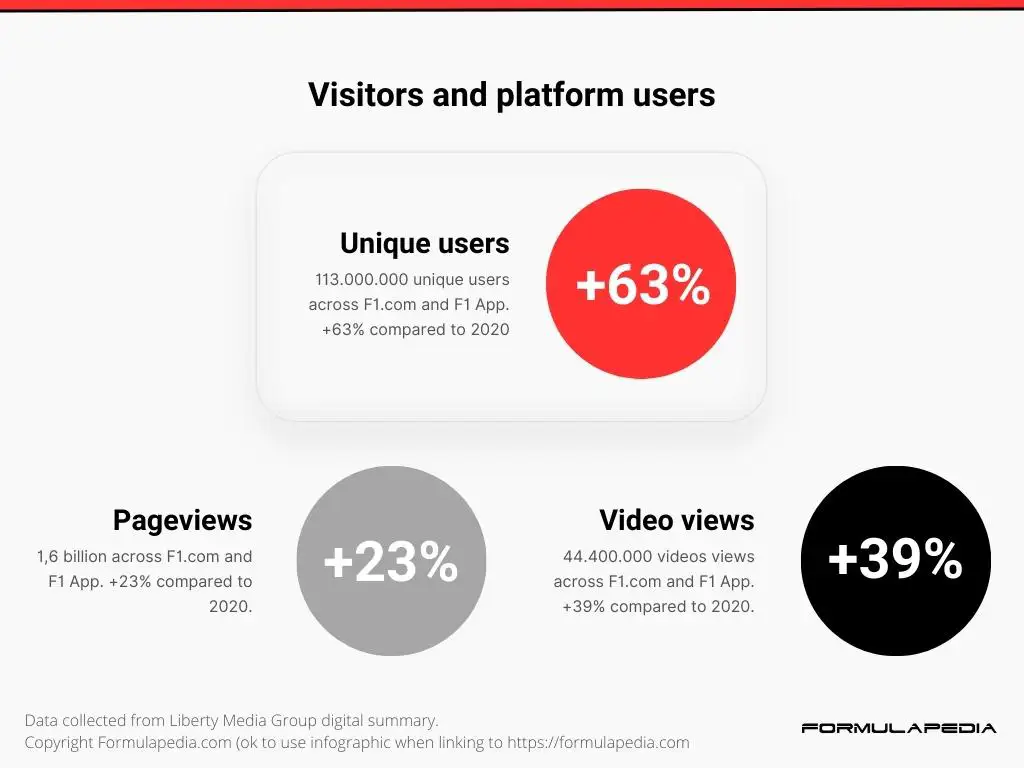 There's been a remarkable surge in the digital footprint of Formula 1. 
The official website and app are not just connecting fans to the sport, but also bringing in new ones in record numbers.
In 2021, the combined unique users of the Formula 1 website and app skyrocketed to an impressive 113 million.
This figure represents a staggering 63% increase compared to 2020, highlighting the rapidly growing interest in the sport's digital presence.
Meanwhile, the platform's engagement rate also saw a significant boost.
Page views on the website and app hit 1.6 billion in 2021, marking a solid 23% increase from the previous year.
This surge demonstrates that not only are more people visiting the platforms, but they're also spending more time exploring content, diving deeper into the world of Formula 1.
Video content also saw a surge in popularity. With a 39% increase compared to 2020, there were a whopping 44.4 million video views in 2021.
This indicates that fans are engaging more with the rich media content provided, offering an exciting, immersive experience of the sport.
These figures demonstrate the power of digital platforms in bolstering the popularity of Formula 1.
They are connecting with fans on a global scale, providing them with a wealth of content, and consequently driving the growth of the sport in the digital era.