When it comes to the world of driving, there's a hidden gem that many aren't familiar with – left-foot braking. It's not just for racers; it has practical applications in everyday driving too.
In this comprehensive guide, we'll dive deep into the world of left-foot braking, from the fundamentals to advanced techniques.
Watch this video to learn more about pedals and how they work in F1.
The Fundamentals of Left-Foot Braking
1. The Basics
At its core, left-foot braking is using your left foot to operate the brake pedal, while your right foot stays on the gas pedal. Unlike the traditional right-foot braking, it's primarily employed in motorsports. Why? Because it provides a significant advantage.
2. Benefits of Left-Foot Braking
Improved Response Time: With your foot already hovering over the brake pedal, you can react faster to unexpected situations.
Enhanced Vehicle Stability: It helps maintain a more stable platform, especially when entering corners.
Better Control During Cornering: Left-foot braking allows you to control your speed while cornering without unsettling the car.
3. The Physics Behind It
Left-foot braking is all about managing weight. When you brake with your left foot, the car's weight shifts forward. This ensures that the front tires maintain better grip, reducing the risk of skidding or spinning out.
Learning Left-Foot Braking
1. Mastering Coordination
Transitioning from right-foot to left-foot braking requires coordination and muscle memory. Practice is key. Start in a controlled environment to build that muscle memory.
2. Transitioning from Right to Left
Changing a habit isn't easy, and the transition can be challenging. Here are some tips to make it smoother:
Start Slow: Begin with gentle left-foot braking in low-stress situations.
Focus on Foot Position: Ensure your left foot hovers over the brake pedal while your right foot remains on the gas.
3. Choosing the Right Footwear
Your choice of footwear plays a crucial role. You want a shoe that provides good pedal feel and sensitivity. Racing shoes or sneakers with a thin sole work well.
Left-Foot Braking Techniques
1. Threshold Braking
What is Threshold Braking? It's braking just short of locking up the tires, maintaining maximum braking force.
How Left-Foot Braking Helps: With your foot already on the brake, you can easily modulate the pressure, preventing wheel lockup.
The Role of ABS: Anti-lock Braking Systems are a driver's best friend when it comes to threshold braking.
2. Trail Braking
Understanding Trail Braking: It involves maintaining some brake pressure as you enter a corner.
Application in Racing: Trail braking is a staple in racing, allowing for precise control of speed through corners.
Fine-Tuning Entry and Exit Speeds: It's all about adjusting your braking as you navigate the curve.
1. Left-Foot Braking in Motorsports
Left-foot braking is a game-changer in motorsports. Here's why:
Racing Disciplines: From Formula 1 to rally, left-foot braking is the norm.
Real-Life Examples: In Formula 1, drivers use left-foot braking to shave milliseconds off their lap times.
2. Left-Foot Braking for Everyday Driving
Left-foot braking isn't just for the racetrack; it has its place in daily driving too:
Traffic Situations: It can help you react quicker in traffic, potentially avoiding accidents.
Emergency Maneuvers: In emergency situations, your foot is already where it needs to be to brake swiftly.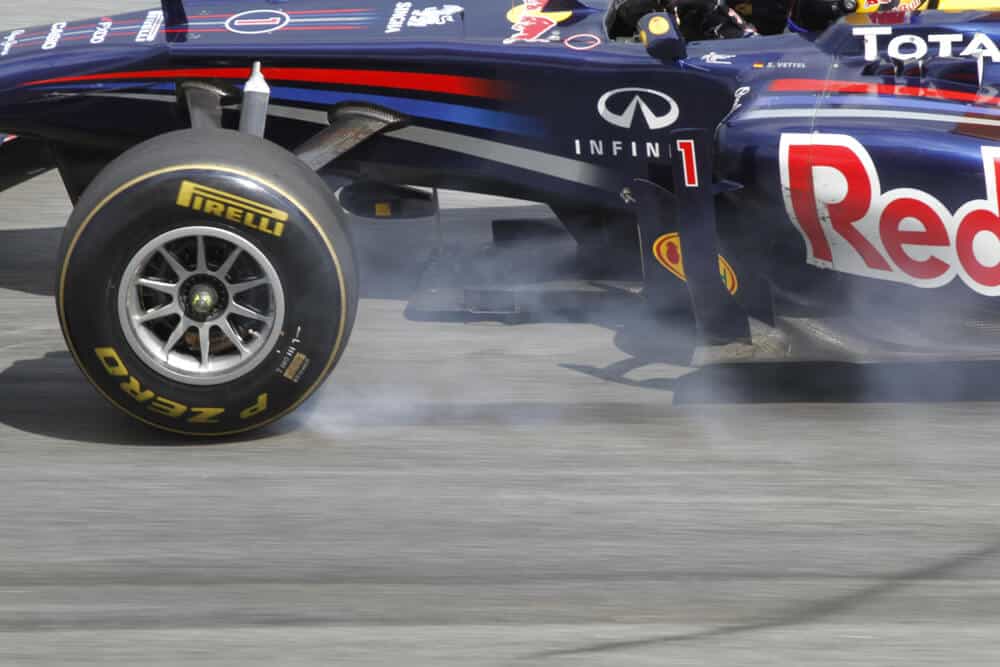 Advanced Left-Foot Braking Techniques
1. Heel-and-Toe Downshifting
Introduction to Heel-and-Toe: This technique involves blipping the throttle while downshifting to match engine and wheel speeds.
Combining with Left-Foot Braking: Left-foot braking pairs seamlessly with heel-and-toe for smoother transitions.
Smoother, More Stable Downshifts: Heel-and-toe becomes second nature with left-foot braking.
2. Left-Foot Braking and Traction Control
Integrating with Traction Control: Modern cars come equipped with traction control systems. Left-foot braking complements them perfectly.
Maximizing Traction: Left-foot braking helps keep your tires in the sweet spot for maximum grip.
Advanced Techniques: On slippery surfaces, left-foot braking combined with traction control can work wonders.
1. The Risk of Simultaneous Pedal Pressing
While left-foot braking is beneficial, there's a potential danger – pressing both pedals simultaneously. Here's how to stay safe:
Awareness: Stay mindful of your pedal positioning.
Safety Measures: Some racing pedals have a wider brake pedal to reduce the risk.
Avoiding Unintentional Acceleration: Prevent unintended acceleration by ensuring your foot doesn't hover over both pedals.
2. Keeping Brakes in Optimal Condition
Left-foot braking can put more stress on your brakes. Here's how to maintain them:
Regular Maintenance: Stick to your brake maintenance schedule.
Brake Fluid and Pad Replacement: Pay attention to wear and tear.
Monitoring Wear and Tear: Inspect your brakes regularly for any signs of damage or wear.
Frequently Asked Questions
What kind of footwear is best for left-foot braking?
Choose footwear with thin soles, such as racing shoes or sneakers, for better pedal feel and sensitivity. This allows you to modulate brake pressure more precisely.
Does left-foot braking put extra stress on the brakes, and how can I ensure my brakes remain in optimal condition?
Left-foot braking can be more demanding on brakes. Stick to your regular brake maintenance schedule, replace brake fluid and pads as needed, and regularly inspect for signs of wear and tear.
How do I transition from right-foot to left-foot braking, and what are the challenges involved?
Transitioning requires practice and muscle memory development. Start slowly in a safe environment and focus on proper foot positioning. Challenges include breaking the habit of right-foot braking and maintaining control.
In the world of driving, left-foot braking is a skill that offers both safety and performance benefits. Whether you're a motorsports enthusiast or a daily commuter, mastering this technique can make you a more skilled and safer driver. Start by practicing in a controlled environment and gradually incorporate it into your driving routine. Remember, it's not just about speed; it's about control and safety.
Learn more about Formula One