Popularly known among the fans as Iceman, Kimi Raikkonen is a former Formula One driver. He was well known for his icy attitude toward the media and for simply always speaking his mind.
He began competing in Formula One in 2001 and finished his career in 2021. During these years, the Iceman took many achievements to his name, including the title of World Champion in 2007.
He was famous for his race-day antics and is still missed on the track. Kimi amassed considerable wealth from his career as a racing driver because he competed for major teams for the majority of it.
Let's take a look at his overall net worth and racing career.
Kimi Raikkonen's net worth October 2023
The former Formula One driver has a net worth of about $250 million as of October 2022. The huge sum comes about as a result of his services to the racing sport for two decades, during which he worked with some of the top names. It was revealed that the driver earned over $50 million per year after his championship-winning season.
Additionally, he actively manages real estate holdings and derives some of his income from those sources as well.
| | |
| --- | --- |
| Net worth | $250 Million |
| Salary from Alpha Romeo | $10 Million |
| Assets | Cars, Properties, Yachts |
| Loans and liabilities | None |
Kimi Raikkonen Salary 2022
Having retired from Formula One in 2021, Kimi made his debut in NASCAR Cup Series at Watkins Glen. Although he is not actively participating in any racing events as yet, it is expected that he will make a glorious comeback in some form.
During his F1 years, the Iceman's salary went up to a whopping $50 million as his association with Ferrari won him the title of World Champion. After his exit from Ferrari, he took a break and returned to race for Lotus, where he was offered $20 million. At the end of his F1 career, the driver was associated with Alfa Romeo, but his salary did not make it amongst the highest-paid drivers.
Watch this video to learn more about Kimi Raikkonen's net worth.
Kimi Raikkonen's Endorsements
Singha: Phraya Bhirom Bhakdi established Thailand's first brewery, Boon Rawd Brewery (Singha Corporation), in 1933, and Singha corporation is its subsidiary. The brand has partnered with Kimi since 2015 and followed him to Ferrari.


iLoq: Kimi has had the privilege to represent iLoq since 2019. Kimi's fame and potential have helped the brand increase its recognition in the industry. The brilliant iLoq logo is visible on all his merchandise pieces, including the race suit, helmet, and cap.


Oakley: Kimi is usually spotted sporting Oakley sunglasses on the paddock. The company has been with him since his Ferrari days. The brand is famous for developing high-quality eyewear.


Wrangler:

The brand hired Kimi as its official performance ambassador in 2014 for its new design Denim collection.
Kimi Raikkonen used to be one of the highest-paid drivers in the sport. In 2015, he made it to the Forbes list of the World's Highest-Paid Athletes.


Kimi is endorsed by renowned brands and organizations, including Oakley, Wranglers, Singha, and iLoq.


The one-time formula one champion retired from the port in 2021 after racing for two decades on and off.


He has raced for several top teams, such as Sauber, Ferrari, McLaren, Lotus, and Alfa Romeo.


After winning the championship in 2007, the driver was said to have received a $50 million salary.



Ferrari offered Kimi more than $35 million to join their team after he came back from a break from the sport.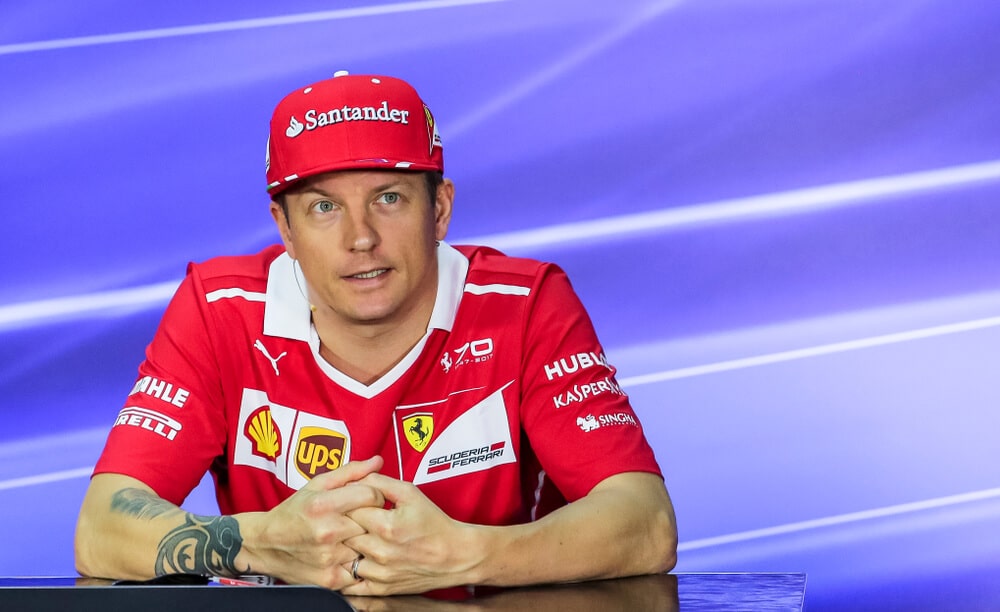 Learn More About Kimi Raikkonen
| | |
| --- | --- |
| Full Name | Kimi Räikkönen |
| Nationality | Finish |
| Date of Birth | 17th October, 1979 |
| Height | 5ft 8in. |
| Weight | 70 kg |
| Salary | $10.000.000 |
Now that you have learned about Kimi's wealth and status that came as a result of his outstanding career performances, it is time to dig a little deeper into his life.
Kimi Raikkonen hails from Epoo, Finland. He excelled at karting as a youngster and began showcasing his racing talent at age 10. After participating in several Finnish, Nordic, and European Karting championships, Kimi had a chance to drive a real race car. At age 20, he also won the British Formula Renault winter series of 1999.
His exceptional talent was realized by Sauber, who offered Kimi a seat in their Formula One team. As a result, Kimi entered the world of Formula One in 2001 with Sauber. He switched to McLaren the following year, where he continued to race for another four years.
After having a great start in Formula One with Sauber, Kimi brought his talent to McLaren. Unfortunately, his time at McLaren didn't prove to be the best due to the constant reliability issues with the car. Although he didn't manage to secure the championship during these years, he still collected some amazing feats.
In 2007, he signed with Ferrari and the same year also won the prestigious title of World Champion. The partnership continued for two more years, after which Kimi left the sport in 2009.
During his break, he took part in rally racing events and made a few appearances in NASCAR races.
He made his comeback to formula one in 2012 with Lotus and ended up third in the World Championship that year. In 2014, he again signed with his former championship-winning team, Ferrari. In 2014, he raced alongside Fernando Alonso, and in 2015, Sebastian Vettel. The pair helped Ferrari achieve great success. Charles Leclerc replaced Kimi when he left Ferrari in 2018.
From 2019-2021, Kimi remained at Alfa Romeo and ended his Formula One career with the same team he started with.
Kimi took a break from F1 in 2009, two years after winning the championship title.


Kimi arrived in F1 after winning only 23 single-seater races, which also caused some controversy with his super license.


Kimi was the last World Champion for Ferrari as the team has not won the title again since 2007.


Throughout his career, Kimi Raikkonen has won a total of 21 Grand Prix.



He is one of only 5 drivers to have achieved over 100 podium finishes, his being a glorious total of 103.
Favorite Quotes From Kimi Raikkonen
"Be yourself. If you try to be someone else, it won't work. Whatever you do, you are not going to make everyone happy."

"The helmet has a special meaning for many drivers. How important is it to you? – It protects my head."

"There's always a lot of talk about motivation to race, but nobody really knows what I do or what I think apart from myself, so I don't really care what people think."

"In F1 too many things overshadow the racing. There is too much politics."

"I do a lot of charity work, but I never tell anybody. I'm not the type that does things to get my name in the newspapers. I'd rather say nothing and be in the background. I always try to keep it quiet. No one needs to know because that's not the point of helping somebody. It's more about helping. I don't want anything out of it or to make me feel better."
It is not surprising that Kimi is wealthy because he has a long history as a racing driver—at least 20 years—and has worked for some of the most illustrious F1 teams. After all, money is the most significant benefit and privilege of being a well-known racing driver. 
Kimi has used his racing money to make some worthwhile investments, like many other F1 drivers. Let's look at a few of Kimi Raikkonen's possessions.
Kimi claims he is not an avid car enthusiast and only gets behind the wheel when necessary. The first ever car that he drove was the Russian Lada, which he describes as a reliable and robust transport. During his years in Ferrari and later, he made some great addition to his car collection.
The complete list of cars comprising Kimi's luxurious garage is as follows:
Lotus Evora S

Ferrari Enzo

Fiat 500

Ferrari F12

Ferrari 488

Rolls-Royce Wraith Black Badge
House in Baar, Switzerland – Nicknamed the 'Butterfly' by Kimi, the villa in Baar, a small village near Zurich, is hugely extravagant. The man secured the deal at about $24 million in 2009. The area of the house is about 3000 sq ft and provides a comfortable abode for living a quality life.


House in Helsinki, Finland – Many sources describe Kimi's house as the most expensive one in Finland. It is located on Kaasikari island on the outskirts of Helsinki and covers an area of about 526 sq. m.


Beachfront home Phuket, Thailand –

Raikkonen bought a 279-square-meter beachfront property. The house looks over the Tropical islands, which is why Kimi described the location as perfect for a vacation setting.
Kimi Raikkonen Boat / Yacht
Kimi is known for his love for yachts. He has also been involved in amusing yacht-related incidents that every F1 fan knows about. The boat he bought in 2008 cost him a huge chunk, and its interior was custom designed by the man himself.
The two yachts owned by Kimi are as follows:
33-meter Sunseeker Predator 108 – Bought in 2008 for about 10 million euros.



22-meter Sunseeker Predator 72 – Bought in 2006 for about 3.5 million euros.
Frequently asked questions
How much did Kimi Raikkonen earn in a year in F1?
Kimi Raikkonen was among one of the highest-paid drivers in F1. Prior to his retirement, he had a two-year contract with Alfa Romeo and was paid $10 million a year.
How rich is Kimi Raikkonen?
Kimi Raikkonen happens to be one of the richest and most successful F1 drivers. He currently has an estimated net worth of $250 million.
Why is Kimi Raikkonen so rich?
Kimi Raikkonen was one of the most sought-after drivers, with 21 grand Prix wins and the 2007 world championship title to his name. He is one of the top 10 wealthiest auto racing drivers thanks to his investments in real estate and his illustrious racing career.
Where did Kimi Raikkonen get his money?
Kimi Raikkonen made a fortune through a successful career in motorsports. He raced for some of the top teams in F1 and was a championship title winner for Ferrari.
Is Kimi Raikkonen a billionaire?
No, Kimi Raikkonen is not a billionaire. However, he is one of the richest auto racing drivers with an estimated net worth of $250 million. He is usually regarded as a multi-millionaire.
Kimi Raikkonen's Net Worth Compared To Active Formula 1 Drivers
Kimi Raikkonen's net worth of $250 million is undoubtedly much greater than the average. As he raced for a very long period, almost 20 years, he is not far from the likes of Lewis Hamilton in terms of wealth earned by racing. Fernando Alonso, the former teammate of Kimi who is still racing in Formula One, has a net worth of about $240 million.
Kimi Raikkonen's Net Worth Compared To Former Formula 1 Drivers
Former Formula 1 driver Michael Schumacher had a net worth of about $600 million. Though Kimi's net worth is not anywhere near that, it is still sufficient by many standards. Eddie Irvine, Nikki Lauda, and Nico Rosberg have net worths that are lower than Kimi's. See a list of former Formula 1 drivers net worths.
Kimi entered the prestigious racing championship, Formula One, in 2001 and retired from the sport in 2021. During this time, he raced with famous teams, broke many records, and generated large sums of income. As of now, the Finnish driver is valued at about $250 million.
He has invested his wealth in properties around the world. Currently, he is participating in the NASCAR cup series, one year after announcing his retirement from Formula One.