Torger Christain Wolff (also known as Toto Wolff) is an Austrian entrepreneur, investor, motorsport executive, and a former driver in Austrian and German Formula Ford. He is one of the most renowned names in Formula 1. But how much is Toto Wolff's net worth and salary?
In addition to being the head of all motorsport programs for Mercedes, he's also the CEO of the Mercedes-AMG Petronas F1 Team.
His zealous passion for racing, investing, and fulfilling his ambitions made him a famous billionaire personality. He started with his career in motorsport and then later shifted towards business. 
In this article, you'll know more about different aspects of his financials.
Official F1 store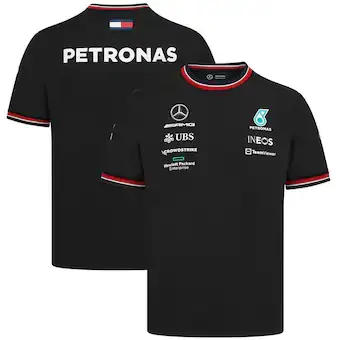 Mercedes merchandise
Order official Formula 1 merchandise and choose between 300+ products.
Pros:
World wide shipping

Official Formula 1 store

300+ different products

90 days returns
Order now →
We earn a commission if you make a purchase, at no additional cost to you.

Toto Wolff's net worth 2023
Toto Wolff's net worth is around $570 million. He is a partner in several companies and owns many different assets. 
This successful investor has numerous assets, houses, companies, cars, and deals with various brands. Toto's net worth reportedly has increased at a rate of 56% over the last five years. Below is the breakdown of the sources of this sports agent's income and net worth. 
 

Toto Wolff's financials

Net Worth
$570.000.000
Salary from Mercedes
$26.000.000
Investments

Mercedes-AMG Petronas F1 Team
HWA AG
BRR Rallye Racing
Aston Martin Lagonda Global Holdings

Assets
$370.000.000
Toto Wolff's salary is $26 million a year for his position as CEO and Team Principal of the Mercedes-AMG Petronas F1 Team.
Although Toto Wolff is the 33% stakeholder of Mercedes-AMG Petronas Formula 1 Team, he also earns an annual salary through his services by being the Team Principal. 
His source of income does not only limit to him being the CEO, he is also an avid investor and co-owns companies as well. Toto even receives a bonus for every win by a Mercedes driver in any championship. For Formula 1, he gets a massive amount of $10 million as a bonus. 
Watch this video to understand Toto Wolff's net worth, salary and lifestyle.
Toto Wolff is a great leader and under his supervision, the team has been very successful. 

He had a brief career in racing after which he shifted his focus to the business.

He has purchased several in-valuable things such as cars, yachts, and houses. 

He is the richest Team Principal in Formula 1.

Toto is married and living happily with his wife, Susie Wolff.

He has invested in many stocks of several companies, outstanding ones being in The Williams and The Mercedes AMG Petronas Formula One team.

His team broke the record by winning more than five consecutive double world championships.

He's got recognition by multiple universities and recently got honored with a doctorate from Cranfield University. 

Toto has a massive fan base which is why he's admired by many.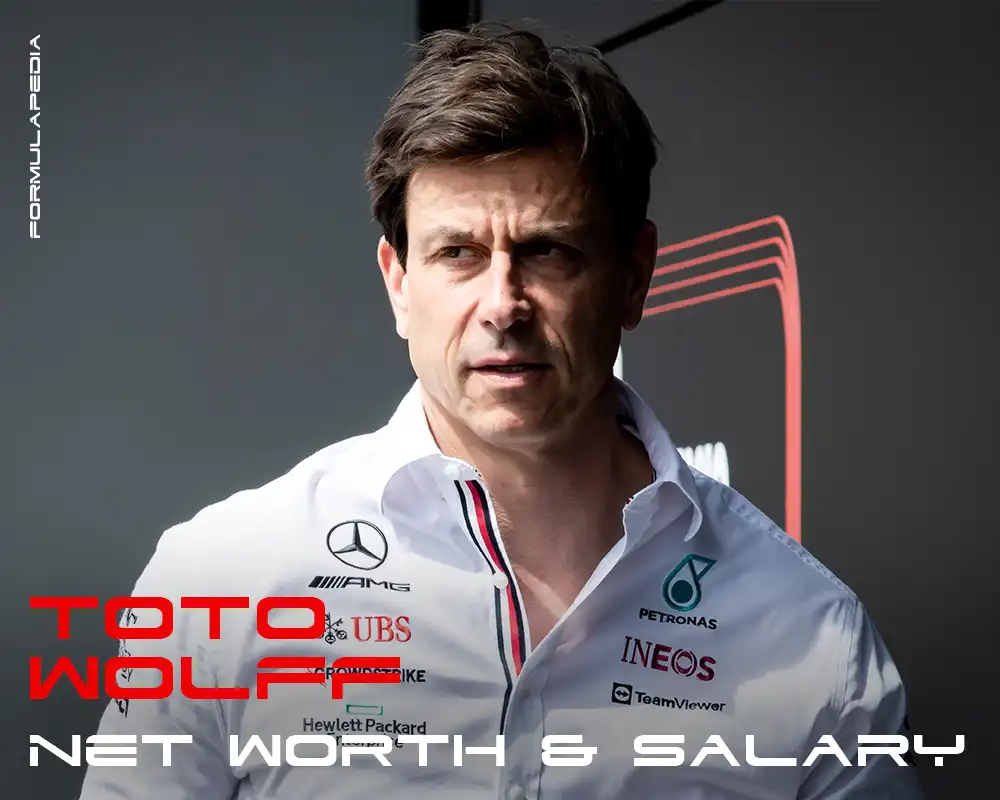 Learn more about Toto Wolff
The former race driver is filled with zeal and zest for racing as, under his guidance and supervision, his team has won several consecutive championships bringing up the ratio of wins.
Here we've listed some basic facts about him:
| | |
| --- | --- |
| Full Name | Torger "Toto" Christian Wolff |
| Nationality | Austrian |
| Date of Birth | January 12, 1972 |
| Height | 1.96m |
| Weight | 75 kg (165 lbs) |
| Yearly salary | $40m |
Early Life
He was a child of a Polish woman and a Romanian man born in the city of Vienna, Austria. His mother was a physician. His father belonged of Jewish heritage. In adolescence, he lost his father due to brain cancer. He soon learned different languages and became multilingual; he speaks fluent English, German, French,  Spanish, Polish, and Italian. 
Education 
Toto studied in a prestigious school in Austria named Lycée Francais de Vienne. He then attended The Vienna University of Economics and Business and soon found his own investment company. 
Academic awards
All the credit for his success undoubtedly goes to his hard work. His competent management skills earned him an honorary doctorate from Cranfield University for all his services to motorsport in May 2021. His leadership and skills inspire thousands of people today as he's been the topic of discussion in several different universities.
Career
The Austrian started his career in motorsport racing in 1994 with the Austrian Formula Ford championship. His motorsport career as a driver was short-lived but he did not hesitate to make a switch in his career by turning toward business.
Having a keen interest in investing, he founded his own investment company named Marchfifteen and Marchsixteen in 1998 and 2004 respectively.
Meanwhile, he also raced in various championships, some of which he won. The championships he took part in were; the FIA GT Championship, Italian GT championship, Austrian Rally championship, and a couple of six-hour races in Italy, the Czech Republic, and Austria. 
Wolff met with an unfortunate accident in 2009 when he was racing at the Nürburging circuit. Although the accident concluded his Racing career, he became 16% of the stakeholder in the Williams Formula 1 team. 
In 2013, he left Williams to be an executive driver of the Mercedes AMG Petronas Formula one team. He later took on the responsibilities and supervised all of the motorsport programs for Mercedes-Benz.
Thereafter, Wolff continued to invest in several firms escalating his net worth. 
Achievements
Toto has created remarkable history with his exceptional skills and guidance in sports. Wolff is the only team principal with more than five consecutive wins in double world championships. Credit for Lewis Hamilton's success, one of the best drivers on the Mercedes team, is also given to him. 
Wolff received a John Bolster Award in 2018 at Autosports awards by Jean Todt and was honored with President's Awards at FIA Prize Giving Gala in Russia. The year 2018 had proven to be the most successful for Mercedes Benz.
Under Toto's leadership, Mercedes has won 91 of 123 races. His team won eight consecutive constructors' titles between 2014 and 2021. The winning ratio of the team has increased by an impressive 66% since Wolff joined the team. One of his most significant achievements which are highlighted to date is the 2014 Austrian Grand Prix where Mercedes finished at 1-2 followed by Williams at 3-4. 
Family 
Toto is married to a fellow former racer driver named Susie. They met in a motorsport event in 2006 and wedded in October 2011 in Capri, Italy. He has a kid named Jack Wolff from this marriage and other two from his previous marriage with Stephanie. The couple resides in Monaco together happily. 
His Wife 
Susie Wolff is a former British motorsport racing driver and a keynote speaker. She was also the CEO of Venturi and Formula E but decided to quit in the August of 2022. 
She dared to be different as she was the only female Formula 1 driver in the whole United Kingdom. Starting with karting at a young age, she had a lot of experience in it. She, being one of the most popular car drivers, has a net worth of $1.5 Million.
Endorsements
As stated above, he has invested in the Williams Formula 1 team and is the shareholder of more than 30% in Mercedes-Benz. 
Investments
The Austrian has focused a lot on investing as well. Besides starting his own investing companies, he has made several other strategic investments in industrialist and technology companies.
Some of his successful investments are in the William F1 team and  German HWA AG, in which he purchased a 49% stake. He has invested in BRR Rallye Racing and co-owns a management company for racing drivers. 
Foundations and Charity Work
Toto volunteered and looked after the Foundation set up by his friends, Alex and Nirit, known by the name Mary Bendet Foundation. The foundation uplifts the living conditions of underprivileged children. 
Toto Wolff, being the vice chairman of the organization, strives to improve the conditions of daycare centers, playgrounds, and dormitories. 
The organization supports handicapped, disabled, and even talented people by sponsoring them.
Toto Wolff is the Richest Team principal of formula 1 owns numerous properties, cars, assets, houses, and stocks. We've mentioned down below the assets he possesses.
Toto Wolff has got three-floor parking in his residence, where he stashes an expensive collection of luxury cars. The executive director of Mercedes owns the following cars:
Mercedes Benz 300 SL

1957 Mercedes Benz 300

Mercedes AMG GT

Mercedes Benz SLS AMG

Mercedes Benz GLC

Mercedes X-Class

Mercedes Benz G-Class

Mercedes Benz C-Class

Bugatti Veyron

Maserati Granturismo

Porsche 718 Cayman

Nissan GT-R

Ford Shelby Mustang GT500

McLaren 720S

BMW X8
Toto Wolff owns a lavish house in Oxfordshire, England, and an 18000 square foot ultra-grandeur mansion in Switzerland with several establishments which are listed below:
3 Swimming Pools

Bowling Alley

Home Bar

Tennis Court

Wine Cellar

Home Theater

11 Bathrooms

8 Bedrooms
He even has a residence in Monaco where he reportedly lives now.
Toto Wolff is the owner of three luxury yachts and two mega-yachts, where he often spends his vacations. Reportedly, each of them costs $15 Million to $20 Million.
Toto Wolff had purchased a 4.77% stake in Aston Martin Lagonda, which later decreased to 0.95% due to rights issues. He even owns a stake in the company which hosts and manages the Deutsche Tourenwagen Masters race program. Apart from being the CEO of the Mercedes AMG Petronas Formula 1 team, he also holds 33% of the stake. 
He has invested in several other stocks as well such as;
Alphabet

Apple

Coca-Cola

JP Morgan

HSBC

Berkshire Hathaway.
Frequently asked questions
How much does Toto Wolff earn in a year?
Toto Wolff earns $35 Million annually.
How rich is Toto Wolff?
Toto Wolff reportedly has a net worth of $570 Million.
How is Toto Wolff so rich?
Toto Wolff is a former racing driver, an avid investor, and an executive director making him the richest Team Principal in Formula one.
Where did Toto Wolff get his money?
Toto Wolff is a successful investor and entrepreneur. He's invested in many technology and industrialist companies, the most prominent one being the stakes of his Mercedes team in Formula 1. He also gets paid for his services as the manager of all sports programs in Mercedes Benz.
Is Toto Wolff married?
Yes, Toto Wolff tied the knot in October 2011 with Susie Wolff.
How much does Toto Wolff own Mercedes AMG Petronas F1 Team?
On top of being the executive director, Toto Wolff owns one-third of the stake of the Mercedes AMG Petronas F1 team.
Is Toto Wolff a billionaire?
Toto Wolff is an Austrian billionaire investor and former racing driver.
Toto Wolff's salary and net worth compared to other Formula 1 Team Principals:
Toto Wolff has a greater fortune than any other Team Principal of Formula 1. He gets a lot of bonuses and also has stocks in several companies as discussed above. 
Even though Toto's salary is a bit less than the second richest Team Principal of Formula 1, Christian Horner, the margin between their net worths is still big enough.
Under the former racer's leadership, his team has achieved greater heights in motorsport. He is not only an outstanding team principal but an inspiring person on the whole as well. 
Wolff has always encouraged people to push their limits, grab every opportunity that comes their way, and stay humble. His work ethic is something to look up to.
It won't be wrong to say that his leadership has made the most successful Formula 1 team of all time. He strived and worked hard to make it all work. His career is an example that hard work and efforts never go in vain.