F1 is a multi-billion dollar industry with money at the forefront of all the key decisions being taken; whether it be the inclusion of new cars, teams, or the addition of another race track in the F1 calendar. 
Hence, it is no surprise that countries have to pay to gain hosting rights for the F1 Grand Prix. Since most of the revenue generated by F1 comes from contract deals with different countries, those tracks that are willing to pay more are consistently secured for the race every year.
However, some of the circuits are included in the racing calendar due to their novelty value or their significant importance in F1 history. 
Where as some countries like Korea and India remove themselves from the calendar due to the overbearing financial strain of hosting an F1 race.
Watch this video to learn more about how much it cost to host an F1 race.
How Much Does It Cost To Host An F1 Race?
The cost of hosting an F1 race is estimated to be $40 million. However, the exact cost varies depending on the terms of the agreement between the host nation and the F1 management. In a contract that spans several years, race fees may increase by 5% annually. 
Furthermore, apart from the contract fee, a host city or nation must also incur a number of additional costs in order to host a Formula One race. These costs cover things like preparing the racetrack, providing power and water, setting up security, etc.
Hosting an F1 race is a costly endeavor. 

Some racetracks are included due to the revenue they provide, while others are included for their history or novelty value.

A yearly contract fee of about $40 million, subject to a 5% annual increase, is required to host an F1 race.

There are also many other expenses excluding the contract fee.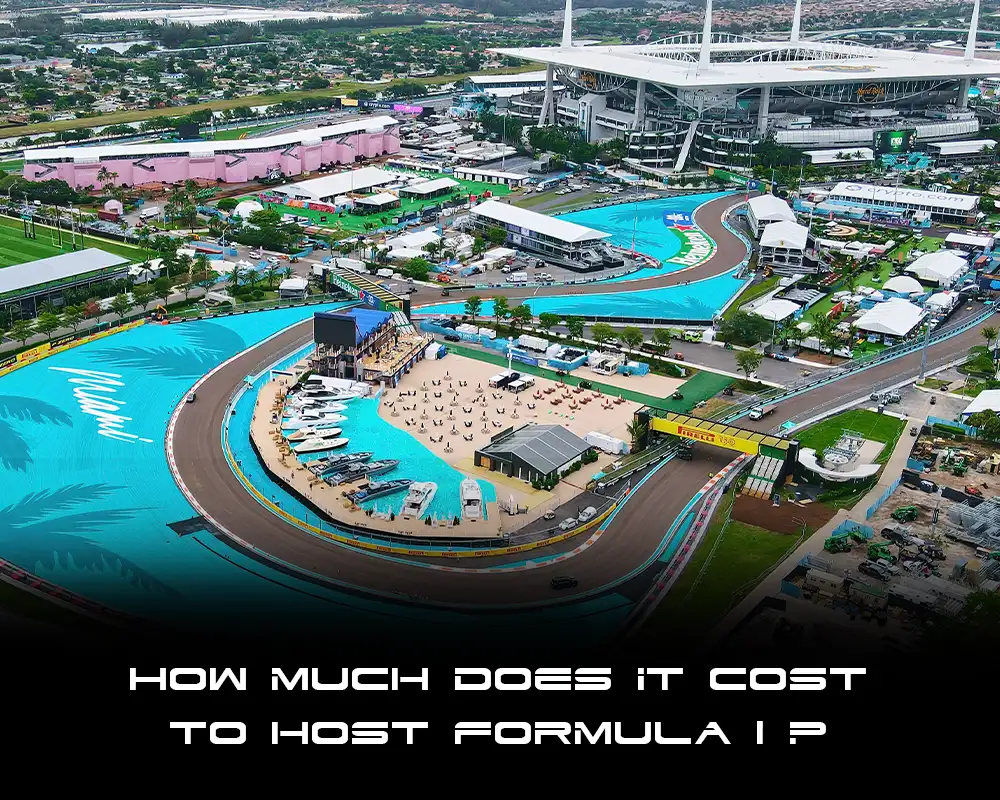 Understanding Costs And Fees For Formula 1 Circuits
F1 racing is a lucrative industry, and the sport's increasing popularity around the world has only added to its financial success. 
As a result of a lot of people taking interest in the sport, more and more countries want to host Grand Prixs in their regions. The nations profit from ticket sales whereas the F1 industry makes money by awarding them the hosting rights. 
Some tracks such as Monaco were rumored to not pay the contract fee because of its associated history with F1. However, it turns out that every race track must pay in order to gain hosting privileges. The fee, though, is not the same for every track and Monaco does enjoy the perk of paying less in comparison to other circuits. 
These contract agreements with various nations account for almost one-third of the whole revenue generated by Formula One. Therefore, every host country is required to pay the contract fee. 
At the conclusion of the contract, hosting agreements with the F1 may be renegotiated. While some countries prefer short-term contracts, others believe long-term contracts are more beneficial.  
Read our article about how much it cost to start a new F1 team. You can also read our article about How much an F1 car costs.
A lot of countries want to be on the F1 calendar, however, with only 22-23 races taking place every year it is not possible to accommodate all the amazing venues there are around the world for multiple years. 
Moreover, because hosting an F1 race is quite expensive, many nations choose to sign short-term agreements rather than commit to long-term financial obligations. Therefore, in F1 everything eventually boils down to how much money a country or a team is willing to pay to stay in the sport. 
However, because they are essential to the heritage of F1, venues like Monaco and Silverstone pay less. They both currently have short-term F1 contracts; Monaco's will last through 2025, while Silverstone's expires in 2024.
Some host countries own multi-year contract deals with the F1 management. This suggests that they pay a hefty amount of money for their venue to stay on the racing calendar for extended periods of time. 
Qatar, for instance, has a long-term agreement with F1 that will allow the nation to host the Grand Prix for ten years starting in 2023. However, it pays a staggering sum of $55 million per year, which is the most for any hosting country, in order to stay on the F1 calendar. 
Countries like Dubai, Saudi Arabia, Bahrain, Canada, and Australia all have long-term deals that will allow their circuits to remain in the F1 for at least several years.
How much each circuit on the calendar pays to host F1
The Belgian Grand Prix has signed a one-year contract deal with F1 and will be seen in the season 2023. Spa-Francorchamps has also extended its contract for one year and is expected to be on the calendar for 2023. 
Many other countries are also expected to participate in the following years based on short-term contract deals.  
Bahrain's deal to host a race through 2036 is the most extended duration on the calendar. The Australian Grand Prix is also here to stay till 2035 as the country just renewed its contract with the F1 this year. Miami is also not too far behind with its contract deal extending till 2031. 
America is the only country with three Grand Prixs scheduled for the year 2023. In contrast, South Africa is the only continent that does not host any F1 racing events.
| Country | Circuit | Hosting fee ($) | Contract length |
| --- | --- | --- | --- |
| Bahrain | Sakhir | 45 million | 2022+ |
| Saudi Arabia | Jeddah | 55 million | 2025 |
| Australia | Albert Park | 35 million | 2023 |
| Italy | Imola | 20 million | 2025 |
| United States | Miami | Collaboration | 2031 |
| Spain | Barcelona | 25 million | 2026 |
| Monaco | Monte Carlo | 15 million | 2021 |
| Azerbaijan | Baku | 55 million | 2024 |
| Canada | Montreal | 30 million | 2029 |
| France | Paul Ricard | 22 million | 2022 |
| Austria | Red Bull Ring | 25 million | 2022+ |
| Great Britain | Silverstone | 25 million | 2024 |
| Hungary | Hungaroring | 40 million | 2027 |
| Belgium | Spa | 22 million | 2022 |
| Netherlands | Zandvoort | 32 million | 2023+ |
| Italy | Monza | 25 million | 2024 |
| Russia | Sochi | 50 million | 2025 |
| Singapore | Marina Bay | 35 million | 2021* |
| Japan | Suzuka | 25 million | 2024 |
| Mexico | H. Rodriquez | 25 million | 2025 |
| United States | Austin | 25 million | 2021* |
| Brazil | Interlagos | 25 million | 2025 |
| Abu Dhabi | Yas Marina | 40 million | 2030 |
| China | Shanghai | 50 million | 2025 |
| Qatar | Losail | 55 million | 2031 |
Rumors About New F1 Circuits Being Added To The Calendar
With the inclusion of 23 Grand Prixs in the 2022 calendar, it was one of the most jammed pack seasons in F1 history. However, the next season is going to be even longer and more widespread with 24 races planned across the top venues in the whole world.  
There are countries that have previously hosted F1 races but are not on the calendar anymore. 
Rumour has it that the following F1 seasons are going to be more enjoyable with the addition of new circuits as well as some countries also making their much-awaited comeback in the racing calendar.
1. Las Vegas, United States
After the inclusion of Austin and Miami, the Las Vegas circuit is the third one to be added to the United States Grand Prix. Las Vegas has agreed on a three-year contract deal for its street circuit to be used to stage an F1 race. 
The Las Vegas Grand Prix will return to the F1 schedule for the first time since the 1980s on a brand-new street circuit.
There were a lot of rumors about South Africa coming into the F1 calendar in 2023. However, it turns out they were just rumors and SA will not be making its comeback anytime soon. 
It has been more than 30 years since the last F1 race was scheduled in South Africa. A lot of the blame goes to the hefty contract fees since many countries cannot burden the cost of hosting an event of such a huge magnitude.
After a three-year hiatus due to Covid-19 restrictions, the Chinese Grand Prix is all set to return for the 2023 season. 
It will be the home Grand Prix of the Alfa Romeo's debutant driver, Zhou Guanyu who is quite thrilled about the return of the Shanghai International Circuit to the F1 calendar.
Qatar will also make a comeback following a one-year break due to the football world cup. It is a brand-new track that made its debut in 2021 and is the highest-paying location for F1 with a ten-year contract in place for hosting rights.
Frequently asked questions
How Much Does It Cost To Host An F1 Race?
The local government has to pay an estimated amount of $40 million as a contract fee to host an F1 race. The precise amount, though, varies according to the terms of the county's agreement with the F1 management.
Who Pays To Host F1 Races?
Most of the time, it is the local government body that acts as the race promoter and pays a contract fee to hold an F1 on their country's circuit.
Do F1 Tracks Make A Profit?
F1 tracks earn money through ticket sales. However, given the astronomical cost of hosting an F1 event, the amount collected is usually not enough and most of the tracks do not end up making profits.
How Much Does It Cost To Build An F1 Track?
Building an F1 racetrack can cost anything from $250 to $500 million. However, there is no cap on the maximum amount and it might go as high as $1 billion, which is how much it took to construct the Abu Dhabi track.
How Much Does It Cost Per Race In Formula 1?
It costs around $100 million to host an F1 race including the contract fee. The amount can, however, vary depending on the race track.
Formula One races are held in various countries around the world throughout the whole season. The F1 industry receives payments from each country in exchange for the privilege to host the event, which makes up a sizeable chunk of its revenue. 
Many hosting countries, like Bahrain and Australia, prefer to sign lengthy multiyear agreements, while other countries opt for shorter agreements. 
Contract expiration does not always mean that the race circuit will no longer host future Formula One races because these agreements are sometimes renegotiated prior to their expiration dates.